Tuesday, April 6, 2010
Posted by Jason Dunn in "Digital Home Printing" @ 06:30 AM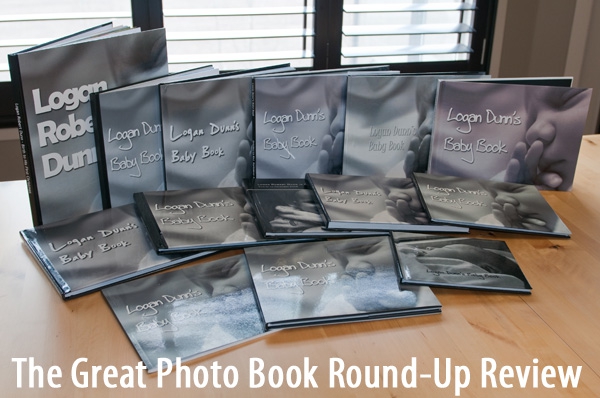 This review has been updated as of July 2014. Short on time? Skip to the conclusion, or do what I do: sign up for discounts from Photobook America and MyPublisher. Both are superb choices!
Looking for the 20% discount on FotoFusion? Use code DHT20-2 on the Lumapix site.
My son Logan was born on August 16th, 2009, but long before that I started work on a very special project: a baby book that would chronicle the process of my wife's pregnancy, our preparations for his arrival, and the first couple of weeks after he was born. This wasn't going to simply be a bunch of photos; I wanted to create a truly epic baby book, something that was off-the-charts unique and something that would become a family treasure.
I've wanted to use FotoFusion (see below for a discount coupon) to create customized page layouts for a long time now, because I knew it would allow me to break the limited confines of what typical photo book software permitted. I had carefully created all the pages in FotoFusion, exported each page as a high-resolution JPEG file, and dropped the images into full-page layouts. I incorporated my green-screen scanning technique to add objects to the book, and once I was finished - a process that took eight months of work and around 200 hours in total because I wanted it to be perfect - I had the book printed with Picaboo. The results were a complete disaster. The details are below under the review section for Picaboo, but the short version is that I was really unhappy with the physical representation of all my hard work and I wanted to get the books re-printed using a different service. But which service should I use?
I searched online for a comprehensive review of photo book printing services, and wasn't able to find any that answered this question: who makes the best consumer-grade photo books? It's not an easy question to answer, which is probably why I wasn't able to find any articles tackling the subject. In order to compare photo book printing services, someone would have to contact a broad cross-section of service providers in the USA and Canada (let's say a dozen in total), arrange for a free sample to be provided (because buying a 60-page photo book twelve times over would be $800+), build the same book with all of thetm (or as close as possible), factor in the book-building software component, then compare the eventual results of the physical books. Who'd be crazy enough to take on such a huge task? That would be me.
This review is likely the most intense writing project I've ever undertaken short of writing my last book. This project was six months in the making, required multiple re-workings of the baby book in FotoFusion to accommodate differences in book size/aspect ratios, and I believe is a unique effort on the Internet today in terms of scope and depth.
I hope you find it useful, and if you do, please share it with your friends and family - and if you feel like the review saved you money or time, a tip would be really nice. :-)
A Quick Word About FotoFusion
By far one of the top questions I've gotten asked since publishing this review is how I created the pages in the book. The process I used isn't typical. I've you've never heard of FotoFusion before, check out my review to understand what it can do - it's insanely powerful software, yet still fairly easy to use. When you see an image like the one below from my photo book, it's just one big picture - the "text" you're seeing is actually part of the image: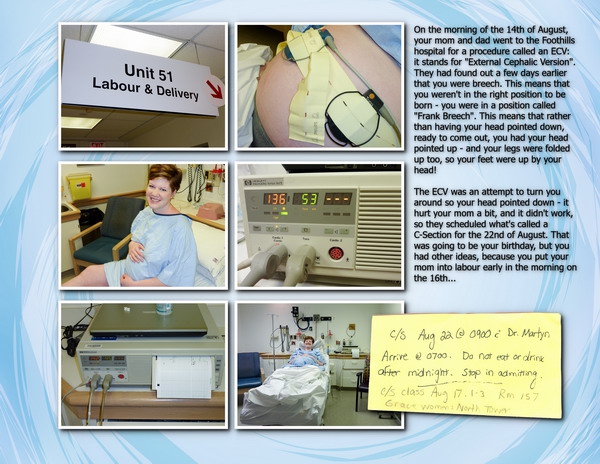 Everything in the image above was assembled in FotoFusion: the images were dropped into the six custom-sized frames I'd created, the text was typed up in FotoFusion (and spell-checked in Microsoft Word), and the yellow note was scanned and added to the FotoFusion layout as a transparent PNG file. When I finished the page layout, I exported it as an 8 megapixel JPEG (3300 x 2550) with minimal compressions, then dropped it into the photo book making software as a full-page image. It's important to understand that FotoFusion can export pages at extremely high resolutions; you just punch in the resolution you want, and it does it. Note that the Extreme version offers unlimited resolution exports; the Enhanced version is limited to 3900 x 5700, but that's 22 megapixels and more than enough for even the biggest photo book on the market. FotoFusion will not magically allow you to use low-resolution images though; you need to give it high quality images to get high quality output.
I can't stress enough what a powerful tool FotoFusion is for creating photo books that are unique and special. If all you want to do is have a book full of photos, the software from any of the companies in this review will do the job. But if you want to combine photos, text, and scanned objects into a single, creative layout, you'll want FotoFusion.
If you're interested in purchasing FotoFusion, use the coupon code DHT20-2 to save yourself 20% off the price. This discount works for both the Windows and OS X versions. The coupon is valid until October 31st, 2014. I use the Extreme version, but you can do everything you need with the Enhanced version - just be aware that you'll be doing it one page at a time (an unfortunate limitation in that version). If you're planning on making photo book creation a big part of what you do, the Extreme version is worth the investment in my opinion. There's nothing else like it, anywhere.
How To Read This Review
Because of the length of this review, there are three different ways to read it. If you're interested in seeing how each photo book printing service compares to each other, I encourage you to read it all the way through from start to finish. If you manage to do that, you're a superstar (this review clocks in at over 15,000 words). If you're interested in how a particular book building service is rated because you're interested in using them for a book project, jump to the individual section below:
[Other book services we've reviewed here on this site include Viovio.]
Lastly, if you want to just skip to the conclusion to see the results of my tests (which includes an executive summary of each service), please feel free to do so.
One thing to note is that I'm not factoring in the "order to ship time" for this review. The reason why? Some of the vendors provided me with a coupon code that I could use to get my book printed for free, while others had me upload my book, processed my order, and manually discounted it later. This created a scenario where it was impossible for me to accurately gauge when the process truly started and finished.
Let's get started!

---