Tuesday, April 6, 2010
Posted by Jason Dunn in "Digital Home Printing" @ 06:30 AM
ArtsCow Photo Book Review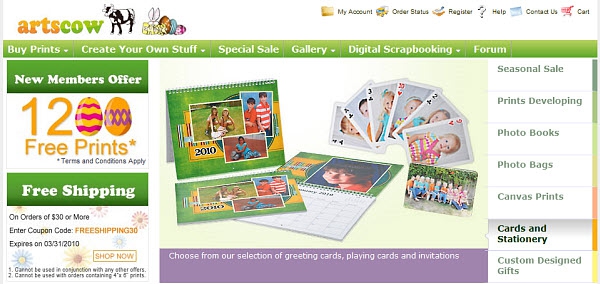 Figure 71: The ArtsCow Web site.
Artscow is one of the more quirky companies that came up in my search for photo book printing companies; they not only do a limited number of photo book sizes (7" x 5", 8" x 8", 12" x 12"), they also do photo prints on bags, mugs, t-shirts, tote-bags, playing cards, greeting cards, photo watches, CD wallets, folding umbrellas, digital camera leather cases, mini-coin purses, pencil cases, and sleeping masks. I kid you not. They're based in China (Hong Kong), which isn't apparent unless you go digging for info on their site. That plays an important role later in my experience with them (watch the video below to find out more). Artscow is also the only company that talked about their printing press: a Xerox iGen4 Digital Press that apparently sells for $640,000 USD. Sounds impressive, right? Keep reading.
ArtsCow has provided two coupons for Digital Home Thoughts readers to use: 30PBOOK1199 will get you an 8" x 8" photo book, 30 pages in length, for $11.99 each, with free shipping (expires December 31st, 2011). 30PBOOK2499 will get you a 12" x 12" photo book, 30 pages in length, for $24.99 each, with free shipping (expires December 31st, 2011).
Building the Book
Like many other companies in this review, Artscow offers a browser-based tool to customers for building their book. Before you can do anything at all, you need to upload all your images. Unlike most of the others, the Artscow tool is based on Microsoft's Silverlight technology. And, unfortunately, unlike all the other browser-based tools, the Artscow book-builder looks incredibly amateurish. It didn't inspire much confidence in me as a user as to the quality of their end product if this was the user interface they presented to customers. The tool is called "Photobook Designer" and the logo has a gradient that looks like WordArt from Word '97.
Figure 72: The ArtsCow book-building process.
Although it's not much to look at, it does get the job done. I was able to drag and drop my images one by one onto the page - and by default, all the pages are designed for full-page images. That's a nice touch I wish more photo book companies would emulate. Page numbers can be toggled off or on with a simple click, and the performance of the Silverlight-based tool was excellent. It was fast and easy to move images around the page, and swap them with another image via a quick drag and drop. Artscow offers drag and drop embellishments - hearts, buttons, butterflies, etc. - along with page backgrounds, themes, borders, and page layouts. Spine printing customization involves a single click and some typing - another thing more book companies should emulate.
The tool informed me that some of my images were of insufficient resolution for high-quality printing (below 200dpi), which I thought was a bug at first, but after consulting an online PPI calculator I understood. To print at at 300dpi on a 12 inch by 12 inch page, you'd need an image of about 16 megapixels in size. My highest-resolution camera, a Nikon D300, is 12.1 megapixels. Most consumers aren't going to have a 15+ megapixel camera, but most consumers getting 12" x 12" books created are likely doing scrapbook-style layouts with multiple pictures to a page. My use of full-page images is a bit unusual. There's also an unfortunate bug in their system that sorts images in the album in reverse. So BOOK-060.JPG was listed first, and BOOK-001.JPG was listed last. This meant that the autofill function, which would have otherwise worked, filled my book in the opposite order.
After I finished building the book, there was a preview function that gave me a decent idea of how the book would look. Everything looked OK, so I placed the order.
The Results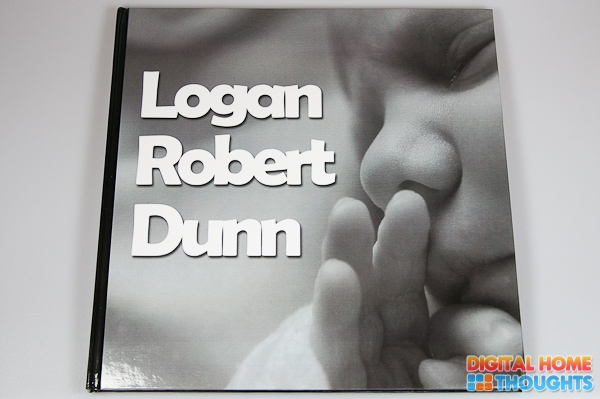 Figure 73: The ArtsCow photo book, front. [HIGH-RES IMAGE]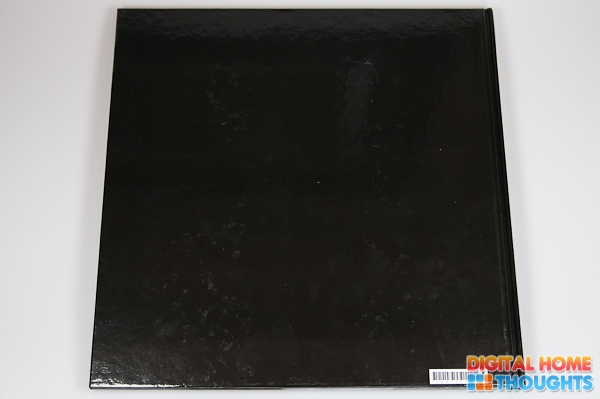 Figure 74: The ArtsCow photo book, back. [HIGH-RES IMAGE]

Figure 75: The ArtsCow photo book, spine. [HIGH-RES IMAGE]
Please click on the video above to watch it on YouTube in 1080p full screen mode.
Book Details: 12" x 12", 60 pages, hardcover with custom cover,
Book Cost: $64.99 USD, $19.99 shipping to Canada
Paper Quality: Poor > Average > Excellent > Superb
Print Quality: Poor > Average > Excellent > Superb
Cover Quality: Poor > Average > Excellent > Superb
Overall Quality: Poor > Average > Excellent > Superb
Spine Printing: Yes

---