Friday, April 1, 2011
Posted by Philip Colmer in "Digital Home Hardware & Accessories" @ 01:00 PM
Product Category: Network Attached Storage
Where to Buy: Amazon [Affiliate]
Price: $1,360.80 USD
System Requirements: Gigabit Ethernet for maximum throughput
Specifications: Holds up to 5 3.5" or 2.5" SATA drives with connectivity for two further 5-drive bays. Size: 157mm x 248mm x 233mm. Weight: 4.25kg. LAN: 2 x Gigabit Ethernet. More specifications available.
Pros:
Very fast;
Very flexible;
Very capable.
Cons:
Quite expensive;
Doesn't completely go to sleep if unused.
Summary: A solid unit delivering up to 45TB of network attached storage, with some additional functionality that makes it useful to both home and business user alike.
What? 45TB!?!?
Yes, Synology's top of the range NAS has the ability to hold up to 45TB based on today's hard drives. The main unit has five bays, and two eSATA ports which can be connected to expansion units each with a further five bays, making fifteen drive bays in total. That does, of course, assume no redundancy which may be a bit of a risk with that amount of storage!
Enough about the capacity, though. What about the unit itself? This box isn't just a NAS. Oh no, it provides far more functionality than that!
What You Get in the Box
As delivered, you get the DS1511+ unit, a power cable, two Ethernet cables and some screws. The unit does not come with any drives, leaving you free to populate it with whatever capacity drives you wish. They need to be SATA drives but you can mix and match 3.5" with 2.5" drives. Synology has a list of drive models that they have tested and validated for the unit.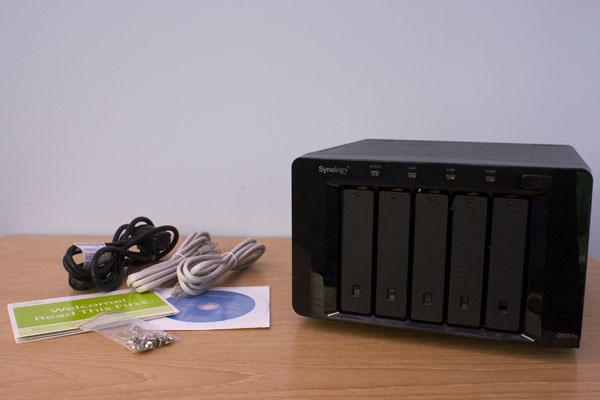 Figure 1: The DS1511+ with everything you need to get you going, except the hard drives.
So the first thing you have to do is fit at least one drive. You can't use the unit without doing so because the operating system - DiskStation Manager (DSM) - is actually stored on each and every drive that the unit has. It is partly for this reason that when you add a drive to a Synology NAS, the first thing that happens is that the drive is formatted. I can see why this happens but it does mean that you cannot simply move drives from another environment into the NAS and continue to use the data on those disks. It would be nice though if you could add a drive with existing data to a working NAS (i.e. one that has already got at least one drive with DSM installed) and then use the NAS to copy the data off the drive onto the existing drives using the speed of the SATA bus rather than over the network.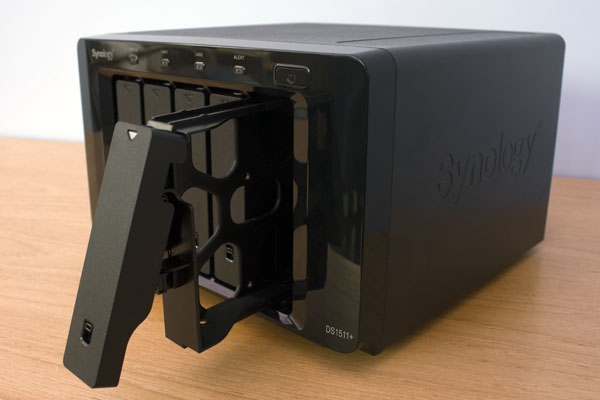 Figure 2: A drive cage for fitting a hard drive.
Fitting a drive is no harder than removing a drive cage (shown in Figure 2), aligning the drive with the screw holes and fitting the screws.
The rear of the unit reveals the two fans used for cooling, the two eSATA ports for the expansion units, two Gigabit Ethernet ports and four USB ports which can be used to connect memory sticks, external drives and printers.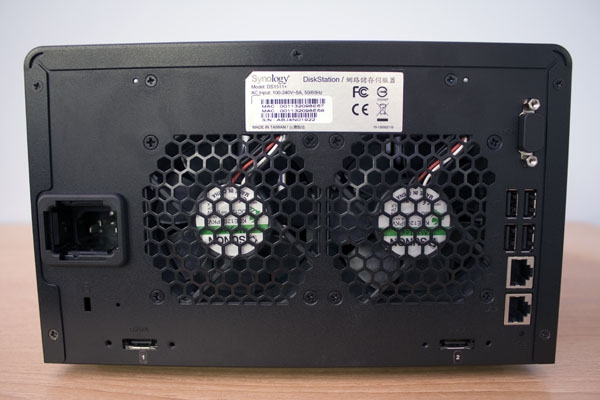 Figure 3: the rear of the unit.
---