Tuesday, April 6, 2010
Posted by Jason Dunn in "Digital Home Printing" @ 06:30 AM
SnapFish Photo Book Review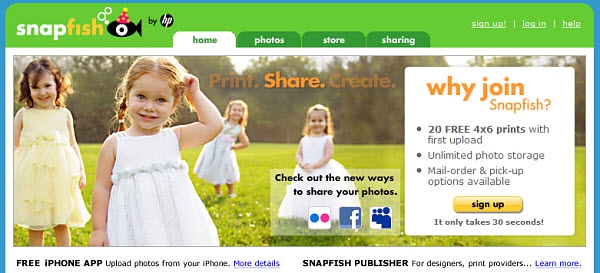 Figure 61: The Snapfish Web site.
Snapfish, an online photo service owned by HP, offers a variety of photo book options: 8" x 11" and 8" x 8" Personalized Cover Books, 8" x 11" Classic Photo Books, 12" x 12" Signature Photo Books, 5" x 7" Everyday Photo Books, 4" x 6" and 5" x 7" Flip Books, 5" x 7" Paperback Custom Cover Books, and some neat-looking Picture Me Photo Books where you put a photo of your child's face in the character of the book.
Building the Book
Like most of the Web-based book-building tools, the first step is to upload your images. Unlike most of the Web-based tools, Snapfish offers two choices for uploading: an optimized upload appropriate for prints and photo books, and an original resolution upload for larger prints. The default is the optimized upload, so I opted for that. The optimization process is quite effective: it took 15 seconds to process a 12 MB JPEG file, and only three seconds to upload it. This is on a 3.2 Ghz Core 2 Extreme CPU, where the optimization process is only using a single core, but it uses 99% of that one core. This isn't a process you'd want to initiate on your netbook, that's for sure.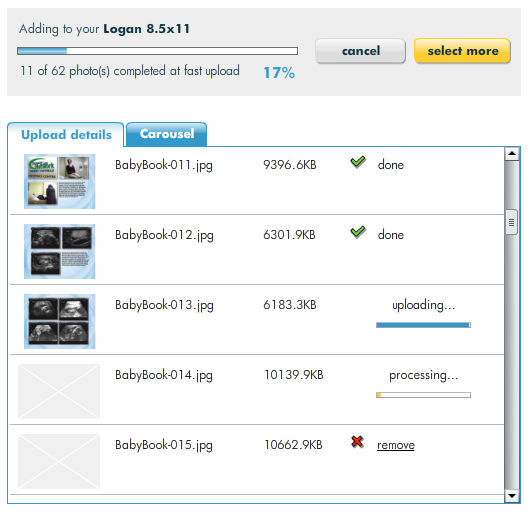 Figure 62: Uploading your images.
After the upload completed, which took less than 10 minutes, the Snapfish Web site presented me with options to order a coffee mug, a greeting card, or a photo book. I selected photo book, and was taken to a page where I could select the type of photo book I wanted. Opting for the 8" x 11" size, the next step was selecting from among the 56 photo book designs. Lots of choices! The next step was to select the type of cover, and choices included leather, linen, custom dust jacket, and a custom cover. When you select a custom cover, you then select from the type of cover - a full-cover image, a collage, or several other choices. The final part of this stage was clicking on Create...and that launched the browser-based tool for building the book.
After loading the Flash-based book-building tool, I was immediately prompted to auto-fill the book. Curious to see if this actually worked, or if it was a complete disaster like it normally is when I've tried this option in other book building tools, I selected yes. It was exactly as bad as I expected. It didn't respect the order of my photos - even though they're all named in sequential order - and worse, it assumed that I wanted multiple photos to a page. Thankfully, there's an undo button - but just once I'd like to see an auto-fill function that asks you if you want to auto-fill based on full-page layouts, asks for your front and back covers, then auto-fills based on file name. That would save so much time when building a book!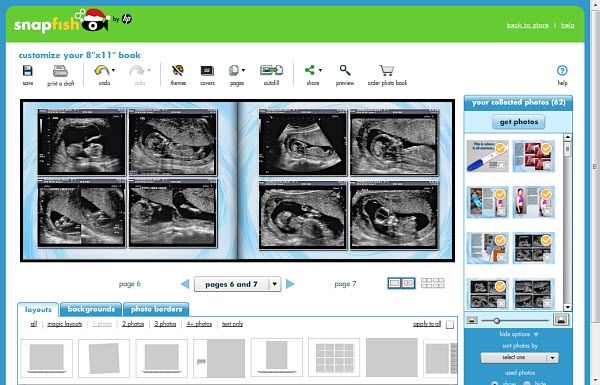 Figure 63: Building the Snapfish book.
Building the book was a fairly straight-forward affair. My uploaded photos showed up on the right, the blank pages of the book were in the middle, and below that there were options for page layouts, backgrounds, and photo borders. You simply drag your images from the right over to the blank page on the left. Unfortunately the default isn't full-page, so after dragging the image over you need to go into page layouts, find the full-page layout option, and drag and drop it onto the page to have your image cover the page. It's a bit tedious, but it works well enough...except for the frustrating bug where I'd drag and drop an image onto the page, only to have it be the same as the image next to it.
I'd click on the image I wanted, then drag it over to the page, dropping it - and watch as it loaded as a completely different image. Some pages took me five drag and drop attempts before it loaded the correct image. There's also the bug where you'd select an image by clicking on it, then proceed to drag and drop it, and have it not be "picked up" for dragging and dropping. And, let me tell you from experience, it's pretty frustrating when you get to the end of a 60-step drag and drop session, made into a 240-step drag and drop session due to glitches, only to find that you somehow have more images than remaining pages. I had to go back twice to get fix errors from having the same image on multiple pages, and some of those pages with the wrong images caused the whole order of the book to be incorrectly set. Building this book was a little frustrating - Snapfish needs to take a hard look at the bugs in their software.
Figure 64: Problems saving.
Like most Flash-based book-building tools, the Snapfish tool has a Save function - but after clicking it and waiting more than five minutes, I saw the above error. Thankfully, the next time I tried, the book was saved. Adding more pages is a simple one-click affair per page, but sadly the new pages don't match the layout of the pages before it, so every new page added was a combination of photo and text blocks. That meant several minutes of clicking and dragging the full-page layout option onto each newly created page, one at a time. And you sensing a theme here? So much clicking and dragging!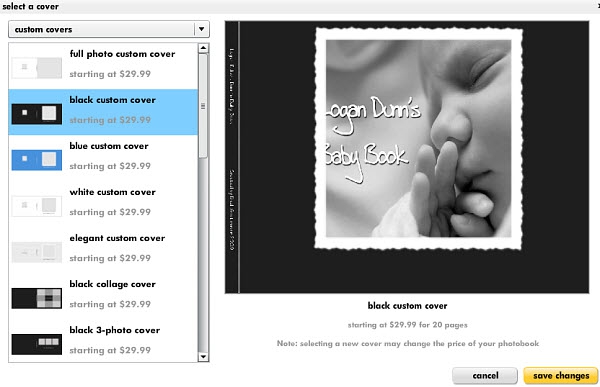 Figure 65: Selecting my cover. Really? No full-page photo for the front and back cover?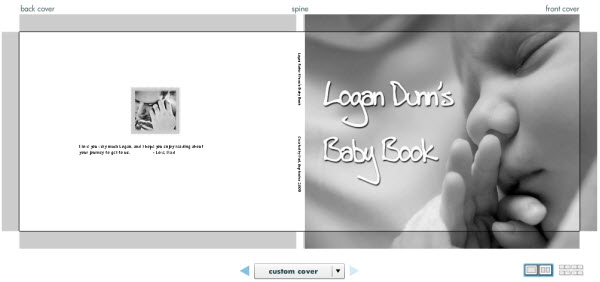 Figure 66: The best I could do. At least the front cover is full-page...
Clicking and dragging I can live with, but what I didn't like was what Snapfish considers a "custom cover". Every other company that has offered this option has allowed me to select a custom front and back cover. Strangely, Snapfish allows a great full-page custom cover, and printing on the spine, but on the back cover you only get a tiny image and room for two lines of text. Why not a full-page image on the back? No idea. Worse, if you want a full-page front cover, the back cover has to be white. If you want a black back cover, the front cover has to be an image inside a frame that doesn't fill the whole page. I found this frustrating, and I'm not sure why Snapfish is unable to deliver something that nearly every other big player in the industry can.
Another frustration I had with the cover was the incredibly inaccurate cover preview. If you look at the preview of the cover above, you'll see that there seems to be a large amount of space to the left of the text - so it shouldn't be cut off, right? Wrong. Check out that print preview below.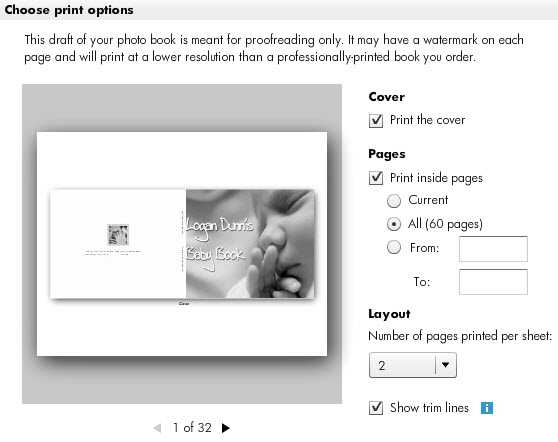 Figure 67: The Print Preview function isn't very accurate.
When I looked at the print preview, I was shocked to see that the text on the cover was cut off. I printed a copy of the cover on my printer, and sure enough, the cover was chopped off. I emailed my contact at Snapfish and she said they were aware of some bugs with the print preview function. I hoped that the WYSIWYG preview in the book-building tool was accurate and ordered the book.
The Results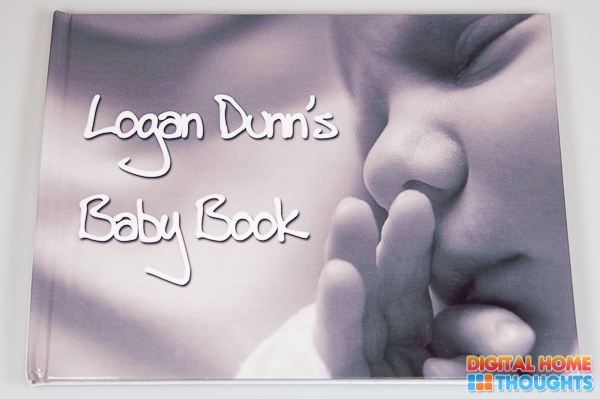 Figure 68: The Snapfish photo book, front. [HIGH-RES IMAGE]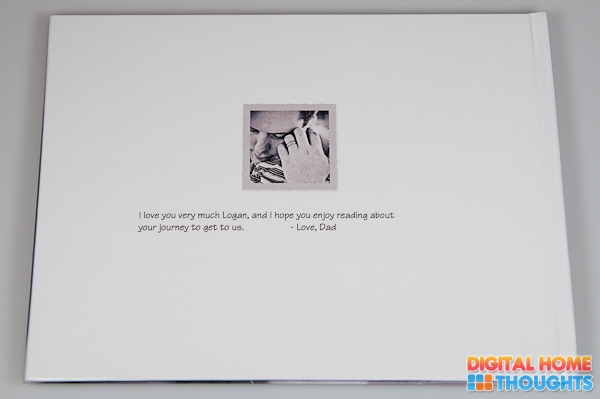 Figure 69: The Snapfish photo book, back. [HIGH-RES IMAGE]

Figure 70: The Snapfish photo book, spine. [HIGH-RES IMAGE]
Please click on the video above to watch it on YouTube in 1080p full screen mode.
Book Details: 8" x 11", custom cover book, 60 pages
Book Cost: $69.79 USD + $6.99 USD shipping to Canada
Paper Quality: Poor > Average > Excellent > Superb
Print Quality: Poor > Average > Excellent > Superb
Cover Quality: Poor > Average > Excellent > Superb
Overall Quality: Poor > Average > Excellent > Superb
Spine Printing: Yes

---