Wednesday, April 6, 2011
Posted by Eric Juillerat in "Digital Home Printing" @ 08:00 AM

Product Category: Photo Books and Printing
Manufacturer: VIOVIO
Where to Buy: VIOVIO
Price: $5.99 USD and up (varies)
System Requirements: Internet Browser, Laptop or Desktop computer
Specifications: N/A
Pros:
Massive library of templates;

Excellent customer support;

Impressive printing and pricing options.
Cons:
Internet based application can be slow;

May not be compatible with some browser plugins;

Finished project may not have the printing option you want.
Summary: Am I the only one who has gigabytes of photographs gathering digital dust on my hard drive? I'm not, right? And why? Because ink and photo paper is expensive, and it would take me forever to print them out! And then what? Invite the family over for a sit-down where you pass one photo hand-over-hand to the person on your right, over and over? No, no, this can't go on, and that's exactly what went through the brilliant minds over at Viovio. What if you could pick up a book, and inside have your photos displayed on high quality photo paper? And what if it had interesting notes and text, amid a visual playground that didn't just display your photos, but presented them? Viovio turns Family-Vacation-Photo-Night into an upper scale gala, thick with praise and hyperbole, but more importantly with love. And speaking of love, hidden in this review is a 20% off coupon for you to use!

Figure1 : Simple, yes, but...
Insert Your Image Here
Viovio.com allows you to create photo books, photo cards, calendars, and more - on demand. With their simple tools you can drag and drop photographs and text onto any of hundreds of creative templates and create professional looking products you'd be proud to share with your family and neighbors. And while they have fee-based services, Viovio gives you up to 200MB of photo storage free.
The Vicarious Life
Viovio might sound redundant, and it is. Vio is Latin for "go travel." Viovio directly translated means "go travel go travel." Now I don't speak Latin, but to me the name implies, go travel, come back, print out a book, and let me live vicariously through your adventures (it's less expensive, and a convenient way to avoid Montezuma's Revenge - trust me). In support of my translation, Viovio encourages a Community where you can make comments, share photos, and create travel blogs. And in the name of world peace Viovio brings these features to its members for free.
A Place For You And The Professionals
Viovio has put together a full service offering that plays to both the amateur and the professional. For the casual users, they provide tons of free and fee-based templates that can really pop your images and create an interesting dialog. One really cool thing about the templates is that they are mix and match. You can use individual pages from different templates and easily integrate them into your project to create a one-of-a-kind look.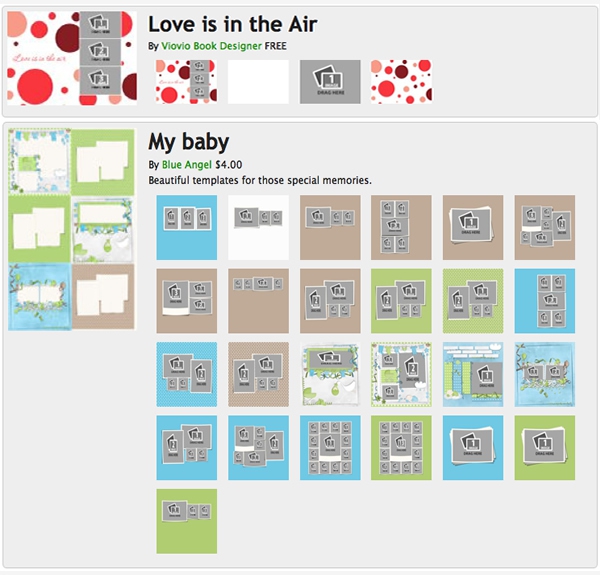 Figure 2: Free and Fee Based Templates.
The site is made to be easy. Drag and drop your images into templates, and employ simple text editing tools to make comments. Viovio also gives you several convenient options for uploading your photos: one at a time, in multiples, in a ZIP file, or even via FTP. For reasonable prices you can print your book with discrete Viovio branding and a unique book identifier. It's small, and I think it looks good. It makes it easy to reorder the book for those estranged relatives that suddenly want to be part of your family moments.
For the professionals out there - or those like me who play one on TV - you have the ability to make books from the same blank or creative templates, but can also pay a wafer thin fee to have the Viovio branding removed. This might be useful when self-publishing or utilizing Viovio's services to sell your books. To this fact they are in the process of expanding their distribution options, offering ISBN's and Amazon listings; you professionals out there, take note.

Figure 3: Full service printing.
Don't want to use Viovio's templates for your book? No problem; upload a PDF and have Viovio print it for you. For you Mac users out there, they can print your iPhoto book, offering more options than Apple, and at cheaper prices. In addition, Viovio has recently added Aperture file support. As you can see, Viovio is a complete printing service, with an ecosystem designed to support the casual and professional users alike.
---