Tuesday, September 28, 2010
Posted by Jason Dunn in "Digital Home Printing" @ 07:00 AM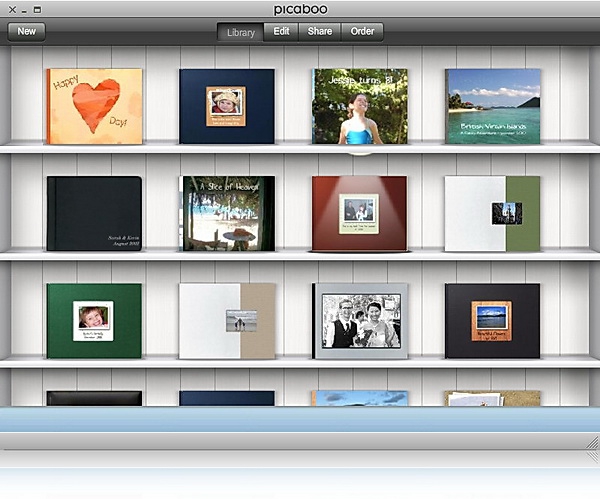 Product Category: Photo book
Price: Starts at $299.99 USD (8.5 x 11") or $199.99 USD (6" x 8"); as configured in this review, $539 USD.
System Requirements: Picaboo X is an Adobe Air application that will work on Windows or OS X.
Pros:
Easy to use book-building application with lots of extras;
The Ranch book style is beautiful from start to finish;
Picaboo provides excellent customer service.
Cons:
Picaboo books tend to be expensive relative to other book printing companies, though this is mitigated somewhat via regular promotions;
Picaboo X has some stability and usability issues;
Picaboo X is not well-suited to computers with a weak CPU, and isn't multi-threaded.
Summary: The last time I wrote about Picaboo, it was as part of my mega photo book review - and they didn't fare very well. I was contacted by someone from Picaboo's marketing department shortly after the review went live, and they were gracious about the issues I pointed out with their system and final product. They offered me a chance to try one of their higher-end books, and to review their new Picaboo X software. I had a personal project in mind that would be perfect for this type of book, so I figured I'd give them another shot. How did they do? Keep reading to find out.
Note: This review was written prior to the 10.124P version of the software that adds in the very clever BookGenie option, so that feature isn't discussed.
Lots of Options
Picaboo offers more variety than many other photo book printing companies out there today; they offer ten distinct style of books, starting at $9.99 for a 6" x 8" soft cover Classic book, all the way up to the Flush Mount book, which starts at $349 USD for an 8.5" x 11" version. What book style did I opt to build? Ranch in black. The Ranch photo book is a post-bound, lay-flat page style, with archival-quality 110 pound paper, a "full grain distressed leather hardcover" in either black or brown, and features cover stamping. Picaboo uses HP Indigo presses, and the pages are printed at 300dpi. Sounds like some serious quality, right?
It's not an inexpensive book to build - the 6" x 8" version starts at $199.99 USD with 20 pages, and costs $1.99 per page up to 160 pages. The 8.5" x 11" version starts at $299.99 USD with 20 pages, and additional pages are $2.99 each, up to 160 pages total. A 100-page book, pretty typical for a wedding album, clocks in at $359 (6" x 8") or $539 (8.5" x 11"). This is a premium-quality book reserved for only the most special of occasions, not your typical vacation photo book. Sounds perfect for a wedding album, right? That's what I was hoping for!
Getting Started with Picaboo X
Picaboo X is an Adobe Air-based application, so it's a fast, easy installation. I installed it on an HP dv2, which is a dual-core 1.6 Ghz AMD Neo CPU-based system with 4 GB of RAM. Picaboo X is installed directly from Picaboo's Web site and I had no trouble installing it from Google's Chrome browser. I already had Adobe Air installed because I use the awesome Tweetdeck, but if the user hasn't installed Adobe Air before, there's an extra step.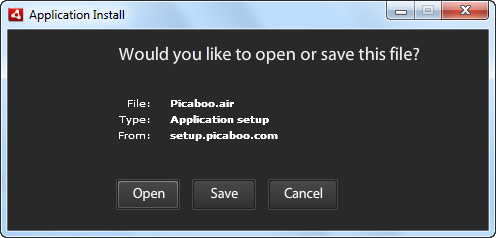 Figure 1: Installing Picaboo X is fast and simple.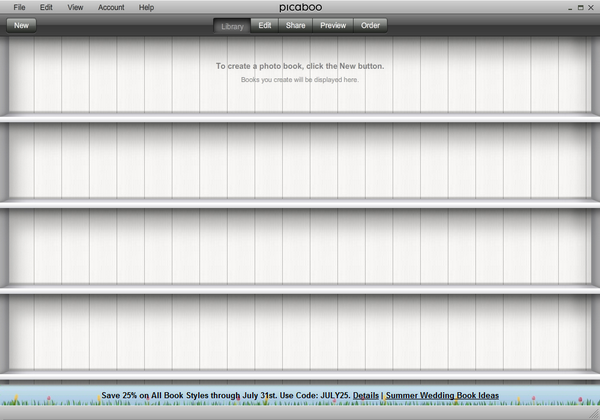 Figure 2: No books have been created yet, so it's a blank slate.
After the install, Picaboo X offered to let me create an account, but curiously didn't offer me the opportunity to log in with the Picaboo account that I already had. After clicking "OK," I was presented with an overview video of how Picaboo X works. It's a nice touch that gave me the basics of how the software works. This is great for both beginners and experienced photo book makers alike. After the installation, you're left looking at a blank bookshelf. After clicking "New," I was off!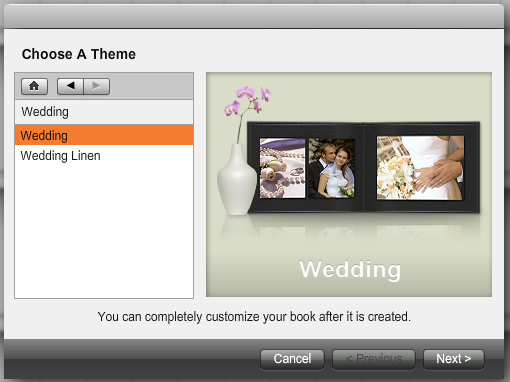 Figure 3: Selecting a theme is the first step in creating your book.
Picaboo books are organized around themes - there are 16 master themes, and many of them have sub-categories. I was making a wedding book for my sister-in-law and brother-in-law, so I selected Wedding and was given the option of Wedding and Wedding Linen. The preview window that shows you the style is quite tiny, so it's hard to really grasp how each style differs from each other - but you can customize the book after this step, so I selected Wedding and moved forward.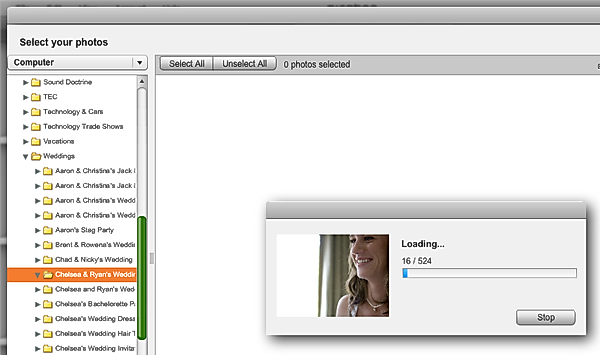 Figure 4: Importing the images.
The next step was to select the photos for the book; a file picker appears, and it automatically starts in the Pictures directory, exactly the way it should work. I selected the folder that had the wedding photos in it — all 524 of them — and Picaboo X immediately started to scan them all. It was taking around 1.5 seconds per photo, and looking at the Task Manager, I could see it was using 45% to 50% of the total CPU resources, meaning that it was a single-threaded application unable to take advantage of multiple CPU cores. That's quite disappointing, because I had hoped that a new development platform like Adobe Air would have multi-threading built right in. I toggled away from the application to work on something else while it scanned, and after about two minutes I noticed Picaboo X was no longer running. Huh?
Here's where you'll want to stop reading if all of your photos are 13 megapixels or under and skip to the next section; what follows is a titanic struggle with a number crashes of Picaboo X, all because I had hundreds of weirdly formatted images that were 17.4 megapixels in size.
---