Tuesday, April 6, 2010
Posted by Jason Dunn in "Digital Home Printing" @ 06:30 AM
Inkubook Photo Book Review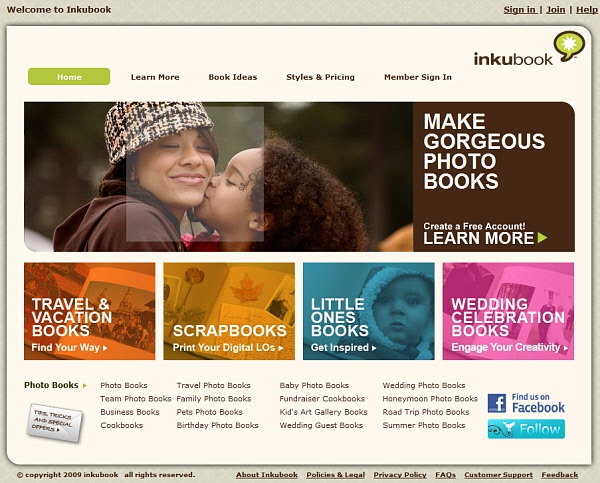 Figure 29: The Inkubook Web site.
Inkubook ranks high in the "quirky company name" category, but they also have a lot to offer and are worth considering. They offer books in several sizes; the Mini Brag (7" x 5" landscape), the Simple Square (8.5" x 8.5"), th Ultimate Portrait (8.5" x 11" portrait), the Classic Landscape (11" x 8.5" landscape), and the Great Big Square (11" x 11"). Their books are printed on 100 lb., "archival-quality silk paper". I should note that Inkubook offers coupons via email quite frequently, which is a big money saver if you're printing multiple books.
Inkubook has provided a discount coupon specifically for Digital Home Thoughts readers; use the coupon code DIGIHOME30 to get 30% off any order. This coupon is limited to one per customer, to a maximum of $100 in value, and is valid until December 31st, 2011.
Building the Book
Unlike most photo book printing sites, Inkubook uses a browser-based book creation tool. Surprisingly, it's not Flash-based: they're using Microsoft's Silverlight technology. After you create your free account and log in, there's a big orange "Start a New Book" button. Step two is picking the book size: they offer 7" x 5" landscape, 8.5" x 8.5" square, 8.5" x 11" portrait, 11" x 8.5" landscape, and 11" x 11" square. Strangely, not all sizes are available in softcover, but all sizes are available in hardcover. 12" x 12" is an industry standard size based on all the sites I've looked at, so it's curious to see Inkubook go with an 11" x 11". Thankfully, square is square, so there's no need to re-format your layout if you've gone square.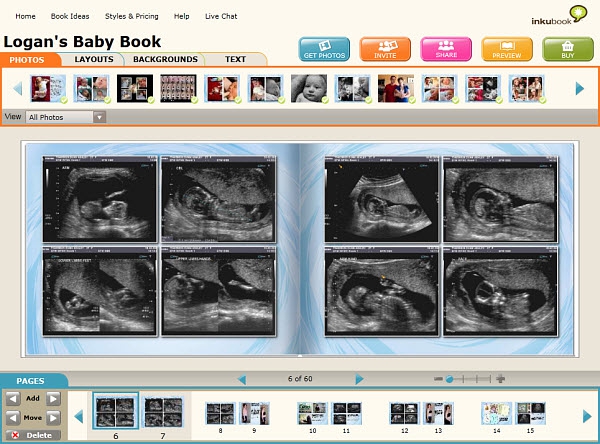 Figure 30: The Inkubook book-building process.
I selected the 11" x 8.5" landscape, which is only available in hardcover, and browsed through their themes next. They offer a variety of categories - photo book, wedding, travel, cookbook, etc. - and each category has a variety of themes and backgrounds associated with it. I wanted to keep things simple, so I selected Photo Book as the category, and Photobook as the theme. Next came picking between "Starting from Scratch" and "Autofill My Book". I selected Autofill, hoping that it would be smart enough to fill each page completely with an image. Photos in the next step are pulled from Flickr, your local computer, or Inkubook - the last option meaning, I presume, previously uploaded images.
Here's where having a browser-based system becomes problematic: uploading your images can take quite a while, and their system doesn't seem to be very robust at recovering from problems. In my case, I kicked off the upload of my 62 images, which were a total of 170 MB in size, and left for an appointment. I came back, and my computer had gone to sleep - I woke it up, and saw that the upload hadn't completed. It was stuck on "Building Your Book: 56 of 58". Here's one of the error messages that popped up while I was building my book: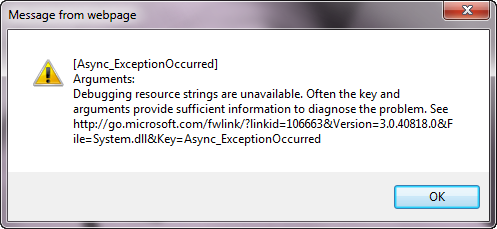 Figure 31: One of several error messages the Inkubook site presented.
The good news is that when you add a new page, it's based on the page before it - so it "only" took me 40 or so clicks of the Add Page button. It would have been easier if part of the book setup was "How many pages do you want?" and a default selection for each page. One of the things I really liked about Inkubook's Web-based process is that after an image has been uploaded, you can immediately drop it onto your page. Other services make you wait to upload all the images, then allow you to start building your book. The Inkubook method is vastly superior and allows the user to build each page as the images become available.
At the end of the process, after you put in your shipping information, you have two options: black or white end leaf colour (the sheet that is attached to the inside page of a case-bound book), and a matte or glossy cover finish. And that's it!
The Results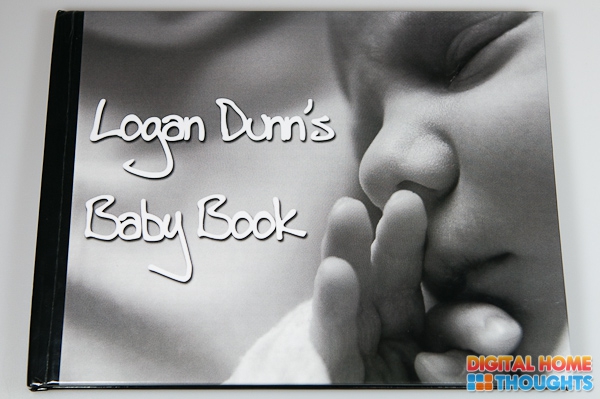 Figure 32: The Inkubook photo book, front. [HIGH-RES IMAGE]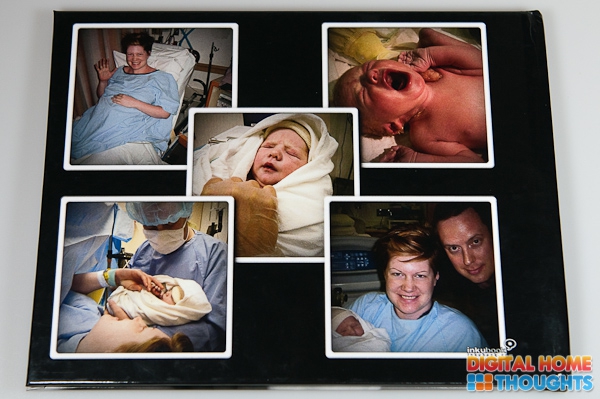 Figure 33: The Inkubook photo book, back. [HIGH-RES IMAGE]
Please click on the video above to watch it on YouTube in 1080p full screen mode.
Book Details: 8.5" x 11", 60 pages, ImageWrap
Book Cost: $42.95 USD, $18.99 shipping (2-7 days to Canada)
Paper Quality: Poor > Average > Excellent > Superb
Print Quality: Poor > Average > Excellent > Superb
Cover Quality: Poor > Average > Excellent > Superb
Overall Quality: Poor > Average > Excellent > Superb
Spine Printing: No

---