Thursday, September 13, 2007
Posted by Jason Dunn in "HARDWARE" @ 07:00 AM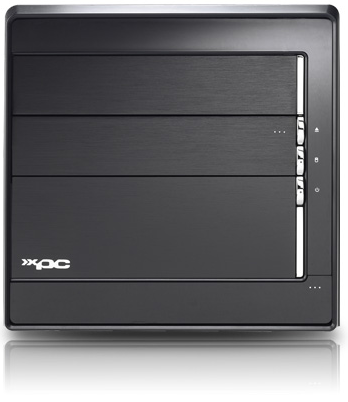 Product Category: Barebones computer (XPC)
Where to Buy: NewEgg
Price: $371.71 USD
System Requirements: The SD39P2 is a case, motherboard, and power supply. You need to add a CPU, RAM, hard drive, optical drive, and video card.
Specifications: 325(L) x 210(W) x 220(H) mm in size. 400 watt power supply, Intel 975X + ICH7R chipset, 4 x 240 pin DDR2 DIMM Slots, 2GB per DIMM (Max 8GB), Dual Channel DDR2 533/667/800 with ECC supported. Full specifications on the Shuttle product page.
Pros:
Superb industrial design - it looks fantastic;
Four slots for RAM, up to 8 GB supported;
Eight USB ports, three hard drive bays, one e-SATA port - it's loaded.
Cons:
No memory card reader included;
RAID setup a frustrating mess;
Not exactly quiet compared to some computers.
Summary: My goal was to create a powerful small form-factor media editing machine, primarily used in editing RAW photos and high-definition video footage. I used the latest and greatest Shuttle - the SD39P2 XPC - when I started this project, combined it with the best that Intel, Kingston, and Western Digital had to offer, and ended up with a screamer of a machine.
Building a Computer for Review
Every time I start a project to build a computer for an article, I always face the same challenge: getting the best parts I can at the right time, and getting the machine assembled, benchmarked, and throughly tested - all before the parts I'm using become obsolete. Let me tell you, it's not as easy as it sounds! It's definitely not as straightforward as unpacking a new gadget or piece of software and testing it. I started this project around five months ago, and went through all sorts of setbacks - delayed shipping, a defective product, and software glitches galore (and, if I'm honest with myself, motivation problems with this article due to those delays). Because of that, some of the hardware in this article is already outdated, replaced by newer versions. The goal of this article is to not only review Shuttle's SD39P2 XPC, but also to describe why I picked the parts that I did, how they performed, and what I learned about building a high-performance small form factor computer.
The Lowdown on the Shuttle SD39P2
I have a long history of using Shuttle XPC computers, so I'll admit that I'm biased right off the bat: I really like their hardware, design, and quality. When I wanted to start this project, I knew it would be sitting on a shelf above my work desk, so a small form-factor computer was a must. I also knew that I wanted to build something as cutting-edge as possible, so I contacted Shuttle to ask them for the newest, fastest, most bad-ass XPC possible (this was back in March). They sent me the brand new (at the time) SD39P2.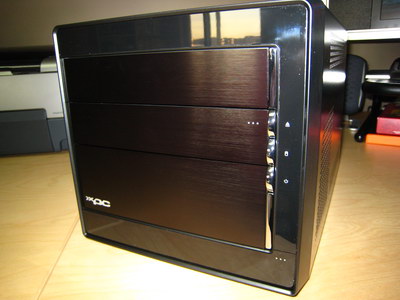 Figure 1: The Shuttle SD39P2, up close and personal - it looks fantastic!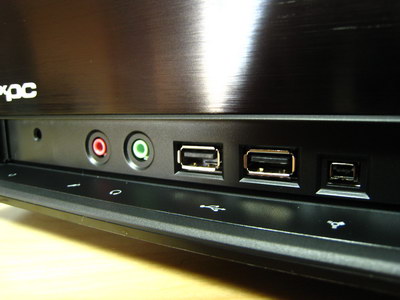 Figure 2: Behind the pop-down panel, we have (from left to right), a recessed reset button that's a complete pain to get at, a microphone jack, headphone jack, two USB 2.0 ports, and a 4-pin Firewire connection.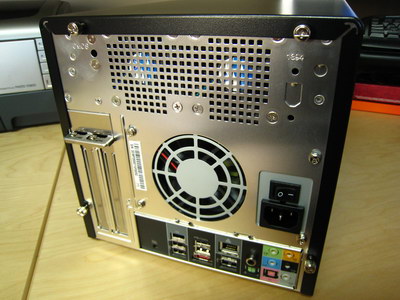 Figure 3: The SD39P2 from the back - two slots for expansion cards (one x16 PCI Express slot, and one PCI slot). Notice all the perforations in the case for air flow.
This was the first XPC from Shuttle to support the Intel Core 2 Quad processor, along with supporting the Core 2 Extreme processor, Core 2 Duo processor, Pentium 4 processor and Pentium D processor (all Socket 775 of course). It uses the Intel 975X + ICH7R chipset, has enough space for four RAM sticks running at DDR2 speeds of 533/667/800, and maxes out at 8 GB of RAM. Audio duties are handled by an on-board Realtek ALC888, 7.1 channel High Definition Audio chip with an S/PDIF In/Out port. I would have preferred to see an on-board Soundblaster solution, or even better on a riser card, but I don't do much serious audio work so I'm ok with on-board audio. The Broadcom BCM5789 supplies the gigabit ethernet support, and Firewire 400 is supported (sorry, no 800 here). Intel Matrix Storage Technology means on-board RAID, which is perfect because this unit also supports up to three SATA hard drives. The motherboard supports a whack of different connections, so I'll just do a copy/paste here from the Shuttle site:
(3) 3.0Gb/s bandwidth SATA II
(1) 3.0Gb/s bandwidth eSATA
(1) Ultra DMA/100 IDE channel
ONBOARD CONNECTORS (3) SATA connector
(1) ATA100 bus IDE connector
(1) Floppy connector
(2) 1x5pin USB2.0 header
ATX main power connector
(1) ATX 12V power connector
(3) set 4pin fan connector
(1) set 3pin fan connector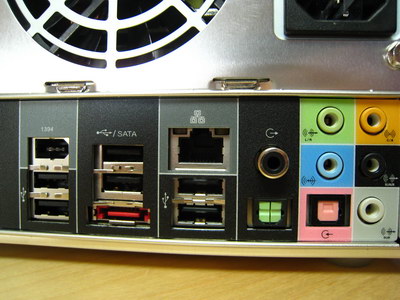 Figure 4: A close up of the back ports on the SD39P2. From left to right, we have a 6-pin Firewire 400 port, two USB ports, then two more USB ports and an e-SATA port (external SATA), the ethernet port, two more USB ports, digital optical out (either RCA-style plug or the square optical), then the standard in/out audio ports, along with a digital optical input.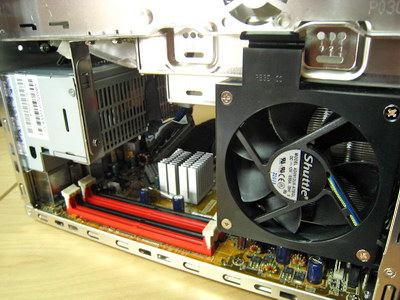 Figure 5: A close-up of the motherboard - the big fan on the right draws heat off the passive heatsink over the CPU.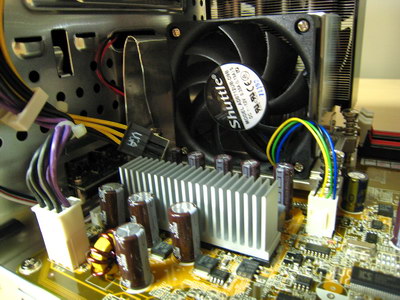 Figure 6: Another motherboard close up, this time showing the other side of the fan.
---