Thursday, September 13, 2007
Posted by Jason Dunn in "HARDWARE" @ 07:00 AM
Overclocking the SD39P2
Thinking that things were stable after all of my tests, I fired up DX0 Optics Pro to run a batch test converting 50 Nikon D200 RAW files to JPEGs (using the standard DX0 presets), but during the conversion process the machine crashed with a blue screen of death on an 0x0000001A error. That's a memory management error apparently, so I thought perhaps the RAM I had overclocked and voltage-bumped was to blame. I was quite baffled at this point because it had completed all of the previous RAM tests without error. I fired up Memtest X86 and let it run for two complete cycles of testing, just in case the RAM was defective, and no errors came up. I thought it might have been a one-time thing, so I tried running the batch process again, and this time it was an all new blue screen of death: a STOP: 0x00000124 error, apparently linked to the sound card or sound drivers. In my searches, I found forums are rife with complaints about this specific error and no one quite knew what was causing it - some people said on-board sound chips, others said Nvidia drivers, and still others RAM problems.
Searching for this error code on Microsoft.com gave me seven results, all of them forum postings from angry users looking for a solution, and not a single knowledgebase article to be found. If I was getting this error on a non-overclocked system like many of them were, I'd certainly be ticked off, but since I'm overclocking I'm expecting wonky results. The Shuttle allows for some nice overclocking options, including CPU Clock Ratio, CPU Clock, and DDR2 Voltage set adjustments. Here's a screen shot of what the overclocking options look like. After experimenting with the settings over a period of a week, I managed to achieve an overclock of 3389 mhz - a full 454 mhz faster than the stock clock speed - using nothing more than the standard Shuttle cooling fans. That's a 15% clock speed bump, which is nothing to sneeze at. I achieved that with a CPU clock of 300 mhz, the CPU voltage at +25mv, and the RAM voltage at 2.0 volts.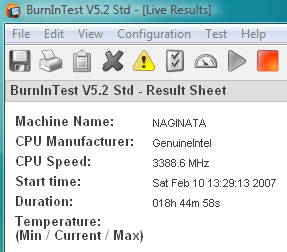 Figure 19: 18 hours into the test on a successful overclock...or so I thought.
Once I had a stable overclock, I needed to torture test it. I bought a copy of BurnInTest from PassMark Software and maxed out all the test settings to produce as much load as possible. As you can see from figure 18, it passed with flying colours after 18 hours of torture testing. No errors other than two minor network errors which are statistically inconsequential. So how did it benchmark after the overclock?
Overall PCMark Score: 8126 [9% improvement]
CPU PCMark Score: 8516 [17% improvement]
Memory PCMark Score: 6494 [14% improvement]
Hard Drive PCMark Score: 6532 [6% improvement]
Here's another way of looking at the results. First, the Windows Experience Index score before the overclock:

And here's the Windows Experience Index score after the overclock: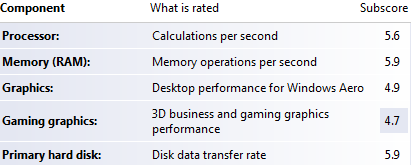 You'll notice that the only difference is the memory measurement, jumping from a 5.3 to a 5.9. Strange that the CPU score didn't change, even though there was a 15% clock speed boost - I suspect that the CPU tests aren't overly granular and a greater than 15% clock speed difference is needed to see a change in the score. Microsoft states that the current scores go up to 5.9, so a 5.6 is near top-end performance. So you'd think the SD39P2 was good to go for running at 3.3 Ghz, right? Wrong. Despite all of my tests, and all of the benchmark burn-ins, when I started loading it up with my applications (Adobe Lightroom, Adobe Photoshop Elements, Nero 7, etc.) I started to get blue screen of death crashes - usually related to the memory.
After testing it a bit more, I think I've determined that the stock 800 mhz Kingston RAM I was sent just doesn't have the upper-end headroom for the type of overclocking I'm trying to do. In retrospect I'd probably have had better luck with some of their HyperX RAM. Maybe next time. Ultimately I need a system that's 100% rock solid and stable - there's nothing worse than spending hours working on a video editing project only to have your system crash, potentially losing all that work if the files get corrupted. I down-clocked my system to stock speeds and it's been 100% stable for months.
Conclusion
Shuttle's SD39P2 is a fantastic machine - it's easily the best small form-factor machine I've used, and the best combination of performance and quiet operation that Shuttle has ever released. When combined with parts such as the Intel Core 2 Extreme X6800 CPU, Kingston 800 mhz DDR2 ValueRAM, and Western Digital Raptor and RE2 hard drives, I ended up with a system that's incredibly fast, responsive, and lightning-quick at rendering video files and editing RAW images. Using Adobe Lightroom on this computer is a joy, and Adobe Premiere Elements lets me fly through video footage. Although I had my struggles with getting the RAID array configured, now that it's set up I'm secure in knowing that my precious RAW photos and unedited video footage is safe on the Western Digital RE2 hard drives.
The biggest negative I can point out about the SD39P2 is that it's already been eclipsed by the newer SP35P2. Shuttle does their best to keep up with the relentless pace of CPU innovation that Intel cranks out, and as such most of their high-end XPCs don't last long on the market. The SP35P2 looks nearly identical to the SD39P2, so that's probably the one you want. Me, I'm going to give it a pass - these system reviews always nearly kill me when I write them, so my SD39P2 and I are going to go edit some RAW photos and not try to think about how much faster it would be with one of those swanky Core 2 Extreme Quad Core processors...
Jason Dunn owns and operates Thoughts Media Inc., a company dedicated to creating the best in online communities. He enjoys mobile devices, digital media content creation/editing, and pretty much all technology. He lives in Calgary, Alberta, Canada with his lovely wife, and his sometimes obedient dog. He loves fast computers.
---