Thursday, September 13, 2007
Posted by Jason Dunn in "HARDWARE" @ 07:00 AM
The Guts of the Monster (...Continued)
OPTICAL DRIVE: LG 18x DVD Dual-Layer Burner
Because this was a media editing and authoring machine, my initial plan was to get a Blu-ray burner for it. I tend to be more of an HD-DVD guy myself, but if you need to burn a big high-definition project right now, Blu-ray is the only game in town. I contacted Plextor and asked for one of their PX-B900A Blu-ray burner drives. Their initial response was promising, but after waiting over a month and repeated emails going unanswered, I gave up and went out and bought a drive I knew I'd get good use out of: a cheap dual-layer DVD burner. Burning a Blu-ray disc would be more of an exercise in W?BIC! (Why? Because I Can!) than anything else. I know exactly one person with a PS3 where I live, and no one with a stand-alone Blu-ray player.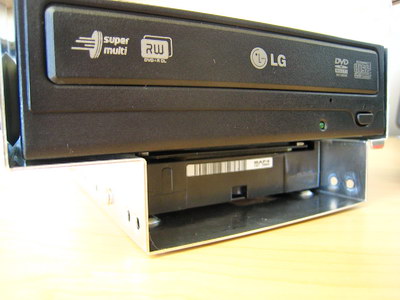 Figure 13: The optical drive. Nothing special!
It's amazing how inexpensive DVD burners have become: you can pick up a 20x DVD burner with LightScribe abilities for just a bit over $30 USD. I can still remember paying over $500 for my first DVD burner, a Pioneer. At any rate, there's absolutely nothing special about this LG burner - other than the fact that the first one I bought was defective so I had to get a replacement. Quality control tends to drop as quickly as the price with most hardware. Moving right along...
STORAGE: Western Digital Raptor (150 GB), Twin Western Digital RE2 Drives (500 GB each)
My plan for storage on this system was fairly straightforward: I used the fast 10,000 RPM Raptor drive as the applications drive, running Windows Vista and storing all the day to day applications and data. 150 GB is enough space for that purpose, and the Raptor drive is still the fastest drive around. The two Western Digital RE2 drives, 500 GB each, would be put together into a RAID 1 array (meaning each piece of data would be written to each drive, offering redundancy).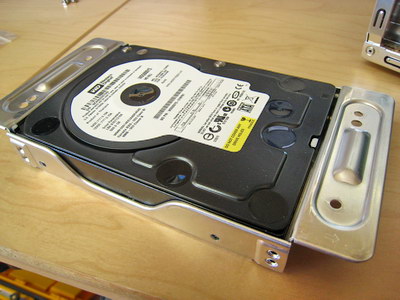 Figure 14: One of the Western Digital RE2 drives.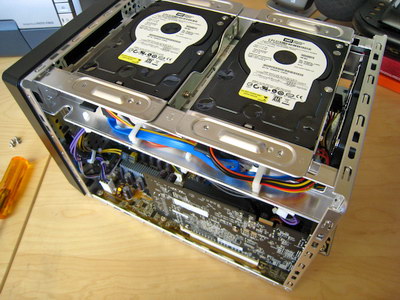 Figure 15: Both of the RE2 drives are in the top drive bays - the Raptor drive is in the drive cage below the optical drive (not shown) - you can see it in figure 13.
Why RAID 1 for redundancy and not RAID 0 for speed? When you're working with large media files - especially video - it becomes a great challenge to back them up. Once you've finished the project and have your final files, you'll typically end up with storage requirements 1/10th of what you started with. Before you get to that point, however, you're in the stage where you have buckets of raw data. It's easy enough to back up 4 GB of RAW images, but what about 200 GB of raw HD video footage? I wasn't using this computer for final-form media storage - it was the editing workstation for the raw footage and photos. The final results would be stored on my Media Center computer or my Windows Home Server. An additional benefit of having the 500 GB array be used for nothing but media storage is that it's simple to format and prep for video capture - capturing to a empty drive gives you great results. When I'm ready to start a new project, I wipe the RAID array and start the capture. Getting the array configured was another story...keep reading below.
VIDEO CARD: XFX 7600GS
Remember when I said above that I didn't care about gaming performance? That's true - I care far more about having the quietest computer I can manage, and since video card manufacturers don't seem to grasp that silence is golden, I opted for a passively cooled card. XFX didn't respond to my emails requesting a card for review, so I just went out and ordered one of their 256 MB GeForce 7600GS cards myself. At one point I tried putting a XFX 7950 GT in there, but the SD39P2 couldn't handle the massive heat sink fans.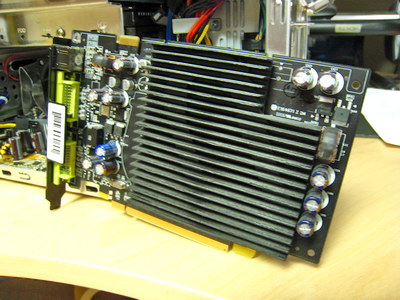 Figure 16: Silent and fast enough for my needs.
Steps are being made to harness the power of the GPU on a video card to render video and assist the CPU, but we're still a few years away from that becoming the norm (if ever). Until then, the goal for any video card in a media editing machine is to not make any noise and to keep up with the general 2D/3D use of the operating system. The 7600 GS card isn't particularly fast, but it does the job well and fully supports Vista's Aero Glass features.
RAID is Still a Hassle
When I put the Shuttle SD39P2 together, I initially only connected the 150 GB Western Digital Raptor drive after Vista was installed, my plan was to connect the two 500 GB Western Digital RE2 drives, turn on the motherboard RAID, and create the 500 GB RAID 1 array. I tend to put machines together in their simplest configuration first, the build them up slowly with other hardware and software. What sounded simple in theory turned out to be frustrating in practice. Vista installed without a problem (once I got past the optical drive problems), but when I turned on the RAID controller via the BIOS, I ran into serious problems: the RAID array was set to be bootable, and there was no setting to change that. When Vista tried to boot, I got a blue screen of death with a STOP 0x00000007B error. I tried a few things, including changing the boot order of the drives, but nothing helped. I ended up phoning Shuttle tech support to ask if what I wanted to do was even possible. The tech assured me it was, and said I just needed to install the Intel Matrix Controller software inside Vista. I thought "OK, that sounds simple".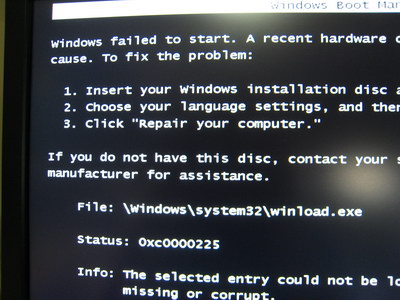 Figure 17: I lost count how many times I saw this screen.
I should have known it wouldn't be: despite trying the version of the Intel Matrix software that came on the CD, and the version that Shuttle offered for download on their site, every install attempt resulted in an error in the software saying that my system "didn't meet the minimum system requirements". Both of the RE2 500 GB hard drives were installed, working, and formatted. I even tried two different versions of the Matrix software from Intel.com, but I saw the same error each time. I thought perhaps the problem was that the motherboard was set to SATA mode rather than RAID mode, and that the Intel software couldn't see the RAID controller, so I switched it to RAID mode but didn't have any of the drives in an array - meaning that there was no array to boot from, and that it should just boot from the single Raptor drive (which was in position zero). I thought for sure I had the problem solved, but a reboot gave me another blue screen of death with a STOP 0x00000007B error.
Did I mention that the Shuttle's reset button is recessed and not accessible by a finger, forcing me to use a pen or paperclip each time I wanted to reset the machine? I tried booting in safe mode and when it got to a file called crcdisk.sys, the system crashed. I don't have a great deal of experience with RAID, but I do know that without the proper drivers, Windows can't see the connected hard drives. I was hoping this scenario would be improved with Vista, but it seems just as bad - well, perhaps not quite as bad, because now you can load drivers off a CD, in the Windows XP era it was floppy only. I booted from the Vista Ultimate DVD, selected the Repair option, and not surprisingly Vista couldn't see any install of the operating system. I selected load driver and after striking out on finding the right driver on the Shuttle driver CD (why wouldn't the RAID driver folders contain the same drivers as the floppy discs?), I was impressed that Vista's install routine could dynamically detect a USB floppy drive and load up drivers from it. The problem? There were two different driver files on the floppy disc, each listing no less than four different Intel hard drive controllers - and the SD39P2 specifications page didn't actually tell me what controller it uses.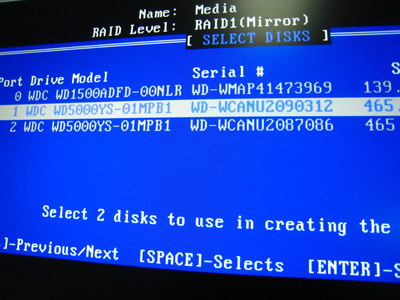 Figure 18: Finally, I got it working!
Having no other choice, I phoned Shuttle tech support again. Their techs are really excellent, I've always found them to be helpful and very intelligent. They don't read from a database like a Dell drone, so when I explained what I was trying to do, he understood. After a few minutes of research, he found that the SD39P2 used the Intel 82801 GR RAID adaptor. Why this wasn't on the specifications page? He agreed it should have been. Unfortunately, even once I selected the proper driver, I wasn't able to rescue my install of Vista. I started over from scratch, this time with all three hard drives connected, and using the proper driver I was able to get Vista Ultimate installed and working perfectly - in fact, the install only took 18 minutes from the initial boot up to when I was staring at the Vista log-in screen after the performance benchmark. This machine is fast.
Benchmarking the Beast
After I installed Vista Ultimate, it was time for benchmarks! Benchmarks are ultimately meaningless numbers unless you have a point of comparison, so I thought the thing that made the most sense was to compare this new media machine to what I was using before for my photo and video editing: a Fujitsu N6220 laptop. This laptop was purchased in November 2005 with the goal of being my mobile photo and video editing workstation. I've been quite pleased with it, but I didn't end up going mobile with it as often as I thought I would - so it's been more of a desktop computer. It has 2 GB of RAM, two 7200 RPM 100 GB hard drives, and a single-core 1.86 Ghz Pentium M CPU. The PC Mark 2005 score for this laptop was 2156 PC Marks. By comparison, my other laptop (a small 10.6" screen Futjisu P7010), came in at 1096 PC Marks.
How did the media machine benchmark without any overclocking? 7430 PC Marks. So I'm looking at an improvement of nearly 350% in overall performance. That's enough to make any geek giddy, so needless to say I was thrilled. Not surprisingly, the PC Mark 2005 CPU test was lop-sided: the Fujitsu N6620 showed up with a score of 3001, while the media machine spanked it with a score of 7106. The memory scores produced a similar result, with the Fujitsu N6220 giving a score of 2680 and the media machine screaming in at 5599. The all-important hard drive score on the Fujitsu N6220 was 3779, while the media machine came in at 6119 - the difference would have been even more extreme if I hadn't replaced the single 80 GB 5400 RPM hard drive in the Fujitsu (which is what came included) with those fast 7200 RPM drives. The hard drives gave a commanding performance as well - the 150 GB Western Digital Raptor dished out 127.1 MB/s burst speed, a random access time of 8.3 ms, an average speed of 75.1 MB/s, and CPU utilization of 4% (HD Tach Graph). The twin Western Digital RE2 500 GB drives in the RAID 1 array had a burst speed of 168 MB/s, random access time of 13.5 ms, an average speed of 61.5 MB/s, and CPU utilization of 3% (HD Tach Graph). These drives are incredibly fast, and the benchmarks show it.
I ran the same DXO benchmark I did for the LG C1 laptop - taking 20 RAW images and processing them with the default settings - and measured the results. This test is almost entirely CPU and RAM dependant, so it's great test of the brute strength of a system. I've included the results from several of my recent computers so you can see what a huge difference the Intel Core 2 Extreme X6800 CPU makes.
Fujitsu P7010D @ 1.2 Ghz (single core): 52 minutes
LG C1 @ 1.2 Ghz (two cores): 21 minutes
Fujitsu N6220 @ 1.86 Ghz (single core): 16 minutes
Dell XPS M1330 @ 2.2 Ghz (two cores): 5 minutes 44 sec
SD39P2 w/Core 2 Extreme @ 2.93 Ghz (two cores): 4 minutes 8 sec.
Video encoding is still the single most intensive task you can do with your computer, so I tried a few tests. I ripped Lord of the Rings: The Fellowship of the Ring to a 720 x 480, 2025 kbps Divx file using CloneDVD Mobile. It was set to one pass deinterlace, and that process took 41 minutes and 15 seconds. CloneDVD Mobile uses mencoder which sadly isn't multi-core enabled - meaning that when CloneDVD Mobile was encoding, it was only using 100% on a single core. That meant the machine was still extremely responsive and fast, even with one core under full load, but I certainly wasn't encoding video as fast as I could be. Next I tried ripping the same DVD using Nero Recode, with the bit rate set to 2020 kbps, the resolution set to 720 x 480, and the real-time encoding set to one pass with the video preview disabled. The results? 30 minutes and 34 seconds. Both cores were firing 100%, so that's as fast as it gets with this CPU. The comparison between the Divx encode and the Nero Digital encode isn't exactly fair since there many encoding factors that impact performance. I'll use this same Nero Digital test in the future to benchmark other CPUs.
---