Thursday, September 13, 2007
Posted by Jason Dunn in "HARDWARE" @ 07:00 AM
The Guts of the Monster
As I explained at the beginning of this article, I wanted this computer to be used primarily for one thing: media editing. I didn't care about gaming performance, TV recording, or anything else. Every part I picked was geared toward the goal of editing RAW photos and video footage (both SD and HD) as fast as possible. Here's what I put in it and why.
PROCESSOR: Intel Core 2 Extreme X6800
Intel Canada was generous enough to send me their flagship processor at the time: the Intel Core 2 Extreme X6800. When they sent it to me, the Intel Core 2 Quad CPU was just being sampled to some Web sites, and even though I desperately wanted one for this machine because it supported it, there was just no supply (and, hey, Digital Media Thoughts is no Tom's Hardware Guide - I know my place in the food chain). This delectable CPU has a lot of muscle: 2.93 Ghz clock speed, two cores, a 1066 MHz front-side bus, and 4 MB of L2 cache. It also supports all of the Intel technologies such as Intel Virtualization Technology, Enhanced Intel SpeedStep Technology, Intel Execute Disable Bit, and Intel 64 architecture.
(The CPU doesn't actually look exactly like that, though that would be cool of it did!)
Most of those features don't have a direct impact on my day to day use of the CPU, but since being "green" is currently the trendy thing to do, here's something I found interesting: because my APC Back-UPS XS 1300 has the handy ability to measure the electrical draw of anything connected to it (in watts), I was able to see the Enhanced Intel SpeedStep Technology in action first hand. The only two things connected to the UPS are the SD39P2 and my Dell 24" widescreen monitor. With the system turned on and idling (no heavy CPU tasks running), and the monitor turned off, it was using only 65 watts of power. The CPU was scaled back to 1600 mhz (as measured by CPU-Z). With the monitor turned on, usage shot to 139 watts - that's right, my 24" LCD monitor uses more power than the whole SD39P2 when idling! No wonder the monitor puts out so much heat. Lastly, I wanted to measure power draw at full load, so I dropped a DV-AVI file into Windows Movie Maker and set it to render it as a 720p file - the CPU was firing at 100% usage, 2933 mhz blazing - and power usage jumped up to 191 watts. So doing some quick math, that's 52 watts of power between the CPU at idle (1600 mhz) and the CPU at full gas (2933 mhz). It would be interesting to see what would happen if Intel throttled it back even further - you certainly don't need 1600 mhz of CPU power to type an email message. This is by far the most powerful CPU I've ever tested, and as you'll see later in the benchmarks section, it absolutely shreds through data.
MEMORY: Kingston 800 mhz DDR2 ValueRAM, 3 GB Total
Kingston sent me 4 GB of their DDR2 800 mhz RAM - four 1 GB sticks in total. I also had a few sticks of their DDR2 800mhz 512 MB RAM from another project. When I was first deciding on the parts for this system, I was aiming for 4 GB even though I'd read a lot of confusing reports about how much RAM Windows Vista 32-bit really supported. If you look at the Microsoft marketing materials, and even the responses I received from a Microsoft contact I asked, everything points to 4 GB of RAM being supported. If you want to go above that, you need the 64-bit Version of Windows Vista or Windows XP. Yet I read in forum after forum about people installing 4 GB of RAM and only seeing between 3 GB and 3.5 GB of it. How could it vary so much? The complexities of memory address space are above my head, but the simplest explanation I could figure out is that the amount of RAM you can access above 3 GB depends on the motherboard, the BIOS, and the number of devices you have installed. This Microsoft article explains it all in greater detail, but I confess to not being able to understand most of it.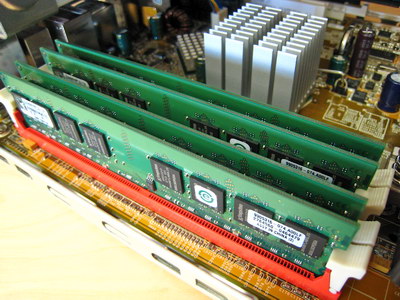 Figure 12: The Kingston RAM - 2 x 1 GB sticks, 2 x 512 MB sticks. Good thing there's four slots!
When I put the 4 GB of RAM into the SD39P2, I was able to see 3.5 GB worth - so I was missing out on around 500 MB of RAM. I installed the 64-bit version of Windows Vista just for fun, and it was able to see all 4 GB of RAM, but 64-bit computing is still a massive headache due to driver issues so I switched back to 32-bit Vista Ultimate and 3.5 GB of RAM. That's a lot better than 2 GB mind you, but I felt I could optimize things a bit better. I had four Kingston 512 MB RAM sticks from my other Intel CPU review, and since the SD39P2 had four RAM slots, it gave me the flexibility to give each PC 3 GB of RAM: 2 x 1 GB sticks, 2 x 512 MB sticks. It's still in dual-channel mode for maximum performance, and since 3 GB is the practical usable limit for a machine running a 32 bit version of Windows without losing RAM, it seems like a reasonable compromise. The fact that Shuttle put four RAM slots on the SD39P2 gave me an option other than 2 GB or 4 GB.
---