Monday, September 27, 2010
Posted by Don Tolson in "Digital Home Talk" @ 07:00 AM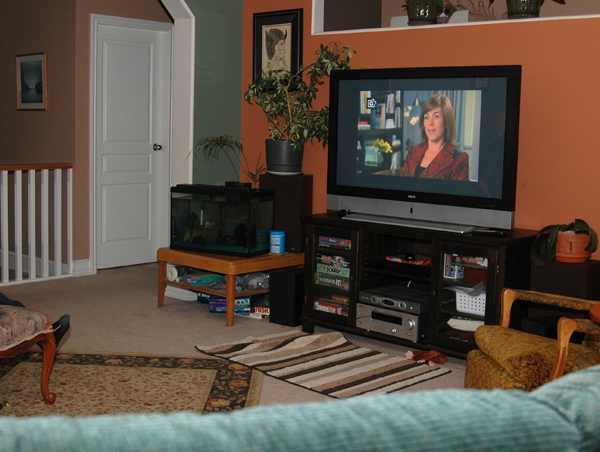 Here's how it all started: like many people (and I would guess a majority of DHT readers), building my home theatre started slowly. First it was the big screen TV from Costco. That was pretty cool as we hoisted it up on the wall, but then we needed better sound, so it was off to the audio shop for a 5.1 receiver/amplifier and so on and so on -- bit by bit getting pieces of equipment and jury-rigging them together as they are added. Eventually, it got to the point where I was the only one in the house who knew how to get everything working (which is quite the accomplishment, given that I have two pretty techno-saavy teenaged sons!!).
The problem with slowing building up your home theatre this way is that you end up with a huge tangle of cables, multiple remotes, and special processes for getting things working -- as well as the inevitable compromises of trying to get everything to work together, multiple inputs to various pieces of equipment, and various settings to remember, etc., etc. I even bought a Harmony 688 Remote hoping it would solve the 'multiple device configuration' problem, but it was only able to get everything turned on at the same time and not much else, and then not all of the time.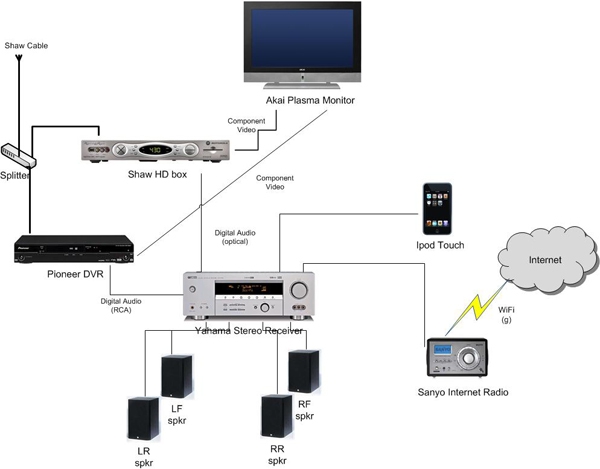 Figure 1: Here's what the media centre setup looked like at the beginning of this project. Lots of different pieces of equipment providing specific functionality. None of them were integrated, and some weren't even working all that well. Not to mention the rat's nest of wires and cables running to the amplifier/reciever and several handfuls of remotes!
We were clearly not 'keeping up with the Joneses' as well. There was no Blu-ray capability in any of this, and by accident, I found out that the Pioneer DVR wasn't even driving the screen to its full potential. Even though the DVR is published as 1080i-capable, it was only driving the screen to 720i sometimes, and 480i most times. Apparently the 1080i upverting was only available from the HDMI port on the back -- not through the component video cables I was using. Imagine my surprise at the difference on the screen when I brought the HP Pavilion computer up from the office and plugged it into the HDMI port on the TV -- now I could see what they meant by HD!!!
As well, over the last few years of seeing the evolution of PocketPCs to WindowsPC devices, I've been slowly convinced of the convenience of converged devices. It really is more convenient to have everything in one integrated package. The real tipping point for me was during the completion of the Cyberlink PowerDVD10 review. As I was working with the package, I was looking all the capabilities it could cover and began wondering how I could get this all integrated into a single interface on the big screen in the living room. I was convinced that all this could be found in a single PC with the right software package.
Then I was also reminded (I think it was by Jason) that Microsoft had just released a new version of its Windows Media Center application with Windows 7. I have to admit, I was pretty impressed by what I saw. If I could get this working with a remote on the big screen, my family would be mightily impressed (and thankful!).
---