Friday, October 16, 2009
Posted by Jason Dunn in "Digital Home Hardware & Accessories" @ 07:00 AM
If you've got a DSLR and more than one lens, odds are you're using some sort of camera bag that allows you to carry your gear. Whether you're a pro going off to a shoot, or an amateur wanting to carrying your gear on vacation, a good camera bag is essential. I've tried a few over the years, including some good ones, and some not so good ones. A couple of years back I had purchased a SlingShot 200AW, and I really liked it - until it became too small to hold all my glass. The logical upgrade was to look at the bigger version of the same product line, so I went for the biggest one they had: the SlingShot AW350. And so here we are!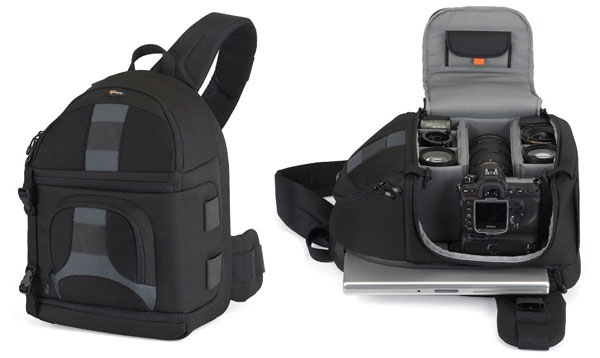 Above: That's a stock photo, because I sure as heck don't own a Macbook!
Let's talk specs for a minute. The AW350 is made from 420D and 840D Nylon, and 600D Polyester. Translation? It's pretty rugged, though not indestructible like KATA bags. Unlike the KATA bags, however, the AW350 is fast and easy to get open. It's a sling bag, meaning it has a single shoulder strap. It has wrap-around waist stabilization straps, and when you want to access what's in the bag you undo the waist straps and shift the bag down and across your waist. It sounds a bit awkward, but it works really well. Here's what it looks like. Being able to quickly access your camera, swap lenses, or grab a new memory card is critical to anyone who's serious about getting great pictures.
I'll say this though: the 200AW is small enough that even when fully loaded, the bag doesn't weigh that much and is easy to swing around to access. A fully loaded 350AW? Not so much - I loaded it up with nearly all my glass (including the uber-heavy Nikkor 24-70 f/2.8 and five other lenses), my Nikon D300, my SB-600 flash, and a few accessories (including a JOBY Gorillapod)...and was amazed at how heavy it was. Sometimes a smaller bag is a blessing in disguise: sure, you can't carry as much, but that means you're less likely to carry "just in case" lenses and are more likely to use what you pack. The AW350 allowed me to be a bit lazy, frankly, and pack everything - regardless of whether or not I needed it. The AW350 brings something to the table that the AW200 lacks: a pouch large enough for a laptop. I was able to fit my Dell XPS M1330 (13.3 inch screen) in there, humptastic battery and all, without any issues. When I travel I tend to pack a laptop bag (typically a Skooba Design bag) and a camera bag. In a pinch, I might be able to use the AW350 and nothing else.
The AW350 is a great bag - it boasts quality construction, nice fit and finish, and enough small pockets and pouches to carry everything you need. And, ultimately, that may be the problem. Unless you really need to carry a lot of glass (and a laptop) with you to every shoot, I'd recommend one of the smaller bags in this line. But you need to "go big" and unify all your gear into a single bag, the AW350 is worth a look. The SlingShot AW350 can be purchased from Amazon.com for $144.95 USD.
Jason Dunn owns and operates Thoughts Media Inc., a company dedicated to creating the best in online communities. He enjoys photography, mobile devices, blogging, digital media content creation/editing, and pretty much all technology. He lives in Calgary, Alberta, Canada with his lovely wife, his son Logan, and his sometimes obedient dog. He wishes the really nice lenses weren't so darn expensive.

Do you enjoy using new hardware, software and accessories, then sharing your experience with others? Then join us on the Thoughts Media Review Team! We're looking for individuals who find it fun to test new gear and give their honest opinions about the experience. It's a volunteer role with some great perks. Interested? Then click here for more information.

---