Friday, October 16, 2009
Posted by Jason Dunn in "Digital Home Hardware & Accessories" @ 07:00 AM
If you've got a DSLR and more than one lens, odds are you're using some sort of camera bag that allows you to carry your gear. Whether you're a pro going off to a shoot, or an amateur wanting to carrying your gear on vacation, a good camera bag is essential. I've tried a few over the years, including some good ones, and some not so good ones. A couple of years back I had purchased a SlingShot 200AW, and I really liked it - until it became too small to hold all my glass. The logical upgrade was to look at the bigger version of the same product line, so I went for the biggest one they had: the SlingShot AW350. And so here we are!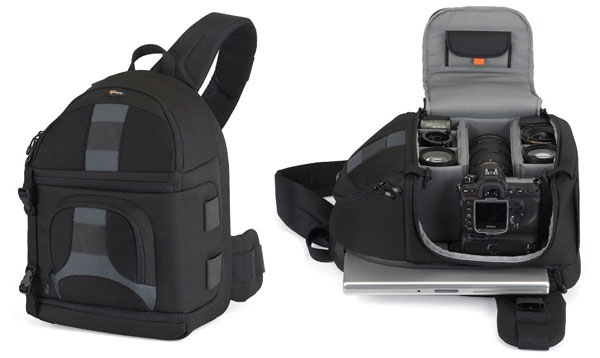 Above: That's a stock photo, because I sure as heck don't own a Macbook!
Let's talk specs for a minute. The AW350 is made from 420D and 840D Nylon, and 600D Polyester. Translation? It's pretty rugged, though not indestructible like KATA bags. Unlike the KATA bags, however, the AW350 is fast and easy to get open. It's a sling bag, meaning it has a single shoulder strap. It has wrap-around waist stabilization straps, and when you want to access what's in the bag you undo the waist straps and shift the bag down and across your waist. It sounds a bit awkward, but it works really well. Here's what it looks like. Being able to quickly access your camera, swap lenses, or grab a new memory card is critical to anyone who's serious about getting great pictures. Read more...
---