Monday, July 7, 2008
Posted by Jason Dunn in "Digital Home Talk" @ 11:20 AM
2008 is "The Year of the House" in the Dunn household, and that means upgrading our living environment. Ashley and I have been in our house for nearly seven years now, and seven years of living in the same place tends to create wear and tear. Beyond some of the basics such as getting the walls re-painted and a few yard-based projects completed (have I mentioned how much I loathe yard work?), we've decided to re-do the main wall in our living room. Here's how it looks today:
It has suited its purpose thus far, but we want to evolve it further. Beyond the LCD TV hooked up to a computer in my downstairs office, the only TV we have in our house is the Toshiba DLP in the bonus room upstairs. That's our media room, and it's set up nicely for our use - but it can't accommodate more than three people on the single couch. We can fit more if they don't mind sitting on the floor with big pillows, but it's not ideal. We've discovered this year that we really want to be able to watch a DVD, or looks at pictures, in an environment that can fit more people - so we're going to transform our living room (which can fit eight to ten people comfortably on three couches) into something that will allow us to do exactly that.
The only digital element in the photo above is a Roku Soundbridge audio player, connected to a pair of Klipsch ProMedia 2.1 speakers - the sub-woofer is right below the speakers, hidden from view by the couch. What we want to do is add a 42" or perhaps 46" LCD TV smack in the middle of the wall, right above the fireplace. The problem of course is that we didn't wire up the wall for that purpose, so we're going to need to rip up the wall to get it done. I've had an electrician come in, and what we're going to do is run power and coaxial cable up from the left to the middle of the wall. On the right is where I'm going to be placing the home theatre PC (more on that later), so we're going to have a conduit run down the wall where I can connect cables. Everything will terminate behind where the TV will go, and we're going to be ripping open that wall to add support for the TV mounting bracket.
On the TV front, I definitely want to go LCD and not Plasma, and I've been eyeing the Sharp Aqueos line over the past couple of weeks - I did a comparison of similar Sharp, LG, and Samsung TVs and the Sharp had superior reproduction of black levels and shadows. Since we're going to be using this TV to display my photos, I care about how well the TV can reproduce subtle visual elements, and the Sharp seems to have an advantage in that area. Any other TVs I should consider?
We also want to upgrade our shelving, and below is a design we saw in Thailand that we thought was incredibly cool. Our design will be slightly different, but the basic idea of each shelf being a single flowing line is what we want to capture. Of course, we're waiting to hear back from a carpenter about whether or not this will be possible to re-create, so we'll see...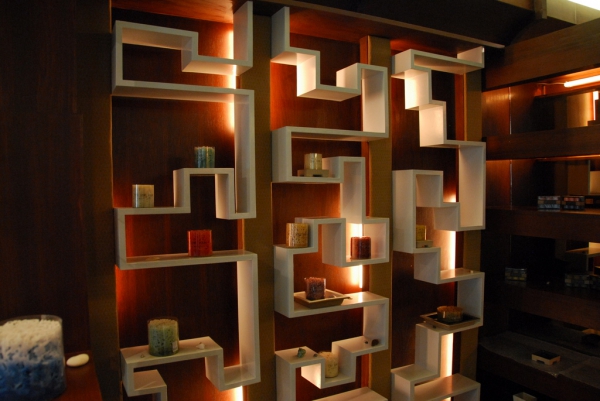 On the PC front, I was thinking of using a Shuttle SD02XD. Ideally I'd want to run a single HDMI cable to the TV to get both audio and video, but does the on-board video solution on the Shuttle (an Intel GMA 950) need to support HDMI, or is an adaptor all I need? I wish Shuttle was using an embedded ATI GPU instead. I suppose I could build a regular-sized Shuttle and pick my components to include a real GPU, but I want to keep the PC as small and as quiet as possible. Suggestions welcome.
That's about it for now - as you can tell, in some ways I have more questions than answers, but I thought it would be worth sharing this journey with Digital Home Thoughts readers.
UPDATE: The digital wall project is complete. Read all about it!
Jason Dunn owns and operates Thoughts Media Inc., a company dedicated to creating the best in online communities. He enjoys photography, mobile devices, blogging, digital media content creation/editing, and pretty much all technology. He lives in Calgary, Alberta, Canada with his lovely wife, and his sometimes obedient dog. He really hopes this project goes well.
---