Monday, April 28, 2008
Posted by Jason Dunn in "Digital Home Hardware & Accessories" @ 07:00 AM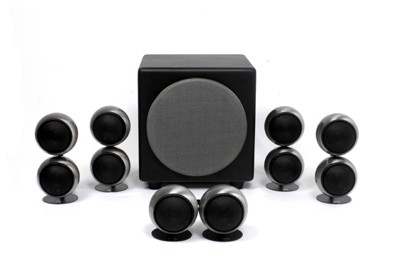 Product Category:
Home Theatre Speaker System
Manufacturer:
Orb Audio
Where to Buy:
Orb Audio
Price:
starts at $549 USD for
two-channel system
with sub-woofer (
the Mod2 configuration
reviewed here, without stands, is $1289 USD)
System Requirements:
An amp to power the speakers, and hopefully a nice big TV to go with them.
Specifications:
See the Orb Audio
specifications page
.
Pros:
The great-looking satellite speakers sound incredible, with crisp, punchy audio;

Both the 8" and 10" sub-woofers are extremely powerful, yet deliver smooth, distortion-free bass;
Reasonable price for the quality of the speakers when compared to retail prices;

Many options for custom order configuration and speaker finish.

Cons:
Mail-order means you probably can't hear them before you buy them;
If you need them for your setup, the beautiful hand-crafted HOSS speaker stands put a big bite into your budget at $299 per pair.
Summary:
You've probably never heard of Orb Audio before, or their speakers, but if you're looking for small, powerful home-theatre speakers that are surprisingly affordable for the quality you get, this is one company you should pay attention to.
Orb Audio: Not Found in Big-Box Retail Stores
If you're anything like me, when it's time to go shopping for a home theatre sound system, you typically go down to your local electronics retail store and look at the brand names you've heard of for years: Bose, Harman Kardon, Klipsch, or maybe some names from car audio you've heard of such as Polk. Or maybe it's a "house brand" of speaker. Regardless of the name, these speaker systems all tend to look pretty similar, and a decent one will likely cost you north of $1000 USD once you include the sub-woofer, speaker wire, etc. I found myself needing a new system after my Harman Kardon system started having trouble - specifically, the sub-woofer would cut out, or not power on at all until 20 minutes into the movie, and it was getting frustrating. I'd already had to have one of the satellites replaced, so I was pretty fed up with the lack of quality I was seeing. It was time for something new, and I figured I'd might as well review whatever product I decided to try out!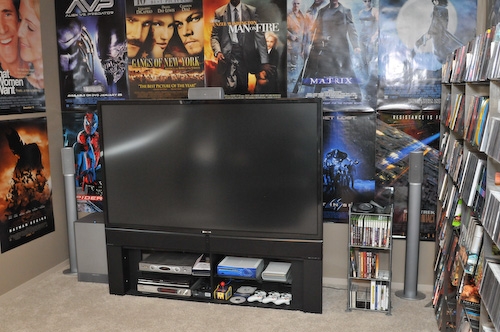 Figure 1: This is what I started with in my entertainment room; a set of silver Harman Kardon speakers I've had for about three years. They were "OK" sounding, but I was never particularly impressed with them. Worse though is that the sub-woofer had started to cut out at random intervals. That's my 72" Toshiba DLP TV.
A Very Helpful Company Indeed
I'd seen some ads for Orb Audio speakers over on my buddy Ian's site (
Digital Trends
), and when I asked him if they were good speakers he gave me a highly emphatic yes. With that, I contacted the company and they were extremely helpful in getting me set up with their gear. Thanks to the people at Canada Customs and their accursed yellow tape, it took a couple of months before I had everything I needed; I have the unfortunate luck of having shipments seized and opened by Canada Customs on a regular basis. Orb Audio went above and beyond, sending me not only the Mod2 system, but also both their Super Eight sub-woofer (a eight inch, 200 watt sub) and their Uber Ten (you guessed it, a ten inch, 300 watt sub). They also sent me four of their HOSS stands, the carpet mounting plates, and samples of the finishes available on their speakers. I was able to get a solid overview of their product offerings, and what geek doesn't love getting flooded with stuff to play with? But would they measure up to the hype? I started getting the first products in December, and received the final pieces in February. During this time I left everything boxed up because I wanted to set up the whole thing from scratch and document the whole process for this review - it was hard to let those speakers sit in their boxes, let me tell you!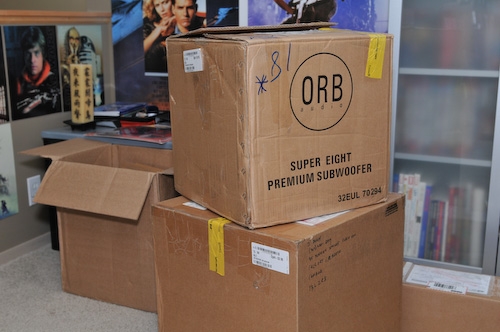 Figure 2: I ended up with quite a few boxes from the people at Orb Audio.
---