Thursday, January 13, 2011
Posted by Chris Baxter in "Laptop Thoughts Accessories" @ 09:00 AM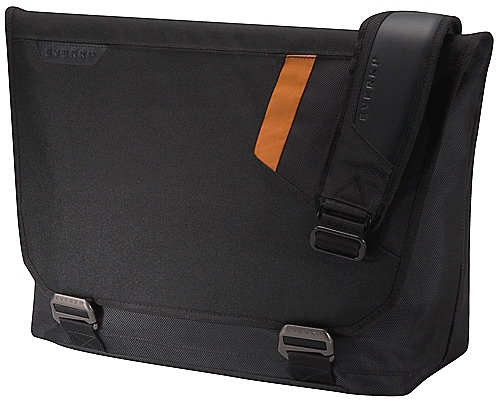 Product Category: Laptop Bag
Manufacturer: Everki
Where to Buy: Amazon (affiliate link)
Price: $59.99
Specifications: Length: 16.54 in., Width: 7.09 in., Height: 12.99 in., Weight 1.98 lbs.
Pros:
Handy compartment designed for Apple iPad or any other similar sized tablet computer;

Lots of additional compartments to store other electronics, including power cords;

Small enough in size to take anywhere, yet can hold a lot more equipment than you would think.
Cons:
Clasps on front flap are difficult to manage while on the move;

The bag only accommodates up to a 15.6" laptop.
Summary: The Everki Track Laptop Messenger Bag, is a bag with a twist. It comes with a compartment especially designed to carry an Apple iPad. Given the wildly popular reception the iPad has received since its debut, there have been a lot of products designed to carry and protect it, but this is the first time I have seen a solution designed into a laptop bag, and that makes it rather unique. While some people might argue that the whole reason they bought an iPad was to ditch their laptop, for other people, myself included, that just isn't realistic. As handy as my iPad is, there are just some things that are done more efficiently with a laptop. So how do I easily carry both? Everki attempts to answer that question with their Track Laptop Bag. Just how successful are they? Let's see!
Trial by Fire
To test this bag, and I mean really put it through its paces, I decided it needed to go to Mexico with me. Now, granted, I was already going to Mexico, so it's not like I can go globetrotting whenever I get a new product to review, but the timing on this one was just too good to ignore. I had already determined I was taking my brand new shiny iPad on the the trip, but considering I was about to review a bag that could handle a laptop and an iPad, well let's just say my laptop was overjoyed to find out it was going to sunny Mexico as well.
Laptop bags, well, let's say most bags and myself, have a kind of sordid history. I have owned many through the years and liked none of them. My shoulders have a decidedly non-bag friendly slant to them, and over the years, trying to get a standard laptop bag, or even most carry on bags to stay on my shoulders has been an exercise in futility and frustration. So you can imagine my sincerity when I tell you that I was very appreciative of the fact that this bag is a messenger style bag designed with a nice long strap to sit cross shoulder and use my body to support the bag rather than one very slanted shoulder. The bag itself is well made and very durable. I don't claim to be an expert on such things as the materials these bags are made from, but I have owned cheap bags and expensive bags, and while this bag is priced somewhere in the middle of the scale, it definitely has the feel of a higher end bag. As I mentioned above, the shoulder strap is plenty long, so I had no issues adjusting it to fit myself and I am by no means a small person. The shoulder pad on the strap is nice and thick and does a really good job of relieving the pressure that narrow straps can exert on a shoulder. All things considered, in matters of construction and comfort, this was turning out to be an exceptional bag.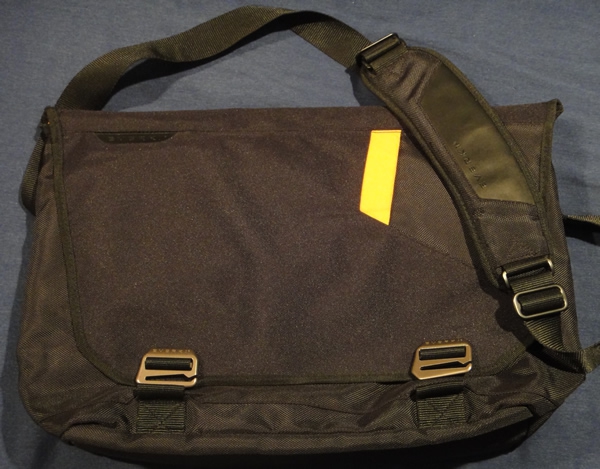 Figure 1: A front shot of the bag.
Figure 2: A shot from the rear of the bag. Notice that nice long shoulder pad.
---