Thursday, January 13, 2011
Posted by Chris Baxter in "Laptop Thoughts Accessories" @ 09:00 AM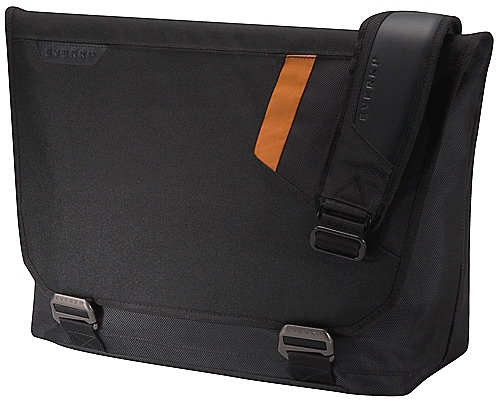 Product Category: Laptop Bag
Manufacturer: Everki
Where to Buy: Amazon (affiliate link)
Price: $59.99
Specifications: Length: 16.54 in., Width: 7.09 in., Height: 12.99 in., Weight 1.98 lbs.
Pros:
Handy compartment designed for Apple iPad or any other similar sized tablet computer;

Lots of additional compartments to store other electronics, including power cords;

Small enough in size to take anywhere, yet can hold a lot more equipment than you would think.
Cons:
Clasps on front flap are difficult to manage while on the move;

The bag only accommodates up to a 15.6" laptop.
Summary: The Everki Track Laptop Messenger Bag, is a bag with a twist. It comes with a compartment especially designed to carry an Apple iPad. Given the wildly popular reception the iPad has received since its debut, there have been a lot of products designed to carry and protect it, but this is the first time I have seen a solution designed into a laptop bag, and that makes it rather unique. While some people might argue that the whole reason they bought an iPad was to ditch their laptop, for other people, myself included, that just isn't realistic. As handy as my iPad is, there are just some things that are done more efficiently with a laptop. So how do I easily carry both? Everki attempts to answer that question with their Track Laptop Bag. Just how successful are they? Let's see!
---