Tuesday, December 7, 2010
Posted by Jason Dunn in "Digital Home Hardware & Accessories" @ 03:35 PM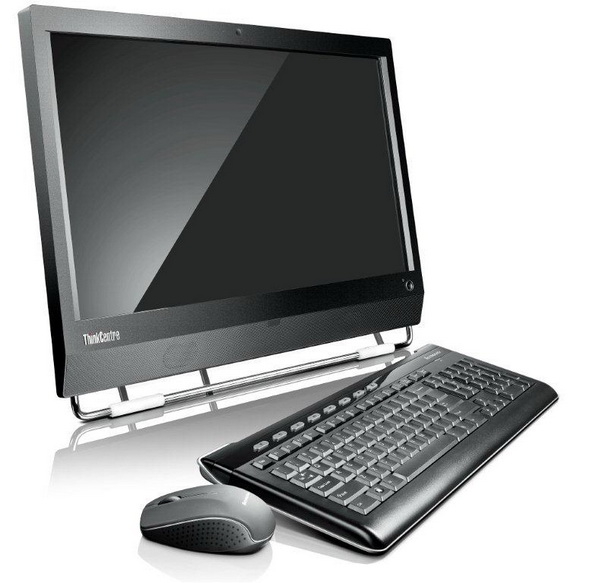 This is my review video of the Lenovo ThinkCentre M90z all-in-one desktop computer. The M90z features a 23 inch, 16:9, 1920 x 1080 touch screen display, 4 GB of RAM, a 500 GB hard drive, a DVD burner, uses the Intel GMA HD GPU, and is powered by an Intel Core i5 650 running at 3.2 Ghz (with turbo boost up to 3.46 Ghz). The i5 CPU has two cores, and supports hyperthreading, so up to four threads of processing can occur. The M90z I'm reviewing now has 64-bit Windows 7 Professional on it, unlike when it was first unboxed. Being able to access the full 4 GB of RAM instead of only 2.8 GB helped me gain a bit over a 10% improvement in the PC Mark Vantage score; details are in the video.
Other features on the M90z include gigabit Ethernet, 802.11n WiFi, a 2 megapixel Webcam with a physical privacy screen and dual microphones, six USB ports, DisplayPort out for running a second monitor, VGA input for using the M90z as a display (laptop, gaming console, etc.), an SDHC memory card reader, and audio in/out. It has a three year warranty.
Something I forgot to mention in the review: the M90z I have is incapable of connecting to a 5 Ghz 802.11n network. It's weird, because I'm used to seeing support for 802.11n as a protocol without any mention of the band. Every laptop I've ever tested that has 802.11n support simply connects and that's it. I have a dual-band router, so logically the 5 Ghz band is for 802.11n devices, and the 2.4 Ghz band is for 802.11b and 802.11g devices - this is how you get maximum speed for your devices and minimum interference. It wasn't until I re-configured my router to use the 2.4 Ghz band for b/g/n that the M90z was finally able to connect at anything faster than 54mbps; it now connects at about 130mbps. My preference would be for Lenovo the add 5 Ghz band support to their integrated WiFi so it's a full solution.
A word about touch and Windows 7: I've been pleasantly surprised at how well using the touch screen has worked in day to day use in my kitchen. My previous experiences with Windows XP and Windows Vista computers with touch screens have been small devices: the Samsung Q1 Ultra UMPC, the HP tm2 tablet PC, etc. On those smaller devices, you have the dual-pronged problem of having a small screen, which makes user interface elements in the OS hard to manipulate, and you also have performance limitations that make the device sluggish. You can understand why I was fairly negative on the idea of Windows 7 as a touch-only OS.
I'm happy to say that I was mostly wrong: the combination of a big, bright, beautiful 23 inch touch screen and the high-performance components make it a pretty good experience overall. The on-screen keyboard has this weird fade effect that I find quite distracting when using the keyboard, but otherwise it's not a bad input mechanism for short bits of text. I still reach for a keyboard when I have to do anything more than enter an URL or two. I'm sure Microsoft could improve the on-screen keyboard experience.
And speaking of the screen, in talks with Lenovo I was told that the glossy screen is required for the touch function to work. As in, if you want touch, you get the glossy screen. I've gotten used to it, but what I still notice is the vertical viewing angle: I have to stand a little further back than I'd like in order to see things on the screen properly. I'm about 6'2", so someone a few inches shorter than me probably wouldn't even notice this, but it would be great if Lenovo could find an LCD panel that would be 100% viewable from any reasonable vertical angle.
All in all, the M90z is a very fast, very capable office computer - with the 3.2 Ghz Core i5 CPU and 4 GB of RAM, it can keep up with pretty much anything you throw at it. An SSD would certain enhance performance even further, but that would obviously add significantly to the cost and would frankly be overkill for your average office tasks that the M90z currently excels at. I fully recommend the M90z and wouldn't hesitate to implement it in a small office/home office environment.
The MSRP for this configuration is $1299, but prices will of course vary over time. Please check out the Lenovo site for more details.
Jason Dunn owns and operates Thoughts Media Inc., a company dedicated to creating the best in online communities. He enjoys photography, mobile devices, blogging, digital media content creation/editing, and pretty much all technology. He lives in Calgary, Alberta, Canada with his lovely wife, his wonderful son Logan, and his sometimes obedient dog. He wishes the M90z screen would clean itself.

Do you enjoy using new hardware, software and accessories, then sharing your experience with others? Then join us on the Thoughts Media Review Team! We're looking for individuals who find it fun to test new gear and give their honest opinions about the experience. It's a volunteer role with some great perks. Interested? Then click here for more information.

---