Monday, August 23, 2010
Posted by Jason Dunn in "Digital Home Hardware & Accessories" @ 07:00 AM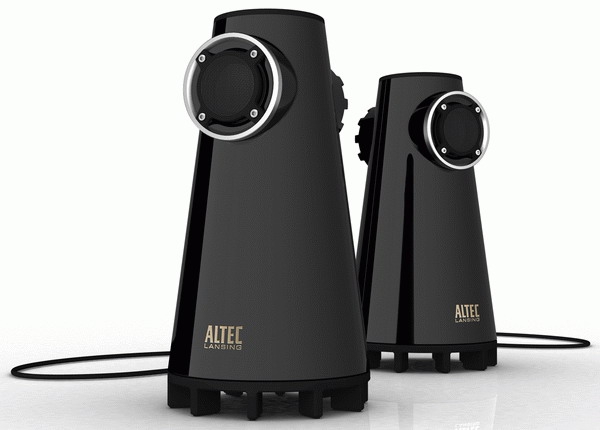 OK gang, here's a quick and dirty review. The Altec Lansing expressionist BASS ($129.95 direct from Altec Lansing) speakers are a two-speaker system from long-time speaker manufacturer Altec Lansing. I've always had a soft spot for Altec speakers, because my first set of "real" computer speakers way back in the early '90s were a pair of these cool clamshell speakers that totally thumped (sweet, I did keep a picture of them!) and cost $350 or so - back then, a crazy amount of money for computer speakers. Oh wait, that's still kind of a crazy amount to spend on computer speakers!
Fast forward to now: Best Buy Canada had these Altec Lansing expressionist BASS speakers on for $50, discounted from their regular price of $150. The steep discount perked my interest, so I pulled the trigger and ordered a set - my wife has a set of Logitech 4.1 speakers connected to her computer, and since she only listens to music on them, the rear channels were essentially a waste of space. I thought if I could get a nice set of two satellite speakers, I could save some space on her desk (and below it - the sub-woofer is kinda' big). The expressionist BASS speakers have dual 3.5mm inputs, allowing you to connect a PC and also an MP3 player or secondary audio source. They're connected by a non-removable cable that's long enough to work in most instances, and have an unusual, but uniquely pleasing design aesthetic.
The expressionist BASS speakers' claim to fame are four inch sub-woofers built into the bottom of each speaker - Altec Lansing says this allows the speakers to have bigger sounding bass that other speakers that size. That claim is absolutely true; the speakers had bigger low end than anything else that size that I've heard without a companion sub-wooer. The problem is that the 1.5 inch drivers for the rest of the audio spectrum are simply awful. Altec Lansing describes them as delivering "thrilling clarity", but I'd characterize the sound as "depressing mush". Every song I listened to, from rock to a capella to pop to hip-hop sounded muddy. Highs and mids were lost in the wash of uber-bass. "Love the Way You Lie" (Eminem and Rihanna), sounded somewhat OK with the thumping back track and Marshall Mathers hammering out the lyrics, but when Rihanna came in with her powerful melody, the lack of clarity was appalling. Nothing I listened to sounded quite right.
With some EQ adjustments, these might be serviceable speakers, but the Zune 120 I was testing them with lacks EQ, and so does the Zune desktop software I later used. I prefer my speakers to deliver smooth, even tones, allowing me to hear the full spectrum of sound - not harshly tilted toward one end of the spectrum. If you like your music bass heavy and don't care about the rest of the sonic spectrum, you might find the expressionist BASS speakers acceptable - but if you really care about bass, you're going to buy a set of speakers that have a dedicated sub-woofer. I can't recommend the Altec Lansing expressionist BASS speakers to anyone, unless you have a super tight budget ($69 from Amazon.com) and space requirements, needing speakers that deliver decent bass without taking up any extra space, I'd give these a pass.
Jason Dunn owns and operates Thoughts Media Inc., a company dedicated to creating the best in online communities. He enjoys photography, mobile devices, blogging, digital media content creation/editing, and pretty much all technology. He lives in Calgary, Alberta, Canada with his lovely wife, his wonderful son Logan, and his sometimes obedient dog. He wishes all speaker design companies cared as much about good audio as AudioEngine does.

Do you enjoy using new hardware, software and accessories, then sharing your experience with others? Then join us on the Thoughts Media Review Team! We're looking for individuals who find it fun to test new gear and give their honest opinions about the experience. It's a volunteer role with some great perks. Interested? Then click here for more information.

---