Friday, June 11, 2010
Posted by Jason Dunn in "Digital Home Hardware & Accessories" @ 10:09 AM
"Orange Amplifiers, the British based pioneering force in guitar amplifiers, can now announce the final specification and price for the much anticipated and revolutionary all-in-one computer amplifier speaker - The OPC. The OPC is more than a high quality all-in-one powerful computer, it has been designed to deliver playing, recording, editing and computing capabilities to musicians and music aficionados."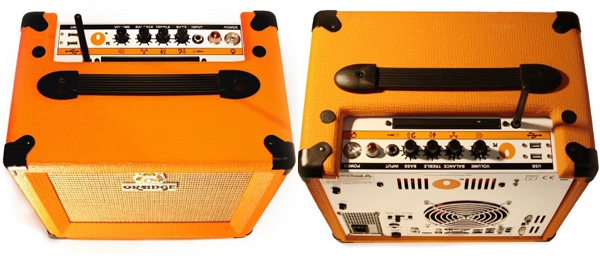 Boy, does this ever take me back! Back in my teens/early 20's I was really involved in live music, and I'd see an Orange amp every now and then - they're certainly unique looking! Orange has decided to make something else decidedly unique: an all-in-one computer that looks like one of their amps. The speakers at the heart of it all? Twin JBL 6.5" 55 Watt RMS Dual Concentric Speakers, boasting 15 watt RMS per channel stereo amplifier (into 4 ohms) with a 2 band EQ. Not bad!
Note the 1/4" input jack (bigger pictures here) on the top that allows you to plug your guitar right into the amp. There's another 1/4" input jack somewhere on the amp, along with two 1/4" line outputs. There are the usual audio input/outputs on the back, along with DVI, VGA, and HDMI out. Video is driven by an integrated GeForce 9300, so you're not going to be playing games on this (even though they've overclocked it to 580 Mhz on the GPU clock). 4 GB of DDR2 RAM, a 500 GB hard drive, and "Intel chips" drive the system. That's what the product page says, but thankfully their press release is more specific: a Pentium E5400 CPU running at 2.7 Ghz. Seven USB 2.0 ports and one eSATA power give you lots of connectivity options. There's even a top-loading DVD burner and 802.11g Wi-Fi built in!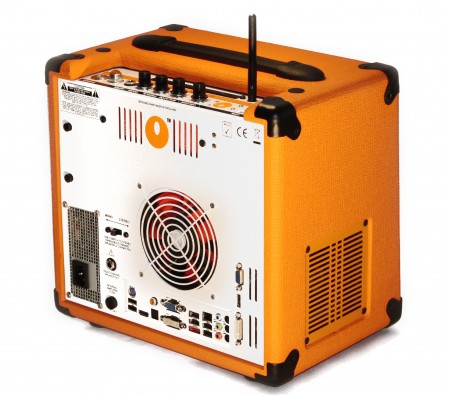 Since this is a music-focused PC, Orange is bundling full version of many popular music apps:
Presonus Studio Orange Custom Edition (Professional level recording software offering powerful user friendly music creation and production application for artists of all levels)
Acoustica Mixcraft - Full Version (Easy to use multi-track studio software to record audio, arrange loops, remix tracks, compose with virtual instruments, score and edit video, and add effects to create stunningly professional compositions.)
IK Multimedia Amplitube 3 (Full Version of this leading guitar and bass tone gear modelling software. Over 160 ultra-accurately modelled sounds including brand new Custom Orange Amp models. Plug in your guitar; choose your sound and your away!)
Toontracks - EZ Drummer Lite (market leading multi-sampled acoustic drum-kit library to create great drums track in just a few clicks)
Licklibrary - Guitar Tuition Software (Exclusive to OPC, selection of free guitar lessons from one of the world's largest guitar education brands delivered through a Licklibrary media player)
The price? £1199 or $1499 USD. Not bad for what's clearly a unique PC created for music in mind. I like seeing innovation and creativity in the market, so go Orange!
---