Tuesday, September 15, 2009
Posted by Ron Hostetter in "Digital Home Hardware & Accessories" @ 07:00 AM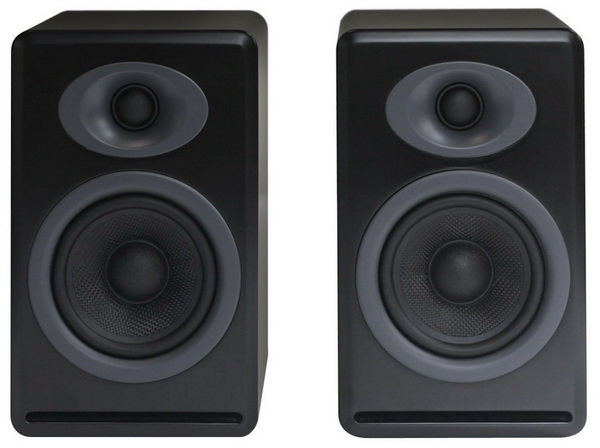 Product Category: Passive Bookshelf Speakers
Price: $249.00 (black or white), $325.00 USD (bamboo)
Type: 2-way passive, front ported speakers.
Pros:
Great sound from small desktop speakers;
High quality construction;
Threaded mounting inserts on the back and bottom for versatile mounting options.
Cons:
Passive speakers - make sure you have an amplifier;
Lack of front grill may not fit for all decors;
Summary: Audioengine brings its legendary active speaker sound to a less expensive passive speaker. The AP4's provide great sound for your existing stereo or home theater system.
Premium Speakers at an Affordable Price
The first thing I noticed when I opened the box containing 2 Audioengine AP4 speakers was the velvety pouches inside the box. The premium feel of the package was only a precursor to the sound that these little guys were about to produce in my home theater.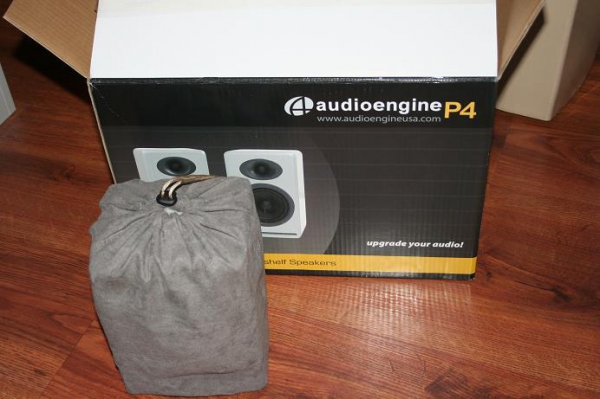 Figure 1: The Audioengine AP4 bookshelf speaker gives you a premium experience from the time you open the box. The speakers come wrapped in a velvety pouch to keep them scratch free.
Weighing in at a hefty 6 lbs. each, these speakers are built with thick, high resin MDF (except for the unique bamboo version). The speakers' edges are rounded, and the speakers have a soft foam pad on the bottom. When you pull the speaker out of its pouch, you can feel the quality of the construction. The cabinets are available in black, white, and as mentioned above, bamboo. The speakers sport two threaded inserts (back and bottom) for attaching to a speaker stand or mount.
The woofers are 4" Kevlar cones and the tweeters are 3/4" silk domes. At just 9" tall and 5.5" wide, these little guys will fit in nicely in most rooms. There is no front speaker grill, leaving the woofer and tweeter fully exposed to the world. Though these speakers are very attractive, the lack of a grill may not fit well in all rooms.
Home Theater Test Drive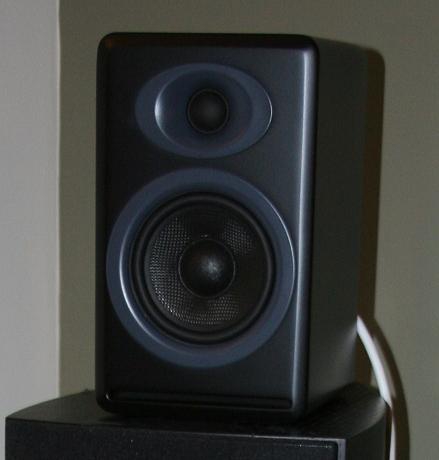 Figure 2: I placed the AP4's on top of my Wharfdale EVO2's to compare the sound in my home theater.
The AP4's are passive speakers, which means you will need an amplifier or receiver to drive them. I have a set of Wharfdale EVO2 speakers in my home theater, driven by a NAD receiver. I decided to simply replace my two mains with the AP4's to test them out.
The connectors are gold plated, 5-way binding posts. I connected my wires and fired up the system. I tested the speakers using a variety of media. First, I listened to the Roger Clyne & The Peacemakers "No More Beautiful World" CD. At first, the audio seem a little harsh, but some minor tone adjustments on my receiver had the AP4's rocking. I was impressed with the clarity of the highs and mids, and I felt the AP4's produced just enough bass for my tastes. The sound was impressive for such small speakers, even at fairly high volume.
I then switched to television. Though the front center speaker handled most of the work here, the AP4's handled their job just fine. I switched between music concerts, sports (baseball and football) as well as a cooking show. In all cases, the sound produced by the AP4's in all these varied scenarios was clear and precise.
The final test was with movies. I tested the AP4's with both Dolby Digital and DTS sound sources. In all cases, I was again very impressed with the sound that these bookshelves produced. The loud, tense scenes in "Final Destination 2" were just as clear as the quiet conversations in "Burn After Reading."
After a couple of hours with the AP4's, I switched my system back to my Wharfdale EVO2's and honestly felt the little AP4's met the performance of the larger, free standing Wharfdales.
Conclusion
If you already have a home stereo or theater system, and don't want a large set of free standing speakers taking up space, then the AP4's are a great option. These passive speakers are capable of producing big sound without taking up much space. They are affordable speakers that can produce premium sound quality.
Ron Hostetter is a software sales engineer by day, a gadget lover by night. He has worked in the IT field for over 20 years and loves reading about and playing with technology. He lives in Kansas City, Missouri with his lovely wife, his son and daughter, and their two dogs. He enjoys playing guitar and watching the Kansas City Royals, both of which he finds very frustrating.

Do you enjoy using new hardware, software and accessories, then sharing your experience with others? Then join us on the Thoughts Media Review Team! We're looking for individuals who find it fun to test new gear and give their honest opinions about the experience. It's a volunteer role with some great perks. Interested? Then click here for more information.

---