Friday, March 13, 2009
Posted by Jason Dunn in "Digital Home Software" @ 07:00 AM

Over the years Apple has slowly but surely encouraged the installation of their software in bundles. It used to be that you could find the installation of Quicktime itself quite easily; then Apple started to make the default install file for Quicktime include iTunes. They still offered Quicktime by itself if you looked hard enough on the download page, so it wasn't a big deal - until now.
Today I was setting up a new Dell computer today and installed a copy of ProShow Gold 4.0 to do some benchmarking, and it required Quicktime in order to create MOV files. I jumped over to the Quicktime page to download the latest version, and was confused when the only link I could find was the download for iTunes and Quicktime bundled together. I thought for sure I just simply couldn't find the link, but after searching Apple.com for a few minutes (using their search engine) I still came up empty. Frustrated, I figured I'd download the bundle and do a system restore after completing my benchmarks. Adding insult to injury, when I tried to install it, this is what popped up: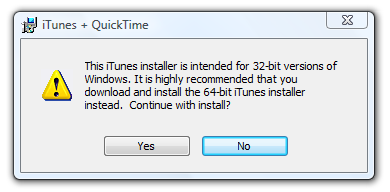 The computer, like many new Windows Vista computers shipping today, came with the 64-bit version of Windows Vista to fully utilize the 6 GB of included RAM. I expected that when I clicked on No, the installer would open my Web browser and point me to the 64-bit version of the Quicktime installer. Guess what? There isn't one. Microsoft has had a 64-bit version of their operating system on the market for nearly a decade now, and Apple still hasn't released a 64-bit version of Quicktime. Worse yet, even though there a version of iTunes out there for 64-bit systems according to this Apple support document, Apple's dysfunctional browser-based system detection won't deliver up the 64-bit version regardless of whether I use IE7 or Firefox. There's no way to manually select the download that you want - because Apple knows best, right?
In the end I ended up turning to unofficial sources to get the Quicktime installer, and it works just fine on Vista 64-bit. The average user would have given up after the first install didn't work - I can't fathom why, if Apple wants to shove iTunes down everyone's throats, they don't offer an installer that works for 64-bit computers. Many computers sold at retail today in the $600 range have 4 GB of RAM, and it's not uncommon to see machines in the 6 GB and even 8 GB - all for less than $710 USD. Don't they want people buying these computers buying iPods?
UPDATE: Apple has added back the Quicktime-only option, so thankfully this is one problem that's solved (except for that 64-bit installer thing).
---