Friday, December 12, 2008
Posted by Jason Dunn in "Digital Home Events" @ 09:40 PM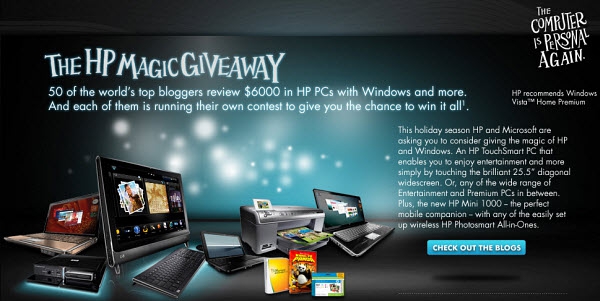 It's time! I posted my teaser back at the end of November, and it's finally our turn to kick off this amazing contest from HP. As a reminder, here's the list of hardware that the winner will be awarded:
Hardware
• HP HDX 18 series Premium Notebook PC
• HP Pavilion dv4 series Entertainment Notebook PC (with Windows Live)
Accessories
• HP Photosmart C6380 Wireless AIO (printer)
• HP 564 Photo Value Pak [thanks for the PDF Gear Diary!]
Software & Entertainment
• Microsoft Windows Vista Ultimate/Home Premium or Microsoft Windows XP pre-installed on all units (Mini 1000 runs XP)
• Microsoft Office Home and Student Edition 2007 (Student-Teacher Edition) - 1 DVD with 3 licenses
• Microsoft Windows Live
• Kung Fu Panda (2 widescreen DVDs; 1 widescreen Blu-ray disc)
Here's the important part though: part of this contest is sharing the magic, so this contest is all about you giving away part of what you win. So here's the deal: I'm going to numerically pull one random post here as the winner, but when I review that entry, if it doesn't meet the qualifications, another random entry will be selected. So what are the qualifications? Telling me how you'd share this prize pack, with whom, and why. With this bundle consisting of four computers, three of them laptops, it's really more than one person needs - and in these troubled economic times, there are going to be people around you, charities, schools, etc. that could put some of this hardware and software to good use, right? So if you won this $6000 prize pack, who would you give some of the hardware to, and how would they use it? I'll be looking for a detailed explanation of how you'd share this, but the requirement is only that you give away at least one of the laptops or the desktop computers. As long as you meet the requirement of giving away one of the computers, your entry is valid.
Some other basic rules: only one post per person is allowed, and if you don't see your post appear right away, give it up to 48 hours because if it's your first post, it's probably held in moderation. Anyone in the world can win this contest. All posts have to be submitted by midnight mountain time on the 17th of December. If you're selected as the winner, I'll be contacting you via email and private forum messaging. You'll have 24 hours to respond to claim your prize, or the next person will be selected. No whining allowed. The prizes will be shipped to you directly by HP, so if you're selected as the winner, you should provide me with your shipping address and the shipping address or addresses of the people you're going to share this prize with. If you live in the USA, you will be provided with funds to cover the taxes on this prize bundle. If you have any more questions, please ask them in the original thread.
With that said, bring on the stories of sharing! And remember there are 49 other sites participating in this contest - two new contests launched today, one from SlashGear, and one from OSNN.net.
UPDATE: I've scrubbed the YouTube portion of this contest. The only valid entries are the ones in this thread.
---