Monday, August 20, 2007
Posted by Jason Dunn in "HARDWARE" @ 07:00 AM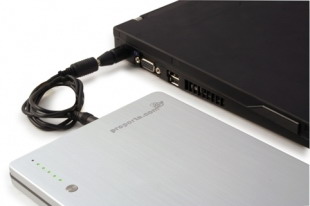 Product Category:
External battery
Manufacturer:
Proporta
Where to Buy:
Proporta
Price:
$195.95 USD
System Requirements:
Will work with a variety of laptops and USB powered devices.
Specifications:
6000 mAH Lithium Polymer battery, 1.3 pounds, support 16 and 19 volt laptops, almost any 5v USB device.
Pros:
Superb design;
Has USB port for recharging 5 volt USB devices;
Includes tips for a variety of laptops.
Cons:
6000 mAH may not be enough for all laptops;
Recharging your laptop may mean no power for other devices;
No carrying case.
Summary:
The Proporta Laptop Battery, despite its dull name, is an exciting product. Proporta took a 6000 mAH Lithium Polymer battery, wrapped it in a gorgeous aluminum design, added a USB power, bundled in tips for every popular laptop brand on the market, and released it all for $199 USD. This is a great product worthy of adding to any road-warrior's kit - even if you don't travel with a laptop and just want a lot of portable power for your USB devices.
Read on for the full review!<!>
---