Wednesday, July 18, 2012
Posted by Lee Yuan Sheng in "Digital Home Hardware & Accessories" @ 10:03 AM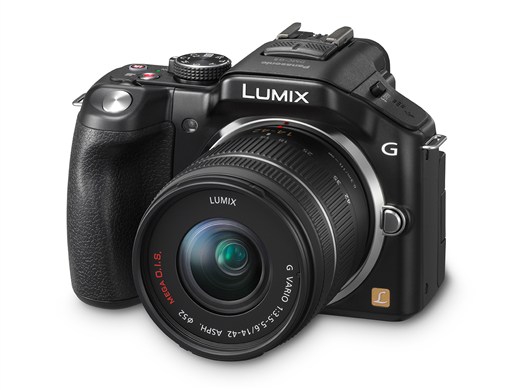 Well, it's Panasonic's big day today! First up, we have a new Micro Four Thirds camera, the DMC-G5. It's a nice improvement over the G3, if you ask me. Let's start with the technical specs: The G5 has a new 16 megapixel sensor, which Panasonic calls it "digital" (their marketing speak, not mine), as it shunts even more processing onto the sensor itself. The claim is that this will improve noise, so we shall see how it performs once it arrives. Also new is the 3" VGA LCD touchscreen, up from the previous HVGA screens, so now images should be nice and crisp. One big improvement is in the video department: The G5 now features full 1080p video at 60 FPS in AVCHD, at a bit rate of 28 Mbps. This equals that of many high-end video cameras. As those who used the GH1 can remember, 17 Mbps is not much to shout about. That said, with the data stream now doubling with 60FPS progressive mode, one wonders if 28 Mbps is sufficient. The continuous stills shooting is now at 6 FPS, up from 4 FPS in the G3.
The controls and design have gotten a rework. The camera is now more curvy, and the handgrip looks far more effective than the shallow one in the G3. The rear command dial is now facing more to the right, and there's a lever just behind the shutter release. By default, it controls the zoom on the power zoom lenses, but can be set to control exposure settings, making the G5 the closest thing Panasonic has to a two-dial camera in their Micro Four Thirds line up (Olympus's flagships have always been two-dial cameras). All-in-all, it looks like a solid upgrade to the G3. As with Panasonic's usual practice, price and availability will only be released once the camera is almost ready to the market. More links, and information on the new lens after the break.
Also announced is the 40-150mm f/4.0-5.6 OIS lens. It is a fairly small lens, only slightly bigger than the 45mm macro lens by Panasonic. It makes me wonder what will happen to the older 45-200mm lens. I hope Panasonic keeps it around for those who want the extra reach, but don't want to spend extra or bear the weight and bulk of the 100-300/5.6. Again, price and availability will be released later.
DPReview.com: DMC-G5 Announcement and Preview
DPReview.com: Lumix G Vario 45-150mm f/4.0-5.6 ASPH Mega OIS Announcement
---