Wednesday, February 8, 2012
Posted by Lee Yuan Sheng in "Digital Home Hardware & Accessories" @ 10:46 AM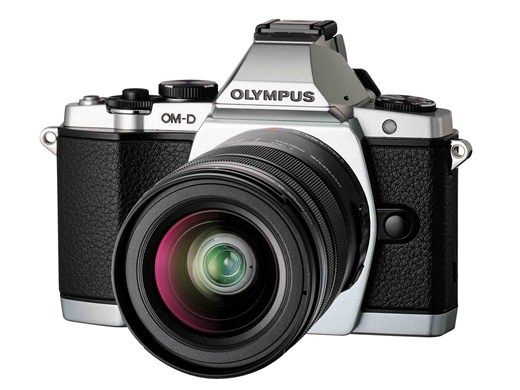 The big news of the past 24 hours is Olympus's E-M5 camera, which is part of the OM-D line. For the uninitiated, Olympus used to make small and very well-made film SLRs back in the day, under the OM moniker. I myself started photography using dad's OM-1 almost two decades ago. Ah, the memories!
Well, while Olympus is trying to stir feelings of nostalgia, I can say that the OM-1 and this E-M5 are quite different beasts once you get past the superficial. The E-M5 is a digital camera through and through, with the controls pretty much geared towards an electronically-controlled lens mount, unlike say, the Fuji X100. Still, it does look good, and the accessory battery grip is really retro; I have not seen something like that since the old motor winders back in the days of manual focus SLRs.
The camera itself is made from the best Micro Four Thirds has to offer. Highlights include a sensor that is the 16 megapixel Live MOS affair that goes from ISO 200 to 25,600 (presumably from Panasonic; about time Olympus ditched that old 12 megapixel sensor), a contrast-detect system that Olympus promises to be world's fastest (challenging cameras like the mighty Nikon D3S and Canon EOS 1DIV), an improved sensor-shift stabilisation system that promises to keep track and correct movement in five different axis, 1080i video at up to 60 FPS, continuous shooting at 9 FPS with single AF, 4.2 with continuous AF, 3" tilting VGA (presumably using a Pentile arrangement) OLED screen, a great SVGA EVF and a weather-proofed body that offers complete weather-proof capabilities when used with the right lenses. Despite that faux pentaprism hump (it is its successor, the EVF hump), there is no built-in flash, just like the old OM cameras.
Other niceties include things like a Live Bulb mode, so you can keep track of the exposure when it is progress. Ever shot in bulb and have no idea how long to open the shutter for, especially in conditions where the light level is rapidly changing? This is the crutch. There is also a tone curve overlay for finer control over how the camera handles shadows and highlights, though I suspect that is more for JPEG shooters.
All that nice stuff does not come cheap. The camera will ship in April for US$1000 for just the body, $1100 with a 14-42mm kit lens, and $1300 with the new 12-50 powerzoom lens (which is weather-proof). Along with the camera, Olympus also announced a 75mm f/1.8 lens, a 60mm f/2.8 macro, and a new flash with an LED for video work, the FL-600R. The FL-600R will ship in April for US$300, while pricing information for the lenses are not available.
More details and photos at the link, along with a preview! Be sure to see the grip, it just so old school!
---