Sunday, October 9, 2011
Posted by Don Tolson in "Digital Home Hardware & Accessories" @ 08:00 AM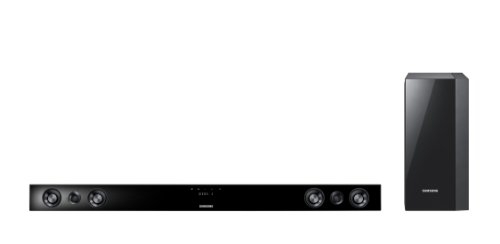 Product Category: Home theatre audio
Where to Buy: Amazon [affiliate]
Price: $499USD (regular, but now on special for $310)
System Requirements: wall power for both the sound bar and the sub woofer unit; digital audio (HDMI / optical) or analog sound source.
Specifications: Dimensions: Soundbar - 1056mm(41.6in) x 80mm(3.15in) x 45mm(1.77in); Subwoofer - 178mm(7in) x 360mm(14.2in) x 295mm(11.6in). Weight: Soundbar - 2.06kg(4.5lbs); Subwoofer - 5.3kg(11.7lbs). Power (total): Soundbar - 2 x 80W; Subwoofer - 150W. Total Harmonic Distortion - 10% at reference. Frequency Response: 20Hz - 20KHz.
Pros:
Compact unit which can be easily wall mounted under the TV screen;
Wireless Subwoofer can be placed anywhere without cables showing;
Multiple audio inputs available (and selectable with the remote) to allow this to become the audio 'hub' of the home theatre.
Cons:
Only two HDMI inputs;
Midrange is emphasized a little too much (for me);
'Surround' sound is more reverb/delay than actual repositioning via sound processing.
Summary: For a guy who is used to a separate amp, speakers and tons of interconnecting wires, working with an 'all-in-one' sound unit like the Samsung HW-D550 was quite the treat in some respects. But how does it compare where it counts? How does it sound compared to the separate components? All-in-all, it wasn't spectacular, but not too bad. Let's take a closer look and listen....
The Hardware
The HD-D550 Audio Bar comes as two separate pieces -- the midrange+tweeter unit and a standalone wireless subwoofer.
The midrange+tweeter unit contains the amplifiers, inputs, outputs, and controls for the Audio Bar. It's a little on the heavy side, as can be expected, but certainly light enough to be wall mounted, as is the suggested installation.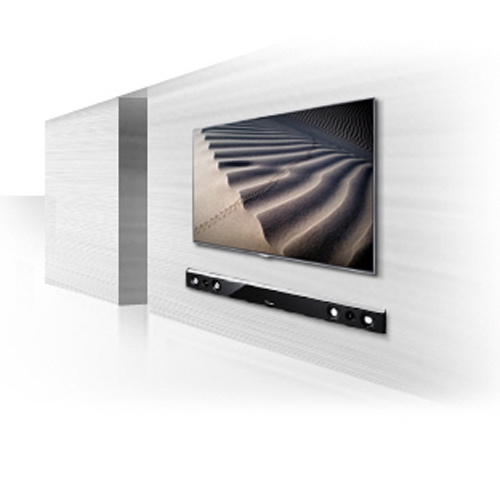 Figure 1: Samsung's suggested installation of the HW-D550 Audio Bar, wall mounted beneath a 46-inch flat panel TV. As described in the marketing material, "Now you can get rid of your entertainment centre." Grand Piano for the reflection is an optional extra :-) [Photo courtesy of Samsung]
For me, I just put it underneath my Akai plasma monitor, on top of the entertainment centre, where it was quite happy.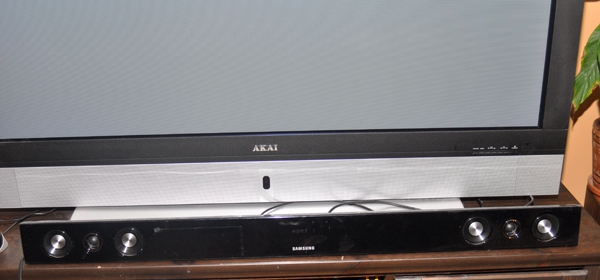 Figure 2: Not having an available wall space to mount the unit for the review, I placed it just under my Akai 50 inch plasma monitor. Sorry, I had to leave the protective wrapping on, since I don't get to keep this after the review. Here you can see the left and right speaker clusters with the controls and display in the middle.
The midrange+tweeter unit is about 42in (1055mm) long (about the same length as a 46in flat screen) and consists of left and right speaker clusters of 3 speakers -- two midrange and one tweeter unit.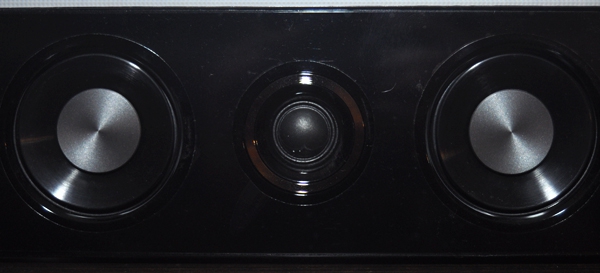 Figure 3: Here's a close up of one of the speaker clusters. The midrange units are on the outside and the tweeter unit is in the middle.
The midrange speakers are about 76mm(3in) in diameter and the tweeter is about 51mm (2in). Each cluster has a total output capacity of 80W, according to the specs. If I remember correctly, 'total output' is a marketing way of saying "this is about all it can handle at peak, so don't go there too hard or too long" (Oh, for the good old days when audiophile equipment would be measured in RMS power, which is what it would take on a continuous basis). I didn't push the review unit too hard, but at 25 (out of 99?) it had enough oompf to fill the room.
---