Friday, September 23, 2011
Posted by Lee Yuan Sheng in "Digital Home Talk" @ 08:00 AM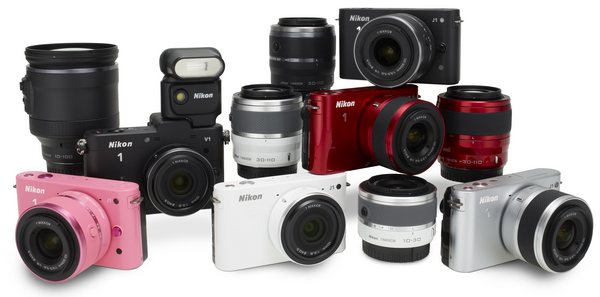 Nikon's latest mirrorless system is notable as it marks the entry of one of the Big Two into this area. Panasonic and Olympus, who started the trend, were after all failed DSLR manufacturers whose original Four Thirds system hardly made a dent against the combined market stranglehold by Nikon and Canon. Nikon's entry in a way shows that the mirrorless system camera is here to stay (for several years at least), but will it be successful in its own right? I have my doubts, but surprise: they are not based on the one thing most people are complaining about.
To get it out of the way: Nikon's decision to use a smaller sensor with a 2.7x crop compared to a 35mm frame is not necessarily the sole reason it will fail, despite all the Internet chatter going about what a "tiny" sensor it is. Here's some perspective: The 13.2mm by 8.8mm sensor gives an area of 116mm2, compared to Micro Four Thirds' 225mm2. This gives it a slightly more than one stop light gathering disadvantage against Micro Four Thirds, and under two stops against APS-C. Given that a really good APS-C sensor can do 3200 quite well now, being able to offer good ISO 800 and passable ISO 1600 in a small package is not the worst thing. The only real consequence is for enthusiasts and pros with legacy lenses: Micro Four Thirds' 2x crop factor made adapting lenses difficult; a 2.7x crop factor will mean most photo enthusiasts will have very little inclination to adapt lenses (except perhaps to take videos of the moon rise).
The factors which count against the Nikon 1 are more nuanced and varied. By picking a smaller sensor, Nikon has decided it wants to go smaller than even Micro Four Thirds while maintaining a significant image quality advantage over the several bridge cameras on the market. This is a move designed more for consumers in mind, with a "good enough" emphasis not too dissimilar to Kodak's numerous attempts to push various consumer film formats, the last being the APS film format. However consumers currently are spoilt for choice, with a number of mirrorless systems in the market.
Nikon's effort is a bit me-too: What are the main differentiating factors? Size? The Nikon 1 cameras while small, are not that much smaller than most Micro Four Thirds cameras, and not smaller than Sony's NEX line. The lenses are smaller than the NEX lenses due to the smaller sensor, but Panasonic's new 14-42mm X lens is tiny, and for the majority of consumers, could well serve as their only lens. Image quality? Sony's NEX are ahead in this regard. Brand appeal? That will not be enough to carry a line by itself, and Nikon has to contend with what are surely bigger names in the consumer space in Sony and Panasonic, not to mention Sony's distribution network. The latter cannot be discounted, as retail presence plays a big part in a product's success. Nikon could have, and should have been bolder and tried something no one else has done. Maybe something like a connected camera that actually works seamlessly and well?
Not helping is Nikon's apparent lack of focus in specifying the camera's features: The cameras have enthusiast features like a 10 FPS continuous shooting rate with AF-enabled, RAW mode, the usual manual controls, and the V1 has a built-in EVF that adds little to the camera's dimensions. This is then undone with a UI that's distinctly catered to consumers, lacking in proper command dials, and where it looks like changing the camera's exposure mode requires a trip to the menus. For a consumer UI, the camera is functional, but I can't help shake the feeling that casual shooters will prefer Sony's NEX UI, along with the touchscreen interfaces that are showing up in recent cameras. Casual shooters are also unlikely to care about features like an EVF. Meanwhile, enthusiast photographers will likely gravitate towards a Micro Four Thirds camera for the range of lenses and the couple of competent cameras available, or Sony's NEX-7, which puts some serious DSLRs to shame.
Then there is the issue of price. At US$650 for the J1 kit and US$900 for the V1 kit, there is no price advantage over the other mirrorless cameras in the market. Perceived value might distort the value further among potential buyers, as both the J1 and V1 use only "10" megapixels, compared to the 12 to 24 megapixel cameras in or coming to the market. Finally while I mention that the sensor size itself should not be the main issue, the moaning across the Internet indicates that Nikon has stumbled at the first hurdle. If that opinion persists across and it will be impossible to sell the camera. A perception based on incorrect facts, when repeated enough, can affect reality as though it were the truth.
Ultimately, I do hope Nikon has some success with this, but from here, it just does not seem to have had the right mix of features, and the initial reaction is not the most promising. Still it is early days, and I do think the first step to success (or at least partial success) is to get the cameras moving. I foresee a price drop on them soon enough. At the right price, I think they will be a decent success in the consumer camera market, at least long enough for Nikon to come up with a vastly improved and focused second wave of cameras.
---