Friday, December 11, 2009
Posted by Jason Dunn in "Digital Home Hardware & Accessories" @ 10:30 AM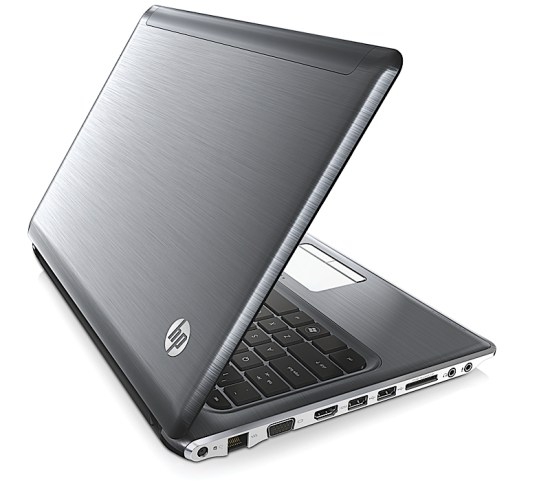 If you haven't already watched my unboxing video of the HP dm3, be sure to check that out first.
This is my two-part review video of the HP dm3 [affiliate]; the dm3 is a new laptop from HP that's an evolution of the dv2 - it's thin, light, and not very expensive. It uses the AMD Athlon Neo X2 dual-core processor, a semi-low power processor that uses 18 watts of power, but delivers better performance than the Intel Atom processors found in netbooks. This particular model has 4 GB of RAM, uses a 320 GB 7200 RPM hard drive, has a memory card reader, ethernet, 802.11 a/b/g/n WiFi, Bluetooth 2.0, four USB ports, and HDMI out. The 13.3 inch wide-screen display is 1366 x 768 pixels in resolution (driven by an ATI Radeon 3200 GPU), and it has a built-in Webcam and microphone. The keyboard is full-sized, and the laptop features Altec Lansing speakers.
The 6-cell battery is rated for up to six hours of battery life, though in my initial battery test playing back a ripped copy of the Lord of the Rings extended edition, at 100% screen brightness with WiFi off, it was down to 5% battery life after finishing the movie at 2 hours and 51 minutes. That's not a small feat though - many other notebooks I test can't finish that movie. Dropping the brightness down to the lowest setting - which makes it so dim you'd have to be in a dark room to have the screen be viewable - allows the dm3 to have 20% battery life after the LOTR test. I discuss my other battery tests in the first video, but even with my most basic of tests - the "Surf 'n Type" test at 50% brightness - I could only eek 3 hours 55 minutes from the battery. I don't know where HP is getting the six hours of battery life - my guess is minimum brightness, WiFi off, and the laptop is doing nothing - but they're not alone in an industry rife with the over-quoting the battery life. Can't the industry come up with some sort of reasonable test that they'd all use as a benchmark?
Diving Even Deeper
In part two of my review video (below), I discuss gaming performance, and what I believe is a critical flaw with this product: the touchpad. I don't know what HP did, or how this passed quality testing, but the touchpad is a disaster. On two occasions when I resumed the laptop from sleep, the touchpad was 99% unresponsive - I had to use the keyboard to reboot the laptop to restore normal function. The touchpad also gets stuck in multi-touch mode, where ever sweep of a single finger will resize screen elements. Rebooting is the only way to get the touchpad out of this state. And even when the touchpad isn't having a nervous breakdown, it's extremely un-responsive and sluggish. It's physically similar to the touchpad on the dv2, so I'm familiar with how it feels a bit different than a typical touchpad, but the touchpad on the dv2 actually works.
I forgot to mention this in the videos, but the keyboard is a bit...odd. It uses the island-style keys, so at first glance you'll think "This looks like a great keyboard!". The problem? As a touch-typist, I found myself struggling with the spacing on the keys - they felt just a bit too far apart. I'm sure it's something I could adapt to over time, but between the French/English keyboard on this review unit (which comes with a shrunken-down shift key) and the wider spacing on the keys, I found I had to focus on accurate typing more than any other laptop I've ever used. This isn't a show-stopper issue, but I do have to wonder what the advantage is in using a keyboard that feels so different from what most people would be used to.
Wrapping it Up
In terms of fit and finish, the dm3 is a beautiful laptop with superb industrial design that makes it look like a much more expensive product than it really is. It blends a thin chassis with a decently-performing CPU and GPU, fairly good battery life, and all the features an average user would want. I'm hopeful that HP can address the problems with the touchpad via a driver update, but until they do, I can't recommend this product for anyone that doesn't want to have to use an external mouse 100% of the time. And, given the fairly weak CPU power of the AMD Athlon Neo, I'd strongly recommend the dual-core version over the single-core version.
HP has created something special with the dm3, but until they fix the awful touchpad, this remains a flawed product.
Jason Dunn owns and operates Thoughts Media Inc., a company dedicated to creating the best in online communities. He enjoys photography, mobile devices, blogging, digital media content creation/editing, and pretty much all technology. He lives in Calgary, Alberta, Canada with his lovely wife, his wonderful baby boy, and his sometimes obedient dog.

Do you enjoy using new hardware, software and accessories, then sharing your experience with others? Then join us on the Thoughts Media Review Team! We're looking for individuals who find it fun to test new gear and give their honest opinions about the experience. It's a volunteer role with some great perks. Interested? Then click here for more information.

---