Monday, January 9, 2012
Posted by Chris Sacksteder in "Digital Home Hardware & Accessories" @ 08:30 AM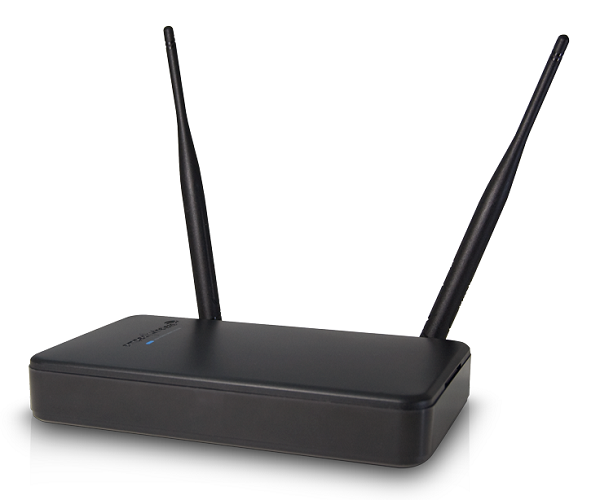 Product Category: Home Router / Wireless Access Point
Manufacturer: Amped Wireless
Where to Buy: Amazon [Affiliate]
Price: $119.99
System Requirements: A computer with Ethernet for setup.
Specifications: Band: 2.4GHz, 80211b/g/n. MIMO. 300Mbps. Security: WEP, WPA, WPA. Output power: 29dBi. Antennas: dual 5dBi removable. Ports: 4 10/100Mb and one 10/100Mb up link.
Pros:
Excellent wireless coverage;
Fast data transfer;
Easy setup.
Cons:
Ethernet ports only 10/100Mb (Gigabit model coming soon);
Single 2.4GHz band (dual band model coming after the Gigabit version).
Summary: If you have spots in your home with poor wireless coverage, or find streaming HD video often breaks up, the high powered Amped Wireless R10000 router may be a better solution than adding one or more additional access points. Our tests show this device really does provide wide coverage and high speed.
Power to the People!
"Dad! The Internet's down again!"..."No, sweetie, remember the WiFi doesn't reach that side of your room; come downstairs or plug in the Ethernet." If this sounds like your house you may be in the market for upgrading your wireless router or adding one or more access points to your network.
If you see the Amped Wirless HIGH POWER Wireless-N 600mW Smart Router on a retail shelf (Figure 1) you may be skeptical about the claims.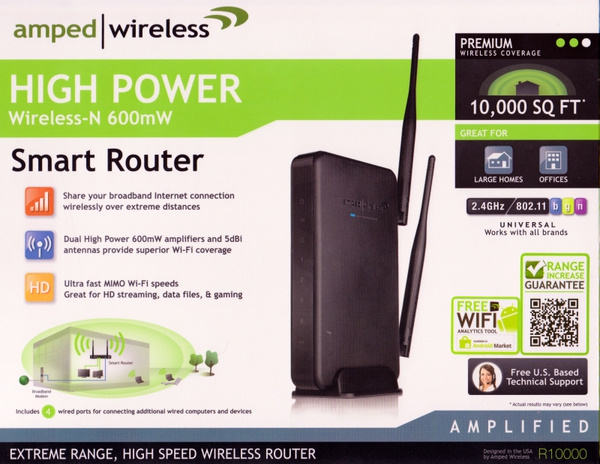 Figure 1: The well designed retail box has a large number of catch phrases to stand out when displayed on a retail shelf. Maybe too much to believe?
The features listed on the box are interesting if somewhat redundant and curious ("works with all brands"). One can imagine how much work the marketing department and graphic designers put into it.
The proclamations include:
HIGH Power Wireless-N 600mW Smart Router
Premium Wireless Coverage 10,000 SQ FT
Great for large homes, offices
UNIVERSAL Works with all brands
Share your broadband Internet connection wirelessly over extreme distances
Dual High Power 600mW amplifiers and 5dBi antennas provide superior Wi-Fi coverage
Ultra fast MIMO Wi-Fi speeds. Great for HD streaming, data files & gaming
Range Increase Guaranteed (and QR code pointing to a mobile page with their guarantee)
Free WIFI Analytics Tool
Free U.S. Based Technical Support
Amplified
Extreme Range, High Speed Wireless Router.
The back and sides of the box are jam-packed with additional information. It has to be among the most information-rich packages I've ever seen. The "Range Increase Guarantee", by the way, is a 35% discount on another Amped Wireless product. I expected "all your money-back" and free return shipping. They should have more confidence in the product.
What's Included
The study cardboard interior box and packaging is typical for a device like this, with one surprise: two Ethernet cables are already connected to the router with large tags labeled "Connect To PC" and "Connect To Modem" (Figure 2). That's a nice touch. You will still have to connect the power supply and antennas, but figuring out which port goes where is probably a common problem for novices.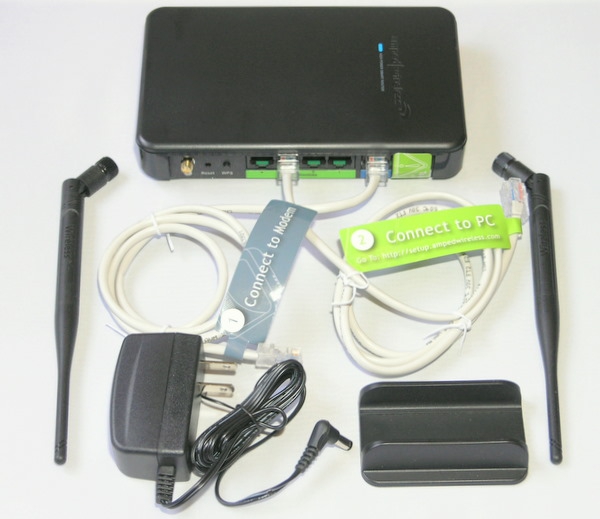 Figure 2. Ethernet cables come already plugged in and clearly labeled. Antennas, power supply, and a stand for placing it vertically are as you expect.
Instructions and a CD with documentation and an installation video are also included. The printed instructions were clear and easy to follow. I would not normally look at the CD but did play the installation video and it was very good. The setup guide on the CD was the same as the printed fan-folded sheet; there was also a 72-page (very small pages) user's guide.
Setup and First Quick Test
I was going to do most testing with the router setup as an additional Wi-Fi access point, but decided to test it as our home router connected to the cable modem. Setup for this was very easy and the instructions were just about perfect. The only fault with the simple 12-steps was a reference to the "blue" Ethernet cable and the "grey" Ethernet cable; my unit had two white cables. One neat feature is that Amped Wireless has the router's default address of 192.168.3.1 registered to setup.ampedwireless.com, so connecting a browser to the router for setup is easier than using the IP address.
The router's web interface (Figure 3) is designed for inexperienced home users with a graphic on most screens to help describe the function and a panel of "Helpful Tips:" on the right.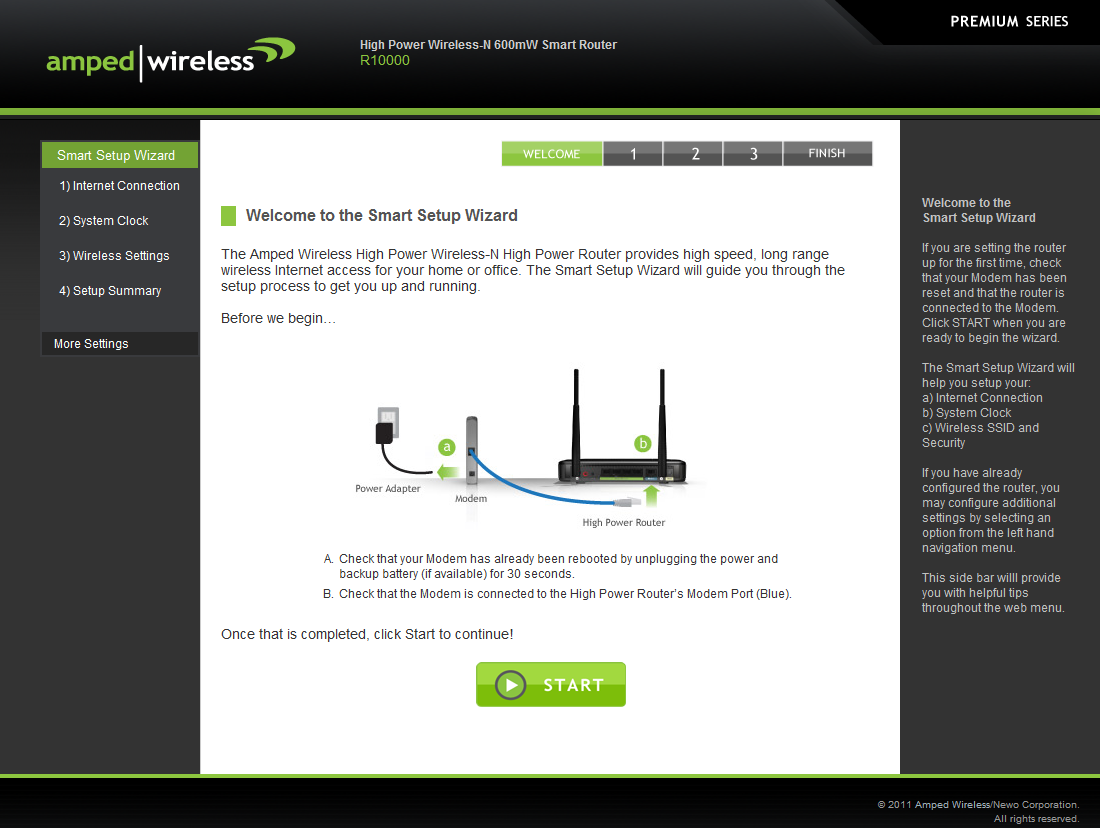 Figure 3. The router's management home page always starts with a Smart Setup Wizard.
The home page opens to the "Smart Setup Wizard" and the automatic configuration took only a couple seconds. I then disconnected the Ethernet from my laptop, connected to the wireless network, and connected the 4 Ethernet cables that were on the old router to the R10000. That did make all the Windows 7 computers on the home wired network detect a new network and ask if it was home, work or public before they obtained an address. One small complaint is the router's web pages are too wide to see all 3 panels on my laptop's 1024-pixel wide screen. The right-most panel is just usage tips and instructions, so that can usually be ignored, or you can use "ctrl -" on your browser to see the whole screen.
Now for some quick wireless testing.
I took my laptop to some problematic locations in our house. In the "work room" where we have a second access point because the signal from our current router doesn't reach there ... wow, 5 bars and "excellent" signal strength from the R10000. Further upstairs to the "den"... still 5 bars and "excellent". Now this is exciting!
About Our Home Network
Here's a little background on our home network to explain why this is exciting. We've had four different wireless routers over the years and currently have a D-Link DIR-825 which has two bands, many features, but mediocre performance and range according to this review. I recall it being a good price and I was attracted to the dual-band feature. We weren't trying to solve a range or throughput problem, but were upgrading to support 802.11n.
We also have Ethernet cable pulled to 5 rooms with a Gigabit switch in one to extend the 4 ports from the router. The TV cable comes into a corner of the ground floor where the cable modem, TV, and media center are housed. This is a good spot to distribute the Ethernet connections, but a very bad spot for a WiFi access point. Network use is mostly just web browsing and email, so laptops in most parts of the house work with a weak signal. But we also backup disk images from these computers and that usually requires an Ethernet connection.
Last year we put an elliptical stepper torture machine in the "work room" between the garage and the rest of the house, with the intention that I would watch recorded TV streamed from the Media Center to my laptop in order to make the workouts tolerable. There are 40 feet and 3 walls between it and the router, but Windows says the signal strength is "good" with two bars. It was a surprise and disappointment that drop-outs in the HD stream were so frequent that it was unwatchable.
So I pulled Ethernet to that location. That worked, but often Media Center would still use the weak wireless connection rather than the Ethernet, and I'd have to disable the wireless. So I added an inexpensive second access point there, a D-Link DAP-1522, which I didn't research very well. It was called "dual" which I thought meant dual-band; it was not. It does 2.4 GHz or 5 GHz, but not both at the same time. Also, it has no external antenna. I had thought it could be mounted in the hallway and help out the rest of the house, but even being one wall away from the laptop resulted in poor playback of HD recordings. Now it lives 12 inches from the laptop's shelf in front of the exercise machine. That works, but I naively thought that making a second access point have the same "SSID" as our router would result in Windows selecting the AP with the stronger signal; that was not the case and every morning I have to remember to manually connect tot the DAP-1522. No big deal, but not optimal.
With the R10000 replacing both D-Link devices, everyone in the house was quite happy. Many mornings I watched a 30-minute show (20 minutes after automatic commercial skipping) while doing the stepper-torture, with the DAP-1522 turned off, and all shows played without error. This alone is enough to make me recommend the router, but let's do some more objective testing and compare the performance of the Amped Wireless R10000 with the D-Link DIR-825 and the D-Link DAP-1522 as medium- and low-power devices.
---