Monday, February 15, 2010
Posted by Chris Baxter in "Digital Home Hardware & Accessories" @ 08:00 AM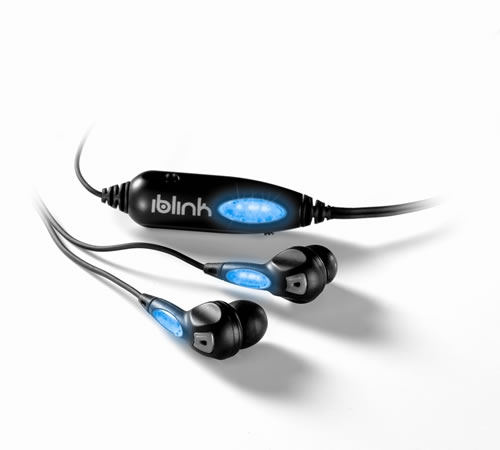 Product Category: Noise Isolation Earbuds
Where to Buy: Amazon [Affiliate]
Price: $24.99
Specifications: Cord length: 44" , weight: .7 oz., Lithium ION rechargeable battery with 30 hours continuous play and 28 day standby between charges.
Pros:
Good price;
Variety of color combinations available;
Flashing lights lends a uniqueness to the product that help it stand out.
Cons:
Cheap construction quality;
Wish it came with more than just three different sized ear-tips.
Summary: iBlink earbuds let you see the sound. Literally. Using LEDs in the earbuds and battery compartment, iBlink earbuds blink to the time of the music you are listening too. I decided to give a pair of these a try and not only see if they lived up to their blinking hype, but how well they reproduced sound as well.
Read on to see what I discovered.
What You Get For Your Money
The iBlink earbuds come packaged with three different sized ear tips to accommodate fit, a USB charging cable, and instructions. Having printed instructions is nice - too often these days high tech gadgets are neglecting printed instructions and making you go online to print them yourself. I am sure the point is to save money and trees, but somehow I doubt that any of those savings are passed on to the consumer. It might make me a bit old fashioned in this digital age, but I still enjoy reading through a printed manual before I play with my latest tech toy. That being said, however, this is one product that probably doesn't need a printed manual. It's all pretty self explanatory. But I still applaud the effort. The supplied USB adapter is used to charge the earbuds. Sounds kind of weird, right? Whoever heard of having to charge wired earbuds? The iBlinks themselves can be used without being charged, but you won't get the light show if they're uncharged. Charging is simple enough, one end plugs into the battery compartment on the earbuds and the other plugs into the USB port of any PC. No drivers or softwre are necessary, the USB port is just used for charging. Once fully charged the earbuds have an impressive battery life of 30 hours continuous play and 28 days of standby time before they need to be recharged. The iBlink earbuds also come with three different sized ear tips because in the case of ears, one size does not fit all. In my opinion three sizes is not enough. None of the tips it came with would fit comfortably in my ear. Three seems to be the magic number with ear tips these days. My last two Bluetooth headsets came with only three ear tips and I have seen other noise canceling earbuds packaged similarly. Unfortunately for me, and I am sure others out there like me, three different sizes just don't cut it.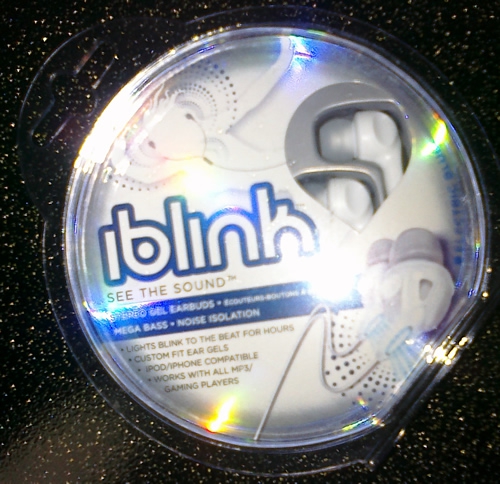 Figure 1: The iBlink earbuds in their sealed packaging. Fun times getting that open!
---