Tuesday, June 3, 2008
Posted by Jason Dunn in "Digital Home News" @ 09:12 PM

AMD has officially unveiled their new mobile computing platform, formerly known as the codename Puma, and it looks like an impressive step forward for mobile technology. Unfortunately I missed a conference call earlier this week that had some pertinent details, but I was send a slide deck to glean some facts from. I'll do my best to present the facts about this new platform, but expect to see me linking to someone else that knows more about this than I do (which isn't hard to do) by tomorrow.
To begin with, we know that notebooks are increasingly being used for entertainment - and China leads the way with 97% of users indicating they use their notebooks for that purpose. Europe comes next with 83%, and North Americans trail with 76%. Not surprisingly, you see people living in cultures which higher population density using their computers more for entertainment - the laptop likely replacing the TV in many homes as the primary source of entertainment. AMD has created a platform they believe will serve the needs of this market (oh yeah, and those business/enterprise types as well).
The AMD Turion X2 Ultra processor is at the centre of this platform, featuring independent dynamic core technology, AMD CoolCore technology, Power Optimized HyperTransprt 3.0, and a mobile optimized memory controller. All are technologies optimized for long battery life - that's what the slide tells me at least. The AMD 7-series chipsets (780G and SB700) bring other powerful offerings to the table: DirectX 10 support, PCIe 2nd generation speeds, enhanced ATI Avivo HD Block (MPEG2, H.264, and VC1 playback), ATI Hybrid Graphics, lower power/lower noise levels, HDMI, DVI, and DisplayPort support. The ATI Radeon HD 3200 GPU, which I assume is at the core of those chipsets (don't quote me on that!) offer 2.9 times the performance of the GPU used by Intel in their Santa Rosa platform. Intel's well-known for their underpowered integrated GPU performance, so I don't find that difference hard to believe.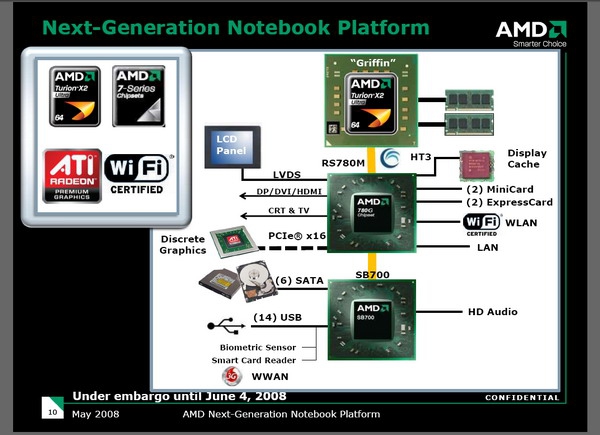 The ATI Avivo technology further adds support for 1080p full HD playback with low CPU utilization, which further assists with prolonging battery life. You can read more about the
ATI 3000 series GPUs on AMD.com
- it doesn't seem like there's anything new in the GPU department. The HD 3800 series GPUs are targeted at gamers with support for dual-GPU CrossFireX, the HD 3600 is aimed at the performance/mobile category, and the HD 3400 is the solution for the mainstream and thin/light market. Wireless isn't left out in this platform of course, although the slide that covers the wireless solutions make me think there isn't a single solution because both Atheros and Broadcom are listed. It seems AMD chose not to standardize on a single wireless solution, which is a bit unfortunate because it introduced a factor of unpredictability.
In terms of when you'll see this technology hitting the market, it doesn't seem like you'll have to wait long: if I'm interpreting one of these slides correctly, there are a total of 95 laptop designs coming from the likes of HP, Dell, Fujitsu, Acer, Toshiba, NEC, ASUS, and others. Laptops ranging from 18" screens down to 12" screens - the bulk of the screen sizes being in the 17", 15", and 14" range.
Looking ahead, AMD's notebook platform strategy is moving toward the "holy grail" of mobility: silicon-level integration of the CPU and GPU. Significant performance and power savings are waiting for the first company to make it there, and AMD's purchase of ATI has given them a strong foot forward in the race. They indicate that 2009 is the year when this will happen - it will be interesting to see if they can hit that goal. This integrated platform is code-named "Shrike" and will integrate two CPU cores, the GPU core, the memory controller, the display controller, and a PCIe controller - all on one chip. The chipset will support DDR3 memory, and it seems it will also have support for a discreet GPU - I imagine that means we'll see a hybrid approach where the integrated GPU will be used for 2D acceleration and OS-level 3D and the discreet GPU will be only be fired up for gaming.
Stay tuned for more coverage of this new AMD platform as I learn more about it.
Jason Dunn owns and operates Thoughts Media Inc., a company dedicated to creating the best in online communities. He enjoys photography, mobile devices, blogging, digital media content creation/editing, and pretty much all technology. He lives in Calgary, Alberta, Canada with his lovely wife, and his sometimes obedient dog.

---