Tuesday, April 22, 2008
Posted by Jason Dunn in "Digital Home Talk" @ 01:46 PM
I learnt a valuable lesson recently and I thought it was worth passing on to anyone that takes pictures, professional or amateur (though likely the pros already have this one down pat). Nearly a year ago, in May 2007, I
posted an entry to my blog
about the huge dump of snow that fell, and I posted the following picture: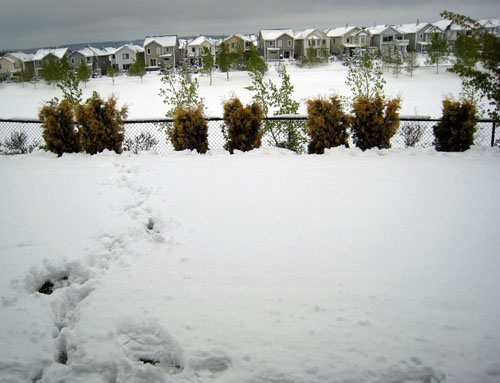 It was one of those
"open the door to the back yard, take a picture with your point and shoot camera, resize it for the blog, upload it, then delete it because it's only for the blog"
types of things. The version of the photo on my blog is the only version that exists. A few months ago, I was contacted by a French book author who specializes in writing about extreme weather conditions. He liked my photo and wanted to publish it in a book, but needed a high-resolution version...which of course I didn't have. So no book for me! The lesson here is that if you're publishing your photos online, be sure to keep the high-resolution copy - you never know when they might come in handy...
---