Wednesday, March 19, 2008
Posted by Tim Williamson in "Digital Home Software" @ 11:00 AM
"The DVD playback picture just got much clearer with the introduction of WinDVD 9 Plus Blu-ray. Video lovers can stop worrying about formats thanks to the newest release of the world's number one DVD and video playback software. With the inclusion of All2HD -- the most advanced upscaling technology available -- standard-definition videos and DVDs play back at near-HD quality. For users who desire the ultimate experience, WinDVD 9 Plus Blu-ray can play back HD DVD and Blu-ray Disc movies with the latest features and tools including BonusView (picture-in-picture), Advanced Navigation and HD audio from Dolby and DTS, as well as support for AVCHD and H.264 formats. Either way, WinDVD 9 Plus Blu-ray provides a superior video playback experience."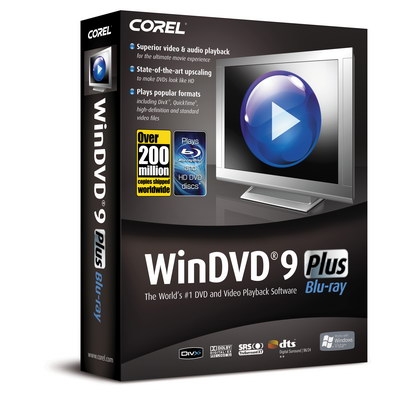 WinDVD has added the ability to playback Blu-ray and HD DVD video on your PC (as long as you have the required hardware/software components). Conveniently, Corel offers a useful
downloadable tool
that examines your system and will tell you if any components aren't up to par for Blu-ray/HD DVD playback. WinDVD also includes a proprietary technology called "All2HD" which claims to upscale standard and DVD video to near HD quality (I'll have to see it to believe it!). I just have a plain old DVD drive in my PC, but how many of you have a Blu-ray/HD DVD player in your PC?
---