Wednesday, January 30, 2008
Posted by Jason Dunn in "Digital Home Hardware & Accessories" @ 03:08 PM
"Transfer music wirelessly from any audio device or computer to your Audioengine powered speakers, surround receiver, or powered subwoofer. CD-quality HD stereo sound with no reduction in audio quality. Hear all your music - no dropouts, static, or noise. Some pretty clever engineering means your music remains free from interference from wireless routers, cordless and mobile phones, microwave ovens, Bluetooth and WiFi devices. Most wireless audio products are difficult to use because they require you to download and install software, set up a network, and often require you to manually try to find a clear audio channel. The AW1 is plug-and-play so no software installation is needed - just connect both dongles to USB power (or to a USB battery pack), connect the audio cables, and wait 2 to 3 seconds for the status lights to go solid. Two stereo mini cables and an RCA adapter cable are included for easy connection to all your gear."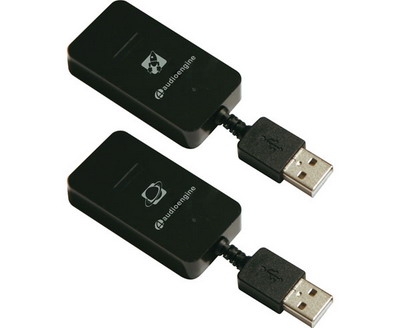 Another new product from Audioengine is their
AW1 Wireless Adapter kit
, which are fascinating in how simple they are: power comes from the USB connection, so you either connect it to a PC, or to a USB AC power adaptor. Then you have an RCA or 3.5mm mini-jack connector on each device, where you connect a sending device to one, and a receiving device to another. Simple yet very useful in a variety of situations, especially when coupled with the Audioengine A5 speakers that have a powered USB port. Hopefully I'll be able to test these out once I get my back-log of reviews finished, but off the top of my head I'm thinking it would be cool to have a pass-through USB port on them so that you could connect the AW1 to a USB to AC power adaptor, but still have power for an MP3 player to connect to the pass-through USB port. Maybe for v2.
---