Monday, January 9, 2012
Posted by Chris Sacksteder in "Digital Home Hardware & Accessories" @ 08:30 AM
Ethernet Ports
The R10000 reviewed had 4 100Mb Ethernet ports, and one 100Mb port for your cable/DSL modem. This is a curious limitation given that wireless speeds up to 300Mb are supported. A Gigabit Ethernet version is coming out soon, and it would be interesting to see if our maximum speeds of 600 MB/min (80 Mbps) would be exceeded since the target server was on my Ethernet.
If you don't have Ethernet wiring in your house, or use the R10000 just as an additional access point, then you may not care that the ports are limited to 100 Mbps.
Power Consumption
Home routers are small devices that usually have small AC adapter; we would not usually be concerned about how much electricity they use. But the Amped Wireless R10000 being "HIGH POWER", I wondered if it drew a lot of power or not. I connected the AC adapter to a power meter, and it drew about 2.5 watts when no one was using the WiFi (but the Ethernet ports are always in use) and up to 5.2 watts with several computers hitting their WiFi connections pretty hard. The D-Link DIR-825 drew 7.5 watts when idle and 8.4 watts with a couple WiFi connections streaming HD video. That translates to a difference of about $4.00 to $5.00/year for me, so while it is interesting, power consumption would not be much of a factor unless you were deploying many such devices in a large building.
Management Interface
Home WiFi routers can do very many things and it is no doubt very challenging to present an interface that is usable by the least-experienced consumers but still provides access to advanced features. The R10000 leans towards the novice, always opening to Smart Setup Wizard page (Figure 3), which I suppose make sense as most people are only going to go there if something is wrong, and most of the time they should just re-run the wizard.
I found myself wandering around under "More Settings" frequently. The menu structure is logical and may give you an idea of what you can do:
Wireless Settings

Basic Settings (band, mode, SSID, Channel Width, etc.)
Security Settings (encryption type and keys)
Advanced Settings (bunch of stuff I do not understand)
Wi-Fi Protected Setup (feature for clients that support WPS for easy connection with a PIN)

Network Settings

Local Network (LAN) (DHCP settings)
Internet Network (WAN) (options for your ISP connection and DNS settings)
Advanced Settings (bunch of stuff for passing traffic through)

Smart Features

Wireless Coverage Controls (select output power to less than 100%)
Access Schedule (restrict WiFI to 1 to 10 different day of week/hours)
Block Websites (URL filtering)
User Access (MAC) (block listed MAC addresses)
User Access (IP) (block listed IP addresses)

Firewall Settings

Port Filtering (block TCP and/or UDP packets for specified ranges of ports)
Port Fowarding (forward packets to a particular local IP address)
DMZ (define unrestricted access for a particular local IP address)
Virtual LAN (VLAN support)
Denial of Service (optional protection from various types of attacks)

Quality of Service (disabled by default)
Management

System Status (up time, IP address, wireless and LAN summary)
Network Statistics (packet counts)
System Clock (you may sync clock with your computer)
System Logs (view or setup remote log server)
Upgrade Firmware (download file from support site first)
Save/Reload Settings (settings download to your Downloads folder as config.dat)
Password (change userid and password used to log onto the management interface)
All pages have a panel of "Helpful Tips" on the right, and generally they are helpful. Many pages have a graphic that I supposed is meant to help you understand what you are working on (Figure 9), but for me these just take up space and I wish there was an option to turn them off.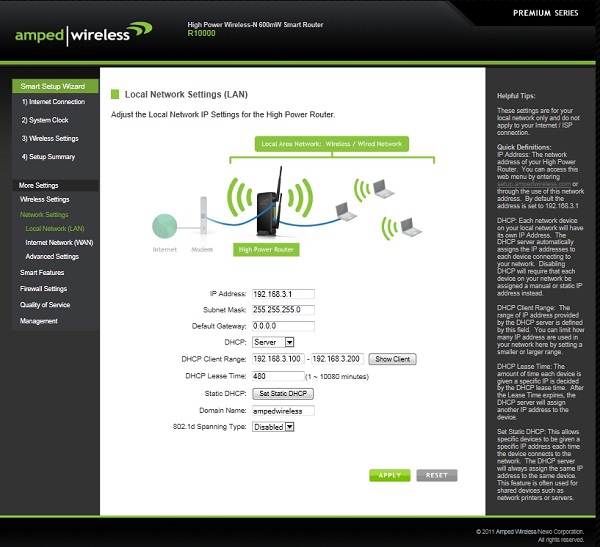 Figure 9. An example of one of the settings pages with a tips panel on the right and a not-so-helpful graphic.
Most of the settings are fairly easy to find, but there are a few awkward places. For example, the "Basic Wireless Settings" has a button for "Guess Networks" that opens new page without the menu, tips and other formatting of the main pages, and another button for "Show Active Clients" that opens a pop-up window, that perhaps is what the "Guest Networks" was meant to do. Another complaint: you can enable one to four guest networks (alternate SSID's) but then have to go find the Security Settings page, select that network name, then select the encryption type and key.
I found the Guest Networks feature very helpful to define an SSID that was the same as my existing router's 2.4GHz band. Using the same WPA2 key, clients would not have to be reconfigured as I switched between the DIR-825 and the R10000.
It seems that every configuration change required a reboot, which I found odd and annoying, as rebooting cut off everyone in the house, wireless and wired. On reboot, a page is loaded that does a 100-second count down before returning to the page you were at. I found I could close that tab and go back to setup.ampedwirless.com to resume without waiting the 100 seconds. It even wants to reboot when you change the option of what to display in the System Log. This seems to be an error; the display is updated without rebooting.
According to the setup video, Chrome, IE, and Safari browsers are supported; Firefox is not. I usually use Chrome, so that wasn't a problem for me.
Advanced Features
The R10000 does everything I need, but perhaps my requirements are not too advanced. I do like to have my Media Center PC accessible outside the house so I can check things with Remote Potato via my Android phone. That requires assigning an IP address to the HTPC. You have to find the "Set Static DHCP" on the Local Network page, but write down the PC's MAC address first, as the R10000 doesn't let you pick from a list of connected MAC address like the DIR-825 does. Next, setup port forwarding under Firewall Settings. Then I setup Dynamic DNS (found under Management) so my Comcast WAN address is made available to my phone. DynDNS and TZO services are supported.
Tech Support
Early in the review I checked the firmware level on the R10000, which was listed as 2.5.2 10/13/11. Amped Wireless's support site listed a firmware version dated 10/31/11, but no version number. I installed that and the result was "2.5.2 10/13/11", so it was not newer. It would be better if the web site had the version number too, and if the update process would detect that the firmware being applied was not different. The R10000's userid and password was reset to admin/admin; I did not see a message about that.
I sent an email to the support address listed to ask about the firmware number; I didn't get an answer in about a week so I resent it, then again a few days later. I never did get an answer but saw a new support address when I went back to the support page. I was about to write here that I wished they had a support ticket system and an online form, when I saw that just such a thing was newly implemented. I filled out the form asking about the firmware number and date, and got a prompt answer. I was told to check for a firmware in a couple of days, and indeed one dated 12/06/2011 was put up later (still no version number).
I installed that firmware and the userid/password was not reset, but the clock was way off after reboot. The firmware version was 2.5.2.02 and the "READ ME" file listed only minor changes. It would be helpful if the web site had the list of changes so you could decide if it was worth bothering with the update.
Anyway, back to the original support email, I think I just hit them during a transition and you should expect prompt answers from support questions submitted via their online form.
Conclusion
The Amped Wireless R10000 Premium Smart Router is indeed high power and fast. It demonstrated excellent WiFi coverage in my house and it provided connectivity to locations not at all reachable with a D-Link DIR-825 and D-Link DAP-1522. I would not have needed a second access point if I had this router. It is also high speed, supporting 802.11n features allowing link speeds up to 300 Mbps. Data throughput wase measured at up to 2.2 times as fast as the DIR-825, but averaged 45% to 50% better across all locations. Performance depended greatly on how close the computer was to the router and how well the client's WiFi adapter worked. The R10000 also did well with multiple clients, but if you have several computers doing a lot of WiFi I/O all the time, and one or more of them can use the 5 MHz band, a dual band device may be better for you. I have not found dual bands very helpful in my house.
The R10000 is easy to setup and use, and it has many advanced features. Its only failing are the 100Mb Ethernet ports, but if you don't have a Gigabit Ethernet network, or you use it just as an Access Point, that may not matter. A Gigabit Ethernet version will be out soon, and a dual band version after that.
Chris Sacksteder is a systems designer living in central Pennsylvania. Hobbies include regularly disrupting Internet connectivity in the house, so his family appreciates him more when it does work.

Do you enjoy using new hardware, software and accessories, then sharing your experience with others? Then join us on the Thoughts Media Review Team! We're looking for individuals who find it fun to test new gear and give their honest opinions about the experience. It's a volunteer role with some great perks. Interested? Then click here for more information.

---