Monday, January 9, 2012
Posted by Chris Sacksteder in "Digital Home Hardware & Accessories" @ 08:30 AM
Tests
Several different tests were devised to see how the R10000 compared in range and speed with the two D-Link products on hand. In the first round of tests, a Lenovo X60 connecting with 802.11n and WPA2 encryption was used. This computer's internal WiFi adapter, an "Intel PRO/Wireless 3945ABG Network Connection" was limited to a 54Mbps. Later, other laptops and adapters that support faster speeds were tried.
Outside Line of Site
Line-of-sight range was measured by setting up each device just outside the house and placing markers in a straight line 50, 100, 150, and 200 feet from the starting point. WirelessMon Version 4.0 from Passmark Software was used on the X60 to get the signal strength at each point. I tried measuring the signal with my HTC Droid Incredible, but it reported large variations in the signal strength from moment to moment for various WiFi utilities, including Amped Wireless's own Wi-Fi Analytics program. So with the laptop, three observations were recorded walking away from the house and three more on the way back, and the average of the 6 charted for the DAP-1522, each band of the DIR-825, and the R10000. You might use these results to compare your current router, although every laptop is different. Inside a house, wireless performance will vary greatly depending on room layout and construction materials.
An Aside About Signal Strength
WirelessMon and most, if not all, WiFi utilities report signal strength in "dBm"; see http://en.wikipedia.org/wiki/DBm for an explanation of this unit. Zero is equivalent to one milliwatt and -3 dBm is about 0.5 milliwatt. WiFi signals are much weaker, ranging from around -30 dBm (really good) to -80 dBm (really weak). For the signal strength charts the numbers shown are 100 + the dBm measurement, so the "good" signals have taller bars than the weak ones.
Signal strengths for each device, and both bands on the DIR-825 are shown in Figure 4. The R10000 was better in all cases, and very much better at the longer distances.
Figure 4. Line of sight signal strengths (subtract 100 to get dBm numbers) for each device and the two bands supported by the DIR-825 .
In particular, at 200 feet with an average signal strength of -67 dBm the connection would be far more usable than the next best, -78 dBm for the DIR815's 5GHz band (subtract 100 from the numbers shown to get dBm).
Signal Strength, Indoors
Since we don't do much Internet surfing outside, signal strength and throughput were measured in 4 locations for all three devices:
Location 0: same room, line of sight, about 10 feet.
Location 1: half level up, two walls in between.
Location 2: same level, opposite end of house, one wall in between.
Location 3: second floor, almost directly above the router, one floor in between.
Four other locations in the house that neither D-Link device could reach were measured as well. Only one location, the farthest end of a third floor room where the signal was around -83dBm, was too far away to do the file copy test. It was interesting to note the Windows 7's wireless indicator showed two bars for that location, but not a single file could be copied. Another indication that bars are fun, but not good for you.
Note also that tests with the DIR-825 and R10000 were done with the router setup as the primary connection to the cable modem and with its Ethernet ports linking the rest of the house, and the target file server. I do not think the R10000's 100Mb Ethernet ports limited its performance in these tests in comparison to the DIR-825's Gigabit ports because the test laptops maximum link speed was 54Mbps. The DAP-1522 AP was tested with it a short distance from the DIR-825, but it was not in the exact same location as the other two devices when throughput was measured.
You should be warned that swapping out your home router several times a day will not endear you to your family members, but is a good way to get them off so as not to interfere with testing.
Results are shown in Figure 5: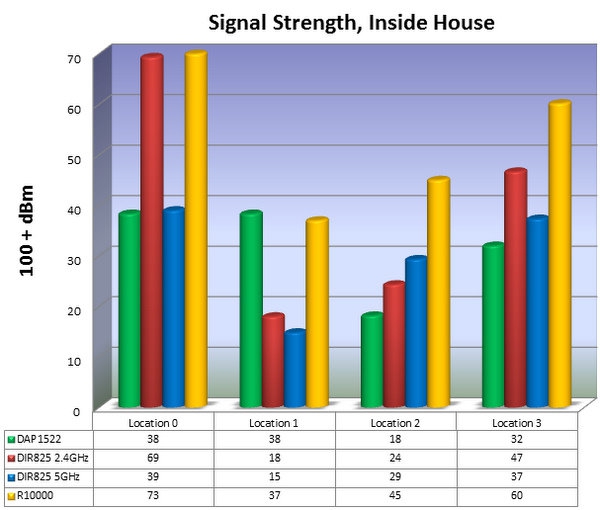 Figure 5. Average signal strength for the different devices/bands measured from 4 locations in the house. Various walls and floors block signals.
It is interesting that the DIR-825's 5GHz band was so much weaker than the 2.4GHz band. Also curious are the results for the DAP1522 at location 1, which I re-tested several times on different days. But in general you see the R10000's high power is demonstrated as significant, particularly where walls and floors in are in the way.
---