Monday, January 9, 2012
Posted by Chris Sacksteder in "Digital Home Hardware & Accessories" @ 08:30 AM
Throughput Test Results
While the signal strength measurements are interesting, they aren't necessarily a good prediction of how fast the network connection will move data to and from your computer. All kinds of things affect a wireless connection besides the signal strength. Protocols such as 802.11n, which was the only connection type used in these tests, have various features that might improve speed, and various RF sources can interfere with WiFi. You will often see the link speed on a wireless connection change from moment to moment.
For a practical measurement of throughput, a file copy test was devised using Windows' Robocopy command to copy 3 files, totaling 214MB, to and from a computer on the house's Ethernet network. The test was repeated 3 to 6 times for each location and each device. In most cases the individual runs were very consistent and repeatable on different days, but more runs were done if the first 3 were inconsistent.
Here the speeds are reported in megabytes per minute (MB/min) which is what Robocopy reports and which seems appropriate since we are transferring a couple hundred megabytes and it takes one to several minutes. Network speeds are typically reported in Mbps (megabits per second) so I suppose you could multiply these numbers by 8 to get bits and divide by 60 to get Mbps, but file copy tests have overhead for the various protocols (Ethernet, TCP, SMB) and are dependent on the computers on each end as well as other factors, so it is best to look at the numbers as a comparison of the different devices in my particular environment rather than what you might get yourself.
See above for a description of the 4 locations.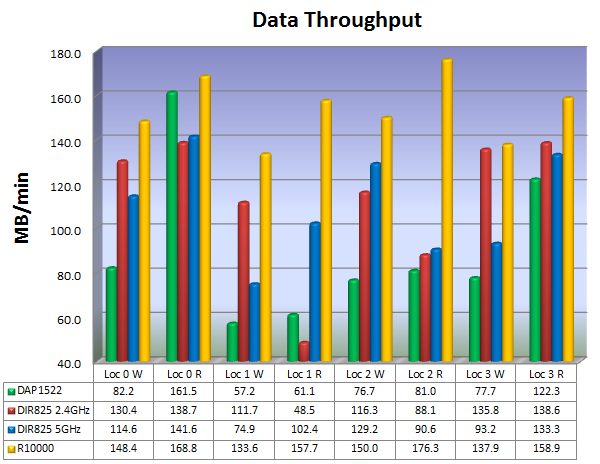 Figure 6. Write (transmit) and receive (read) test for each device/band and at the 4 locations in the house.
There were some surprises here, for example how well the DAP-1522 did for read (but not write) in location 0, then the poor read speed for the DIR825's 2.4GHz band at location 1. In all cases the R10000 was faster, and often significantly faster.
This test was repeated from four more locations in the house that neither the DAP-1522 or DIR-825 could reach. Here are the signal strengths and write and read speeds:
Location 4: -69 dBm, write 88.6 MB/min, read 147.5 MB/min
Location 5: -67 dBm, write 114.5 MB/min, read 158.4 MB/min
Location 6: -71 dBm, write 87.3 MB/min, read 110.2 MB/min
Location 7: -78 dBm, write 71.3 MB/min, read 119.2 MB/min
Location 7 was a third-floor guest room, furthest from the router on the ground floor. At the far end of the room with a signal strength of -83 dBm, no files could be copied. Moving a few feet to the middle of the room improved the signal to -78 dBm and throughput was not terrible. The other devices could not even be seen from this location.
Network Contention Test
Your WiFi network is shared bandwidth, so as more clients are connected, individual performance will degrade.
To see if a difference could be detected between devices with multiple clients connected, HD video streaming via Windows Media Center connected to our home media center (also connected by Gigabit Ethernet, but not the same computer used for the file copy tests) was started on one and two additional computers and the file copy tests were repeated from Location 0. This test could also demonstrate the advantage of a router that supports both 2.4GHz and 5GHz bands at the same time, such as the D-Link DIR-825.
Figure 7. File copy speeds with one additional computer ("2 Clients") and two additional ("3 Clients") competing for bandwidth. Only the laptop doing the timings could use a 5GHz band, and we see the speed on that band was unaffected by the use of the 2.4GHz band.
In this test, one, then two additional computers streamed HD video during the same file read and write test as shown in Figure 6, along with the "Location 0" results from that test. Those streams typically needed 10 to 15Mbps, or around 25% of a 54Mbps link. We see that the added clients does indeed slow down data transfer speeds when on the same band. BUT, these two laptops could only use a 2.4GHz band, so this test doubles as showing the advantages of having two bands. The throughput speeds for the DIR-825 5GHz band (blue in Figure 7) remained high when the other two computers were making the 2.4GHz band busy. Note how poorly the DAP-1522 held up with multiple clients, showing it isn't just a matter of available bandwidth; an access point has other things to do such as WPA encryption/decryption.
Finding MIMO
The R10000 supports 802.11n with some new technologies like MIMO (multiple input, multiple output) and Channel Bonding allowing possible link speeds of 150Mbps to 300Mbps if all the right conditions are present and your computer's wireless adapter also supports these technologies. The tests described thus far were made with a laptop that could only go to a maximum 54Mbps link speed.
I had an inexpensive (less than $12) AirLink101 AWLL5077 Golden 150 Wireless USB adapter sitting around, and tried it in the Lenovo X60. Link speed mostly stayed at 150 when sitting close to the router. The write test at 85 MB/min was poor compared to other tests at Location 0 (Figure 6) but the read test clocked in at 445 MB/min, 2.5 times as fast as the best read speed the internal adapter could do with the R10000. Later when doing my elliptical stepper workout (Location 4), recorded TV streamed to the laptop was unwatchable. The adapter could just not keep up, which I attribute to the lack of an external antenna for this small USB adapter.
Next I tried an HP Touchsmart tm2; not brand new but not too old of a laptop. The link speed reported by Task Manager for the "Intel WiFi Link 1000 BGN" flipped between 72 and 117 Mbps. The setting for the adapter's property "802.11n Channel Width for band 2.4" was "20 MHz Only". Changing that to "Auto" resulted in link speeds of 150 and 162 Mbps.
Lastly, an almost-new HP Pavilion dv6 belonging to a relative, also with an "Intel WiFI Link 1000 BGN", alternated mostly between 150 and 243 Mbps but sometimes went to 270 and 300 Mbps briefly. An hour later, in the same position, link speed alternated between 150 and 300 Mbps every few seconds. It was only about 8 feet from the R10000, so I wonder what conditions would allow it to sustain 300 Mbps. At locations further away this computer did not do well. At Locations 4, 6 and 7, a connection could not be sustained to do the throughput test. The link speed was sometimes reported as 81 Mbps, then 1 Mbps. I changed the adapter setting "802.11n Channel Width for Band 2.4" from "Auto" to "20 MHz Only". Link speed then alternated between 72 and 144 Mbps at Location 0, presumably because there were fewer channels available. But tests at Location 4 now completed, so I decided to do the throughput test for all locations and both band width settings.
The next night a driver update came down for this computer, and it improved the connectivity with "Auto" setting, so I re-did the tests, summarized in Figure 8.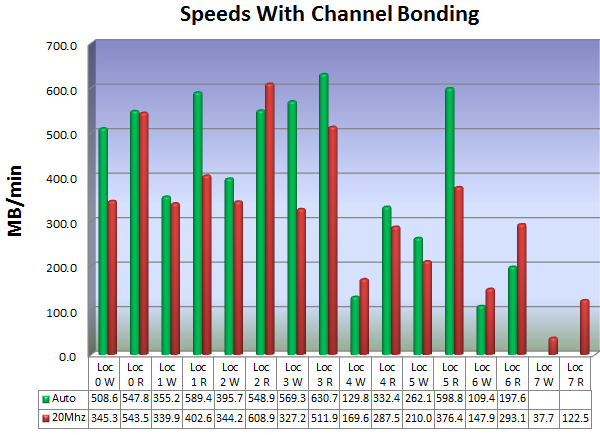 Figure 8. Throughput tests with an HP Pavilion dv6 supporting faster 802.11n speeds. The Auto setting presumably picks the 40Mhz channel width which worked well when close to the router, but poorly or not at all when further away.
There are several interesting observations that can be made here. First, the individual runs for these tests were more variable than with the Lenovo X60, but both transmit (write) and receive (read) speeds could exceed 600 MB/min, or 3.5 times as fast as the best speed the older laptop managed with the R10000. But not for the most distant location 7, where the Lenovo X60 could write at 71.3 MB/min and read at 119.2 MB/min, whereas the HP dv6 could not connect at all with the "Auto" bandwidth setting, and managed only half the write speed when the 20MHz setting was used. It could be that this laptop's antenna configuration was not as good as the one in the Lenovo.
It also may be that client adapters are a work in progress, given that a driver update significantly changed how well the HP's adapter worked, and that the Auto setting for the channel bandwidth did not seem to back down to 20Mhz when in a location with a weak signal.
Later, after completing tests with the R10000 and re-installing my DLink DIR-825, I looked on and saw it also had a bandwidth setting, but it defaults to 20Mhz. I set it to Auto/40Mhz and turned on the HP tm2. Still only 8 feet from the DIR-825, it reported link speeds of 65 Mpbs and occasionally 117 Mbps, but never 300 Mbps. Back at 20Mhz the link speed did not change. I don't know what feature the the R10000 has that the DIR-825 is missing. Ok, one more round of tests with the HP dv6 and the DIR-825 with both bandwidth settings:
20Mhz: 248/398 MB/min (write/read), the R10000 was 39% and 36% faster.
Auto: 323/447 MB/min (write/read), the R10000 was 57% and 23% faster.
One lesson here is that before you buy a new router or access point that claims 300 Mbps speeds, be sure your computer(s) are also up to it.
---