Monday, January 24, 2011
Posted by Jason Dunn in "Digital Home Hardware & Accessories" @ 09:00 AM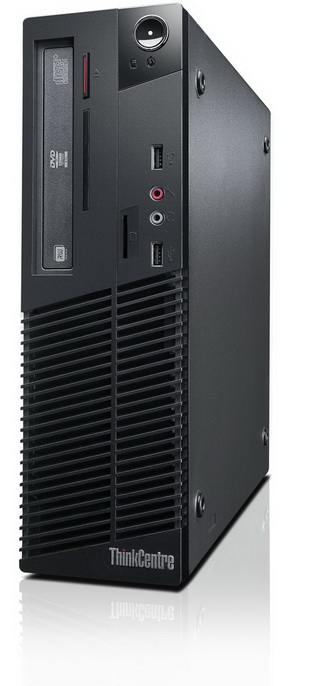 Product Category: Desktop PC, LCD monitor
Manufacturer: Lenovo
Where to Buy: Lenovo
Price: starts at $484 USD; as configured, $763 USD for desktop, $239.99 USD per L1951P monitor (19"), $1242.98 total with both monitors.
Specifications: See below.
Pros:
3 Ghz of quad-core power and 4 GB of RAM for under $800;
Fairly quick boot time of 36 seconds;
Dual monitor support right out of the box.
Cons:
If you put it up on your desk, you might find it a bit loud if you have a quiet work environment;
19" monitors seem a bit small in this age of 20"+ monitors;
Internal speaker rattles frequently.
Summary: Lenovo sent me a small form factor ThinkCentre M75e desktop computer along with two Lenovo L1951P 19" monitors to check out. After looking at two of their all-in-one systems recently (the A70z and the M90z), it was a big change to look at a corporate desktop system paired with twin 19" monitors. How does the M75e measure up with two 19" monitors in tow? Is it a cost effective enterprise computer that doesn't make too many compromises?
Physical Setup
The out-of-box setup on the M75e was straight forward: unpacking the computer itself and the two 19" monitors, connecting all the cables, mounting the monitors into their stands, and pressing the power button took just under 14 minutes. The monitors come with the VGA cable connected by default, so for the second monitor I had to swap in the DVI cable. Everything was as I expected, until I pressed the power button: it seems that if you have a monitor connected to the VGA port and DVI port, it will assume the DVI-connected monitor is the primary monitor. I thought it would be the opposite, since VGA was the default cable on the monitor, but this was easily fixed by swapping the physical monitors around.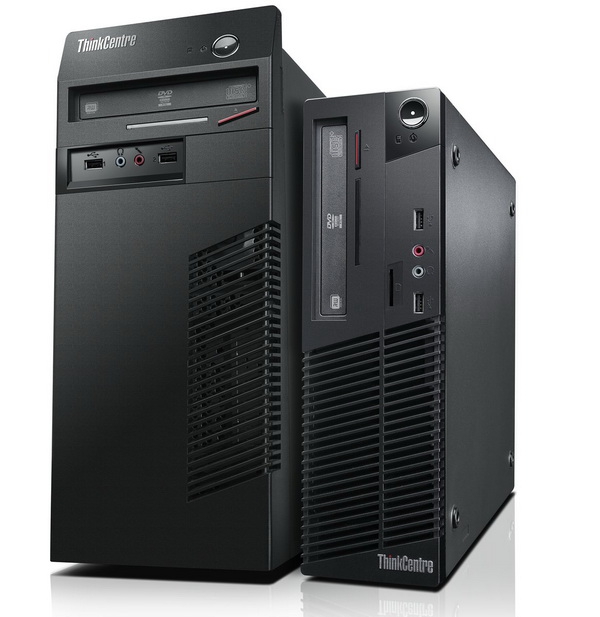 Figure 1: On the left we have the regular tower version of the M75e; the one on the right is the small form factor version.
Although the set-up was simple, I was reminded of how much faster it was to set up the A70z and M90z in comparison - all-in-one systems have one cable to connect. Setting up the M90z for instance was a three minute process. Also noteworthy is the lack of integrated WiFi; while that makes sense from a cost-cutting corporate computing standpoint, it's again a departure from what I've become used to in looking at the all-in-one computers.
The M75e can come in one of two cases: the first is a standard desktop mini-tower, and the second is a small form factor (SFF) design. The SFF design is only slightly shorter than the mini-tower, but it has the advantage of being able to go on its side if need be.
Software Setup
As part of the Windows 7 Professional 64-bit setup, Lenovo includes a few extra screens of information (curiously crammed into the top-left quarter of the screen). First up is Lenovo's Rescue and Recovery software; it automatically takes backups of data and the full system image. The "Learn More" link took me to a help file that referenced Lenovo laptops and a special button on the keyboard to trigger this service. The keyboard I was sent has no such button, but I presume it can be triggered via a software link inside Windows 7. I'd like to see Lenovo clean this up and have it reference information useful to the owner of the M75e, not a Thinkpad.
The next step helpfully informed me that Office 2010 was pre-installed and all I needed to do was buy a license key - as if businesses wouldn't already have a strategy in place for Microsoft Office use. Norton Security is also pre-installed, but thankfully there's a "Don't Protect My PC" option that, after telling it for a second time that, really, I didn't want Norton Security installed, it let me proceed.

Figure 2: System specs - looks like 256 MB of the memory is allocated to the GPU.
After Windows 7 completely booted, I was presented with a Windows Live license agreement window - again, I have to wonder why a business would need Windows Live installed right out of the box. I personally think Windows Live is an excellent suite of services, but from a business perspective, every unnecessary piece of software is another vector for a security breech or stability problem. I'd have preferred to see Windows Live as optional as Norton Security was. I will say that it was nice to see exactly one icon on the desktop: the Recycle Bin. After un-installing Windows Live, Windows Live Sync, Windows Live Upload Tool, and the Office 2010 trial, I felt like the system was free of software I wouldn't need if I were running this as a business machine.
I'm not convinced the Corel Burn.Now and Corel DVD MovieFactory software are needed either, but I left it there. A nod of approval goes out to Lenovo for not including Sun's Java VM software. Java is a popular attack vector for malware and virus writers, and shouldn't be on any computer unless there's an actual need for it. Too many OEMs include Java "just because" without thinking of the potential problems it can open a system up to.
It's always a good idea to run Windows Update before you start to use a new computer for anything, so I started the initial install of 42 mandatory updates and let the system run for a while. Following a reboot, there were four more mandatory updates. And then one more. It's a shame some of these older updates can't be included from the factory image, but I'd guess there are IT-related reasons why companies might want to start with the vanilla install of Windows 7.
---