Monday, December 13, 2010
Posted by Jason Dunn in "Digital Home Hardware & Accessories" @ 08:00 AM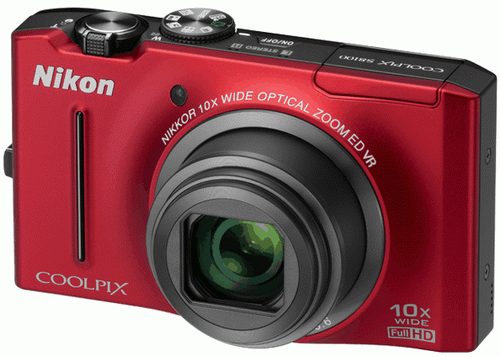 The Nikon Coolpix S8100 is a point and shoot digital camera in what I like to call the "Pocket Superzoom" category; you get 10x to 12x zoom on most cameras in this category, but in a camera body that's small enough to easily slip into your pocket. The S8100 has 10x zoom (30mm to 300mm) and an f/3.5 to f/5.6 lens. The lack of a nice f/2.0 aperture and the 1/2.3" image sensor means you're not going to be getting those nice photos with a blurred background, but hey, you can't have everything at this size/price point. The macro close-up mode works at 1cm, and the three inch 921K screen is a TFT LCD with an anti-reflection coating.
The 12 megapixel sensor allows you to capture 4000 x 3000 resolution images, and the built-in image stabilization helps control image blur. Strangely, it has 102 MB of internal memory - but of course takes SD/SDHC/SDXC memory cards. ISO support starts at 200 and ends at 3200, and the removable battery is charged via a USB cable included in the box; there's no external battery charger. That was a first for me - the camera charges when connected to a USB port, but the charging port is at the bottom of the camera, making for an awkward physical set up. I'll definitely be ordering an external battery charger, but it's a shame Nikon didn't provide one in the box.
1080p video capture is also supported, and the EXSPEED C2 image processor takes care of the photo/video processing. The backside illumination CMOS sensor is supposed to help with low-light images, and based on my shots with the camera so far, it really does make a difference - shots that were completely unusable from my Panasonic ZS3 look quite a bit better with the S8100. Make no mistake, this is still a point and shoot digital camera whose image quality pales in comparison to any entry-level DSLR...but this is also a camera that fits in your pocket.
Check out my first impressions video above - it's hella long/quite detailed and should provide a good general overview of the Nikon Coolpix S8100. My review will follow in several weeks, but I will say that overall I'm quite impressed with both the photo and video quality of the camera.
Interested in buying one? You can support Digital Home Thoughts by purchasing the phone from Amazon.com.
Jason Dunn owns and operates Thoughts Media Inc., a company dedicated to creating the best in online communities. He enjoys photography, mobile devices, blogging, digital media content creation/editing, and pretty much all technology. He lives in Calgary, Alberta, Canada with his lovely wife, his wonderful son Logan, and his sometimes obedient dog. He wishes the M90z screen would clean itself.

Do you enjoy using new hardware, software and accessories, then sharing your experience with others? Then join us on the Thoughts Media Review Team! We're looking for individuals who find it fun to test new gear and give their honest opinions about the experience. It's a volunteer role with some great perks. Interested? Then click here for more information.

---