Monday, November 1, 2010
Posted by Jason Dunn in "Digital Home Software" @ 07:00 AM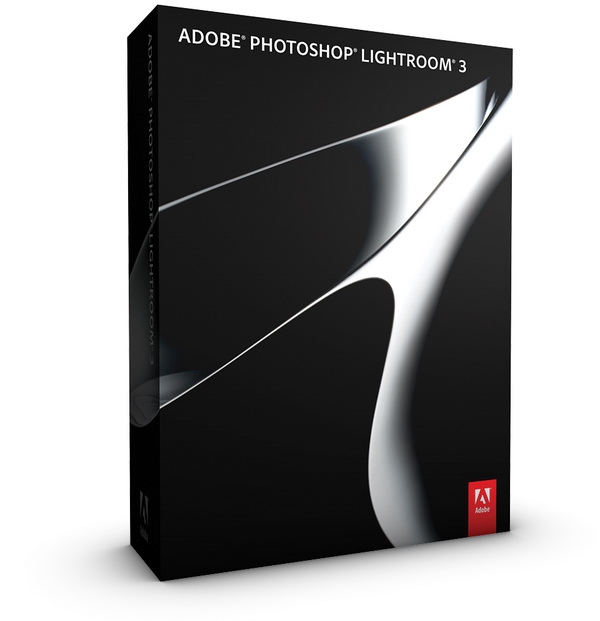 Back in 2009, I reviewed Lightroom 2 - and gave it a fairly glowing review. I spent a fair bit of time evaluating different raw process solutions back then, and Lightroom 2 was the best one out there. A year and a bit later, Adobe has released version 3 of this software tool and it's only gotten better. All of the basics are still the same, so rather than repeating what I've already covered in my review of v2, I thought I'd cover off some of the things that I like the most about Lightroom 3 ($285.99 USD full version, affiliate). Here they are.
My Top Six Reasons for Upgrading to Lightroom 3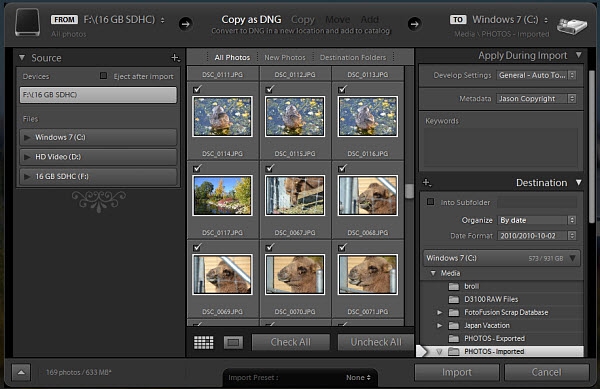 Figure 1: The new import process.
Reason #1: Improved Import Process
Importing images in Lightroom 2 involved a fairly small dialogue box; in Lightroom 3, it's a completely revamped approach that gives you a lot of options, but also has an intuitive flow from left to right. You can import photos and videos from a variety of sources on the left side of the import dialogue, preview them in the middle, and on the left specify where the files are going, what happens to them along the way (development presets), and other elements such as setting the metadata. It's a smooth process that, once you configure it, works great. It remembers the settings from the previous import, so importing is literally a one-click process for me once I get the import window open.
Worth noting is that videos are now supported - the idea being that your videos are taken along for the ride along with your photos, and while you can't edit the videos inside Lightroom 3, you can preview them using your default external player (Windows Media Player most of the time) and delete the bad ones. When you export your final photos, the video files are also exported. This is a time-saver over the previous implementation that's appreciated - in Lightroom 2 I'd typically open the card via Windows Explorer and copy the videos over manually. I appreciate that I no longer have to do that with Lightroom 3!

Figure 2: Tethered shooting.
Reason #2: Tethered Shooting
If you're a professional and shooting in a studio, you'll appreciate this feature. It allows you to connect your DSLR to your laptop or desktop computer and smoothly import the photos you take directly into Lightroom, complete with development presets. This featured worked with my several-years old Nikon D300, but not with my brand new Nikon D3100, so you'll want to do some research before assuming it will work with your camera; I'm not entirely clear on what check-list feature the camera needs to have in order for this to work. I'm sure someone smarter than me will point it out in the comments.
Reason #3: Slideshow Video Export in 1080p
Need to put together a simple slidehow and output it to video? Lightroom 3 has you covered. With MP4 output options ranging from 320 x 240 up to 720p and 1080p, Adobe has done the right thing in terms of file format and resolution. There are no options for bit rate or anything else though; it's a take it or leave it scenario . The good news is that the videos at 1080p are 6mbps, and they look quite good. The video rendering process is, thankfully, multi-threaded: on my Core i7 920 CPU (four cores, eight threads total, overclocked to 3.65 Ghz), it used them all, with CPU usage in the 70% to 90% range. Adobe is prioritizing quality over speed; a slideshow with 10 photos took 3 minutes 34 seconds, but I think that's the way it should be with quality coming first. I've created a sample 1080p slideshow video that you can download to check out the quality of the encoding. I'm not going to give up using ProShow any time soon, but this is nice in a pinch.
---