Thursday, January 6, 2011
Posted by Lee Yuan Sheng in "Digital Home Hardware & Accessories" @ 07:45 AM
Let me repeat myself here: The budget market does not need overcrowding of products at every $10 price point. A couple with clearly defined features that are clearly explained to the consumer sells better than when all the differences are so minor it leaves the consumer confused.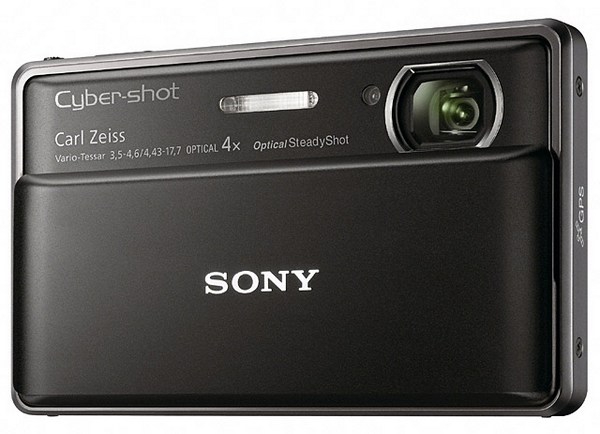 But here's something that's not budget, and not ill-defined: The Cybershot DSC-TX100V. It features a 16 megapixel Exmor R sensor, a Carl Zeiss branded 4x optical stabilised 25-100mm equivalent f/3.5-4.6 zoom lens, 3.5" OLED touchscreen, GPS, videos at 1080p with stereo sound at 28 Mb/s bitrate in AVCHD, the ability to take 10 photos at 10 FPS, take 3D photos (how gimmicky), and SD Card support (coming from Sony, that is news) all in a slim good-looking package. Ships in March for US$380.
There are also some more similar slim cameras from Sony, the Cybershot DSC-T110 and DSC-TX10. The T110 drops the Exmor R sensor for a standard CCD, loses the GPS, some of the internal software like 3D photos, does 720p videos in place of 1080p vides, and has a standard 3" touchscreen LCD instead of the OLED screen. The result is the camera costs US$230 instead. The TX10 restores the Exmor R sensor and funky software features of the TX100V like 3D photos, has a 3" VGA LCD, can do the 10 shots at 10 FPS trick, 1080i videos, and a rugged body that is waterproof to 4.5 metres, shockproof from 1.4 metres, and operate at down to -10C temperatures. Not bad for US$330.
The updated H-series, like the T/TX series above, are differentiated by the sensor, LCD screen, GPS and the internal software features. The DSC-H70 has a 16 megapixel sensor with an optically stabilised 10x 25-250mm equivalent f/3.5-5.5 Sony-branded lens, a 3" LCD screen, 720p video recording, and some manual controls. The DSC-HX7V has a 16 megapixel Exmor R sensor, GPS and 3" VGA LCD. In many ways it's a superzoom version of the TX100V sans OLED screen. The H70 will be available in March for US$230, and the HX7V for US$300.
And now, for the compacts. There are six W-series cameras here, and I am just going to mention the two most interesting ones here. First is the unremarkable DSC-W510, which comes with a 12 megapixel CCD, a 4x 26-105mm f/2.8-5.9 equivalent zoom lens, and VGA movie mode for US$110. The DSC-WX9 uses a 16 megapixel Exmor R sensor, a 5x 25-125mm equivalent f/2.6-6.3 Carl Zeiss-branded lens, a 3" VGA screen, 1080i video mode, and all the software features of the TX100V, for US$220. The rest are just filler, in my opinion, but you can take a look in the link below.
---