Friday, June 26, 2009
Posted by Jason Dunn in "Digital Home Software" @ 09:37 AM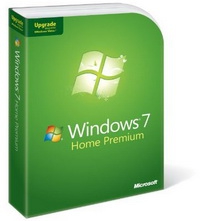 You'll have to excuse the network-wide broadcast (well, except Apple Thoughts of course), but I thought this was something that everyone would want to know about: Microsoft is offering the forthcoming Windows 7 at a steep discount, but only for a limited time. Until July 11th, you can purchase Windows 7 Home Premium Upgrade for $49.99 USD (that's an Amazon affiliate link, so your purchase helps support Thoughts Media). The normal price of Windows 7 Home Premium Upgrade is $119.99 USD, so that's a very significant level of savings ($70 to be precise). You can also pick up Windows 7 Business Upgrade for $99 if you want that version. When Windows 7 is released on October 22nd, Amazon will ship you the software.
The Windows 7 upgrade will work on a computer with Windows Vista or Windows XP installed. If you have an older computer, you may want to run the Windows 7 Upgrade Advisor to make sure your computer is ready for Windows 7, but in general any computer built in the past four years should be able to run it just fine. Windows 7 is lighter on resources and works well across a broad spectrum of hardware.
Got a netbook? Then you'll want to take advantage of this offer as well - I'm running the Windows 7 Release Candidate on an MSI Wind, and an HP Mini 1000, and it works really well on both of them. I think Windows Vista is a fine operating system, but Windows 7 is even better - it addresses many of the concerns that people had with Windows Vista and adds a degree of polish that means everything is easier to use.
Unfortunately, this offer is only valid in the USA and Canada (Canadians can order from Amazon.ca, Future Shop, and Best Buy). as far as I can tell. Europe is getting a different version of Windows 7 due to the lawsuits Microsoft is undergoing there.
---