Friday, January 6, 2012
Posted by Lee Yuan Sheng in "Digital Home Hardware & Accessories" @ 08:30 AM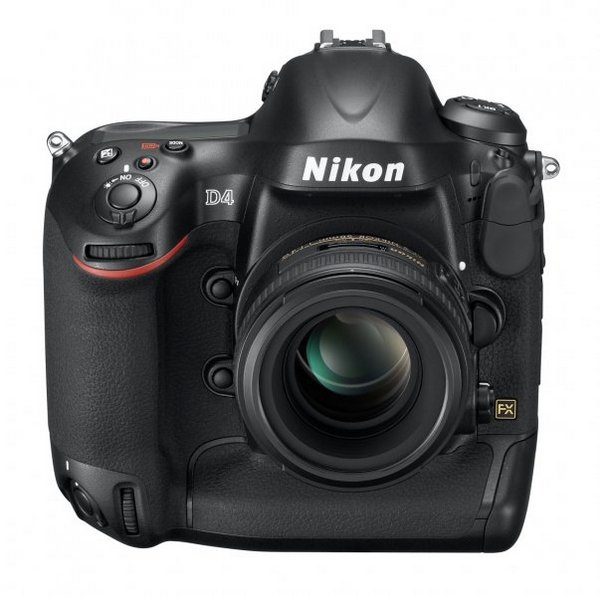 So here it is. I hope the rumours have not totally spoilt it for you. The Nikon D4 is the latest flagship, and will replace the D3S. The specs look good, but most of the upgrades seem geared towards video. Let us take a look!
On the photo side of things, there is a new 16 megapixel FX sensor that does ISO 100 to ISO 12k, with ISO 50 on the low end and ISO 200k on the high with boost (I feel silly saying ISO 204,800; does this kind of precision really matter?), an upgraded CAM 3500 module that boasts fifteen cross points out of the 51 AF points, and nine that will work with the Nikon 1.4x and 1.7x teleconverters, and one (just the one?) point that will work at f/8 with 2x teleconverters. I distinctly remember my F100's AF working with a third party lens and a third party teleconverter at f/8, so this does not feel totally new, but I could be mistaken. The camera boasts a frame rate of 10 FPS, with 11 FPS if the AF tracking is disabled. The 1005 pixel RGB Matrix meter is now a 91000 pixel sensor, and is also used for other tasks like face detection and dynamic range manipulation (what Nikon calls Active D-Lighting).
There is a new bigger VGA LCD at 3.2", along with a few upgraded controls. The buttons are now backlit, which is a very nice touch, coming a few years after Olympus did that with the E-620 (a consumer DSLR, no less!). The AE-L/AF-L button is gone however, replaced by a joystick nub that looks suspiciously like Canon's one, which is also replicated in the vertical grip. Also, get ready for a new battery: the new EN-EL18 is rated for 2600 shots. Err, that does seem lower than the D3S's 4200 shots. Change in methodology? XQD support is now added, with one slot for it, and the other for the old standby CompactFlash. There is also an Ethernet port, along with a new WiFi transmitter for connectivity, which also allows remote access via the Internet. Yes that's right, the D4 can be controlled from a tablet!
Most of the big upgrades however, are in the video portion. In fact, Nikon bills this as a "multimedia SLR". See that little record button behind the shutter release? The D4 does 1080p video at 24/30 FPS at 24 Mbps bitrate, but also allows uncompressed video to be streamed out of the HDMI port. This allows a monitor with a recording device daisy-chained to it if maximum quality is desired. B frame compression is now supported, along with microphone and headphone jacks. No word if gain on the microphone jack can be controlled. Both AF and exposure can be controlled while recording, and there is a neat trick to use the FX, DX or CX (that's 1x, 1.5x and 2.7x respectively) crop for videos.
It is a nice upgrade in all, but I am not sure if current D3S owners who use their cameras for stills will be upgrading. I think most might still stick with the D3S. The D4 will be released in February 2012 with a price of US$6000. More photos and press release after the break.
There is also a new lens, the AF-S 85mm f/1.8G lens. It is, depending if it is mounted on a FX or DX camera, a nice short or medium telephoto, and an AF-S update to the older AF 85mm f/1.8D lens. Good for those using cameras like the D5100, which lack the internal AF motor. If this is like most of the AF-S primes released so far, expect the AF-S motor to be more on the slower side of fast. The lens will be available for US$500 in March 2012. Photo and press release after the break.
Nikon D4 and AF-S 85mm f/1.8G - DCResource
---