Monday, April 28, 2008
Posted by Jason Dunn in "Digital Home Hardware & Accessories" @ 07:00 AM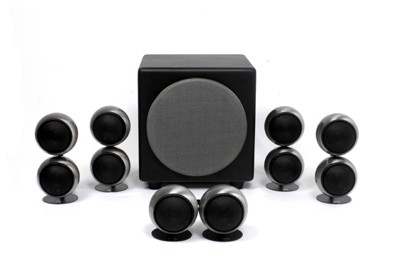 Product Category:
Home Theatre Speaker System
Manufacturer:
Orb Audio
Where to Buy:
Orb Audio
Price:
starts at $549 USD for
two-channel system
with sub-woofer (
the Mod2 configuration
reviewed here, without stands, is $1289 USD)
System Requirements:
An amp to power the speakers, and hopefully a nice big TV to go with them.
Specifications:
See the Orb Audio
specifications page
.
Pros:
The great-looking satellite speakers sound incredible, with crisp, punchy audio;

Both the 8" and 10" sub-woofers are extremely powerful, yet deliver smooth, distortion-free bass;
Reasonable price for the quality of the speakers when compared to retail prices;

Many options for custom order configuration and speaker finish.

Cons:
Mail-order means you probably can't hear them before you buy them;
If you need them for your setup, the beautiful hand-crafted HOSS speaker stands put a big bite into your budget at $299 per pair.
Summary:
You've probably never heard of Orb Audio before, or their speakers, but if you're looking for small, powerful home-theatre speakers that are surprisingly affordable for the quality you get, this is one company you should pay attention to. Read more...
---