Tuesday, November 10, 2009
Posted by Jason Dunn in "Digital Home Hardware & Accessories" @ 11:46 PM
"Protection for your Netbook. Neo-Sleeve will fit netbooks up to 11" x 7.5" x 1.5" which includes most netbooks up to 10.1" screens."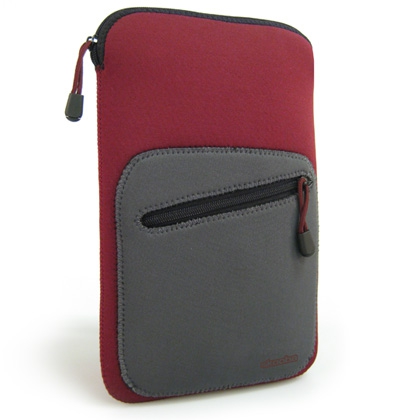 Skooba Design is a on a roll with netbook products lately - better late than never I suppose! First they released the Netbook Messenger bag a couple of weeks ago, and now they've released these sleeves. They're pretty much exactly what I've been looking for but unable to find - a neoprene sleeve designed for netbooks with a front pouch just big enough for a power supply...though I wonder if they're big enough for the tiny power supplies that come with some netbooks (like the Acer Aspire One) and too small for the larger power supplies for netbooks like the HP Mini 1000. I guess we'll see!
The Neo-Sleeve comes in Abyss Black, Blizzard White, Deep Ocean Blue, and Inferno Red. I just received one of their Netbook Messenger bags for review last week, and the Inferno Red is actually a burgundy or maroon colour. It's definitely not red, but it still looks pretty good. The Netbook Neo-Sleeve comes in at a reasonable $19.95 USD price point. It would make a nice Christmas gift for anyone that owns a netbook.
Oh, and as a reminder, remember that our giveaway contest for the two Skooba Messenger bags closes tomorrow (the 11th) at 3pm. Be sure to enter!
---