Thursday, April 19, 2012
Posted by Lee Yuan Sheng in "Digital Home Hardware & Accessories" @ 08:38 AM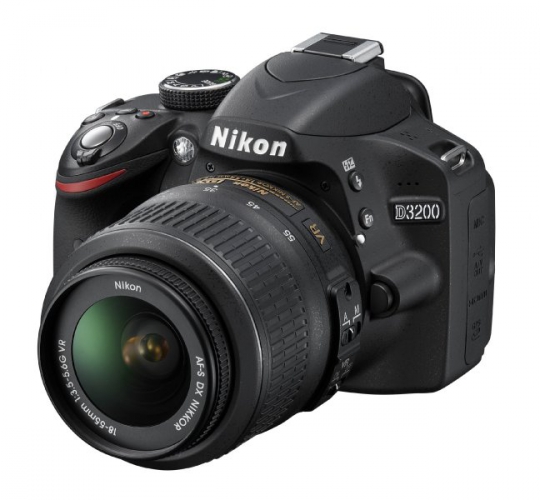 Nikon today unveiled the D3200, the replacement for the D3100 DSLR. What is most surprising is the sensor: It is a 24 megapixel CMOS sensor, in APS-C size. It appears to be similar to the one found in Sony's NEX-7 and SLT-A77, which also makes me wonder if the next refresh of all their DX-based DSLRs are going to use the same 24 megapixel sensor. If it is, I am going to be a little disappointed, as I was hoping that the D300/D300s replacement would use something like the awesome FX-challenging (in the high ISO noise department at least) 16 megapixel sensor found in the Fujifilm X-Pro 1.
The rest of the camera has a few upgrades, like a new 3" VGA LCD, 1080 video at 24 or 30 FPS (previously only 24 FPS) with manual exposure controls, a 4 FPS continuous mode (up from 3), and the ability to add the new WU-1a Wireless Mobile Adapter that lets you send images to your smartphone. In a first, Android support will come first, with iOS support coming later this year. The adapter looks rather clunky, being a small dongle that sticks out awkwardly from the side of the camera. Camera manufacturers, this is not how you build a connected camera. Until you get it, your compact camera sales will continue to dwindle in the presence of crappy smartphone cameras. The D3200 will ship in late April (isn't that a week away?) with the 18-55 kit lens for US$700, and the WU-1a for US$60.
In other news, Nikon also released a potentially nice lens for FX users: The Nikkor AF-S 28mm f/1.8. Given the FOV equivalent of a 42mm on a DX body, its neither here nor there status means it is better to use the cheaper AF-S 35/1.8 on a DX body, as the 28mm is going to be US$700. Ships in end of May.
Press releases and photo of the Nikkor after the break.
---