Tuesday, November 29, 2011
Posted by Michael Knutson in "Laptop Thoughts News" @ 10:00 AM
"Last year, Seagate threw the storage world a curve when it released the original Momentus XT, a 7,200-rpm 250 or 500GB hard drive with the ability to cache your most commonly used files on its 4GB of Flash memory for faster app opens, boots, and other frequent reads. Today, the company announced its next-gen Momentus XT, which ups the capacity to 750GB, the flash memory to 8GB, and the interface to SATA 6Gb/s, all while promising even more intelligent caching."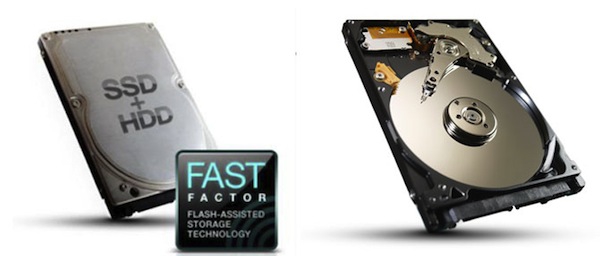 I've been waiting for these "hybrid drives" to appear on the scene. The first test example shows an improvement opening an Excel spreadsheet from about a minute at first open down to about 6 seconds for subsequent opens of the file. The 8GB cache (flash memory) provides impressive performance from the second open onward, with almost everything being faster than the native drive, but slower than the tested (but much more expensive) SSD. Seagate has reserved space for OS (boot files) caching on the solid state portion of the drive, and it is effective, lowering boot times from over 81 seconds on a 7200 rpm drive, to about 37 seconds. The SSD boot time was about 27 seconds.
Performance aside, looking at cost per gigabyte, the Momentus XT provides a lot of bang for the buck. At $0.33 per GB, it costs more than the plain vanilla test hard drive at $0.19 per GB, but the tested SSD (Samsung 830) drives cost from $1.51 to $1.65 per GB, depending on size. It is very clear that the Momentus XT gives much of the benefit of an SSD drive, at a fraction of the cost. Way to go Seagate!
---