Sunday, October 9, 2011
Posted by Don Tolson in "Digital Home Hardware & Accessories" @ 08:00 AM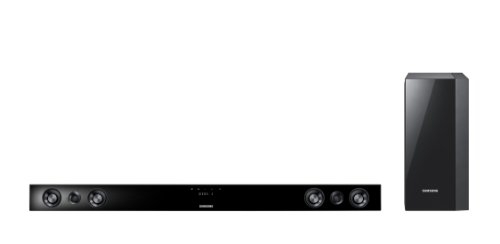 Product Category: Home theatre audio
Where to Buy: Amazon [affiliate]
Price: $499USD (regular, but now on special for $310)
System Requirements: wall power for both the sound bar and the sub woofer unit; digital audio (HDMI / optical) or analog sound source.
Specifications: Dimensions: Soundbar - 1056mm(41.6in) x 80mm(3.15in) x 45mm(1.77in); Subwoofer - 178mm(7in) x 360mm(14.2in) x 295mm(11.6in). Weight: Soundbar - 2.06kg(4.5lbs); Subwoofer - 5.3kg(11.7lbs). Power (total): Soundbar - 2 x 80W; Subwoofer - 150W. Total Harmonic Distortion - 10% at reference. Frequency Response: 20Hz - 20KHz.
Pros:
Compact unit which can be easily wall mounted under the TV screen;
Wireless Subwoofer can be placed anywhere without cables showing;
Multiple audio inputs available (and selectable with the remote) to allow this to become the audio 'hub' of the home theatre.
Cons:
Only two HDMI inputs;
Midrange is emphasized a little too much (for me);
'Surround' sound is more reverb/delay than actual repositioning via sound processing.
Summary: For a guy who is used to a separate amp, speakers and tons of interconnecting wires, working with an 'all-in-one' sound unit like the Samsung HW-D550 was quite the treat in some respects. But how does it compare where it counts? How does it sound compared to the separate components? All-in-all, it wasn't spectacular, but not too bad. Let's take a closer look and listen.... Read more...
---